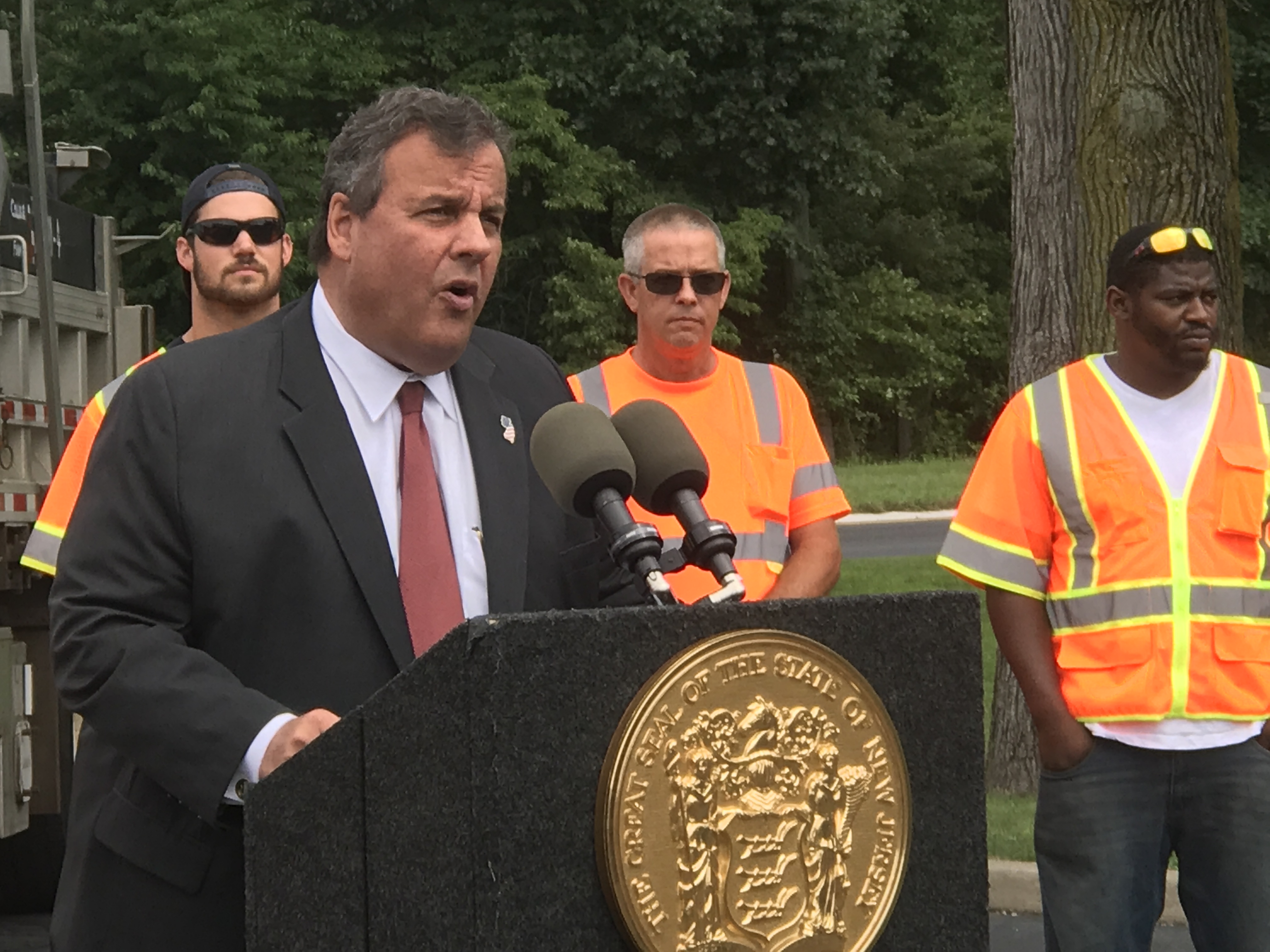 Republican gubernatorial nominee Kim Guadagno is making an unlikely play to win over police and firefighters, hoping to peel off support from rank-and-file union members in part by endorsing an idea Gov. Chris Christie vetoed in May.
And other Republicans are running away from Christie's 23-cent hike in the gas tax, which has proven to be political kryptonite in competitive legislative races this year.
The jury is set for Sen. Bob Menendez's corruption trial, with six men and six women picked to return to Newark on Sept. 6 for opening arguments.
Quote of the Day: "Recently, I have been sitting down with each of them and have been saying just that: 'Release your locals.'" – Kim Guadagno about her meetings with public safety unions.
NJ Republican Candidates Run From Christie's Gas Tax
Gov. Chris Christie led the charge for a 23 cent increase in New Jersey's gas tax last year, and it will likely end up as one of his biggest legacies as governor, providing eight years of funding for improved roads, rails and bridges across the state.
Alyana Alfaro, Observer Read more
Guadagno Makes Long-Shot Bid for Public Safety Workers
Kim Guadagno, the Republican nominee for governor, is making an unlikely play to win over police officers and firefighters as she seeks to build support for her underdog candidacy.
Christian Hetrick, Observer Read more
Jury Is Set for Menendez's Corruption Trial
After two days of screening in federal court in Newark, the jury is set for the corruption trial of Bob Menendez, the New Jersey senator battling charges that he accepted lavish gifts and bribes in exchange for political favors.
Alyana Alfaro, Observer Read more
Menendez Is Denied Reprieve From Corruption Trial to Cast Senate Vote
When the 115th Congress returns to Washington on Sept. 5, Senator Robert Menendez will likely be absent: His federal corruption trial is set to begin here the following day. But when the Senate moves to vote on major bills during the fall…Senator Menendez will be caught between his desire to remain in front of jurors and his congressional obligation to fight for his constituents.
New York Times Read more
Train Derailment, Subway Delays Foul Another Morning Commute
Many rail commuters had to endure a torturous morning on Wednesday, after a train derailed in Pennsylvania Station and several subway lines were caught up in delays that led to crushing crowds in some stations.
New York Times Read more
Trump under the gun as Dreamers deadline looms
President Donald Trump has been unusually cautious about his plans for so-called Dreamers, but he's running out of time to make up his mind.
Politico Read more
New Jersey's ACLU gets new executive director
The American Civil Liberties Union's New Jersey chapter is getting a new executive director. The group announced on Wednesday Jersey City resident Amol Sinha will take over the post on Sept. 1.
Associated Press Read more
One final court fight between Christie and state workers' union
Eight years of tensions between Gov. Chris Christie and public-worker unions is culminating with one final court fight, this time over changes to the Office of Information Technology.
NJ101.5 Read more
Ousted Edison Democratic chair plans to run for mayor (as a Republican)
The ousted head of the township's Democratic party has thrown his hat into the Edison mayoral race, but he's switching sides and running as a Republican.
NJ.com Read more
Menendez judge has history of tough corruption sentences
The judge overseeing U.S. Sen. Robert Menendez's trial on federal corruption charges has made it a personal crusade to impose harsh sentences on officials who are found guilty of violating the public trust.
Politico Read more
Congress candidate hits diner circuit in Morris
Congressional candidate Mikie Sherrill is heading into the heart of the 11th District — Morris County — to drum up support for the Democratic primary and a chance to defeat Republican incumbent Rodney Frelinghuysen in the 2018 general election.
Daily Record Read more
Lakewood oddity: Voters get another chance in tied election
There are 35 states that determine tied elections by a coin toss or some other means of chance. In New Jersey, we vote again.
Asbury Park Press Read more
Right to remain silent? Using it in traffic stop just got NJ woman $30K
A lawyer who alleged she was threatened with arrest for not answering a State Police officer's questions during a traffic stop has agreed to a $30,000 settlement in a federal lawsuit.
NJ101.5 Read more