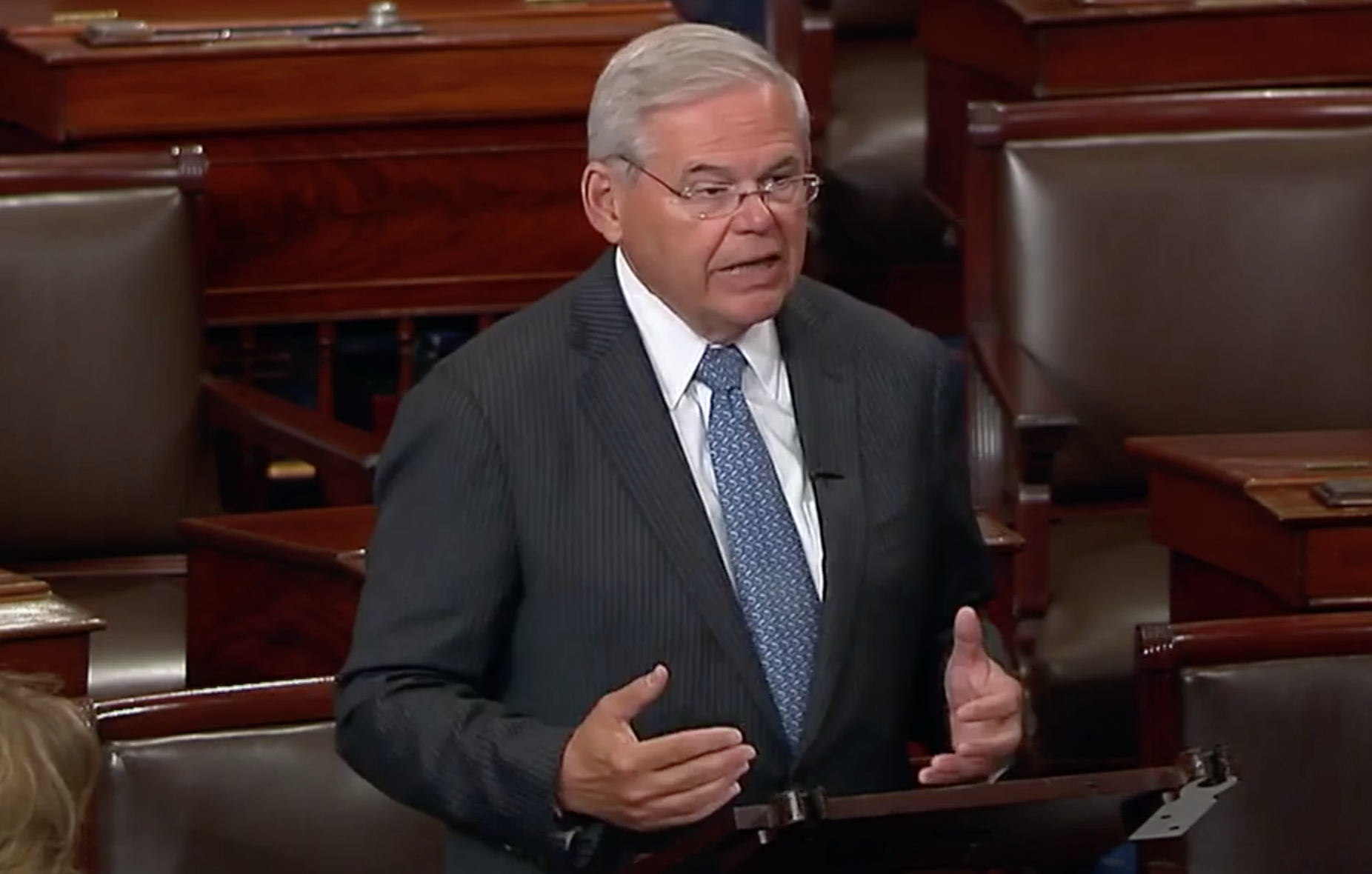 Sen. Bob Menendez says his constitutional rights are at stake as he seeks to delay his upcoming corruption trial on days when the U.S. Senate holds key votes. Menendez, who is charged with accepting bribes from his top donor, said he has a right to be both at his trial and on the Senate floor to cast votes.
Kim Guadagno, the Republican nominee for governor, dodged a few questions about Assemblyman Parker Space (R-Sussex) posing in in front of a Confederate flag for a picture posted on Facebook. She said she hadn't seen the photo. Phil Murphy, the Democratic nominee, criticized her for not condemning Space.
And Gov. Chris Christie doesn't think he will become Senator Christie. The governor said he probably wouldn't appoint himself to the U.S. Senate if Menendez was forced to give up his seat after his trial.
Quote of the Day: "It's offensive if it stands for what it purports to stand for, but I haven't seen it yet." — Lt. Gov. Kim Guadagno on a picture of a Confederate flag. 
Hoboken Candidate Under Fire for Running for Two Offices at Once
Hudson County Freeholder Anthony Romano is under fire over his decision to run for Hoboken mayor and for re-election to his county position in November, a move that will place him on the ballot twice.
Alyana Alfaro, Observer Read more
Top Sweeney Aide Leaves for Health Insurer
Kevin Drennan, the top aide to Senate President Steve Sweeney, is leaving the government for a job at one of the largest health insurers in New Jersey, according to a source with knowledge of the move.
Christian Hetrick, Observer Read more
Guadagno Declines to Criticize Assemblyman's Confederate Flag Photo
Kim Guadagno, the Republican nominee for governor, declined to comment several times on a state lawmaker who posed for a picture in front of a Confederate flag, telling reporters Tuesday she had not seen the photo.
Christian Hetrick, Observer Read more
Menendez Defends Request to Pause Trial, Says His Rights Are at Stake
U.S. Sen. Bob Menendez on Tuesday defended a motion filed last week by his attorneys to pause his upcoming federal corruption trial on the days when "critical" votes are taking place in the Senate.
Alyana Alfaro, Observer Read more
Christie on appointing himself to replace Menendez: 'I don't see that happening'
Gov. Chris Christie said Tuesday he probably wouldn't appoint himself to the U.S. Senate if Democratic Sen. Bob Menendez were to resign following his federal corruption trial.
Politico Read more
Christie says federal aid for Harvey victims should not be 'held political hostage'
Gov. Chris Christie on Tuesday urged quick passage of a federal relief package for victims of Hurricane Harvey, saying aid for Texans should not be "held political hostage" like it was for Hurricane Sandy, which battered New Jersey in 2012.
NJ.com Read more
Christie defends Trump over visit to Texas amid Harvey
Gov. Chris Christie said Tuesday it's "outrageous for anyone to argue" that President Donald Trump is visiting Texas "too soon" in the wake of Hurricane Harvey's devastation
NJ.com Read more
New Jersey to US Supreme Court: Strike down sports bet ban
New Jersey officials say the U.S. Supreme Court should strike down a ban on sports betting in all but four states because it wrongly forces states to enforce a regulation that Congress wants.
Associated Press Read more
Congress hopeful chats up Morris diner patrons
Mikie Sherrill, hoping to turn the tide in New Jersey's 11th Congressional District, took her campaign this week to some of incumbent Rodney Frelinghuysen's favorite turf — diners.
Daily Record Read more
Guadagno attacks Murphy over 2 percent salary cap for police and firefighters
Lt. Gov. Kim Guadagno, the Republican candidate for governor, called her Democratic opponent Phil Murphy "the tax man" on Tuesday and blasted him for not saying whether he supports a soon-to-sunset law that effectively caps increases in local police and firefighter salaries at 2 percent.
The Record Read more
N.J. National Guard resources headed to Texas to support Harvey rescue
A pair of New Jersey National Guard helicopters and crew are Texas bound Wednesday morning to help with the rescue and recovery effort in the wake of the devastation of Hurricane Harvey, Gov. Chris Christie announced Tuesday night.
NJ.com Read more
NJ Transit train loses power, strands 400
Four-hundred passengers were on board a NJ Transit train that stopped on the tracks at the end of Tuesday morning's commute. Northeast Corridor Train No. 3718 left Princeton Junction around 8:40 a.m. headed for Penn Station New York when it became stranded around 9:30 a.m. between Linden and Elizabeth.
NJ 101.5 Read more
Details of Atlantic City Early Retirement Program still not known
A new law signed by Gov. Chris Christie on Friday allows the state to offer an early-retirement incentive program to the city's police officers, firefighters and first responders facing layoffs.
Press of Atlantic City Read more
Lakewood $600,000 contract to school board lawyer draws complaint
The school board's $600,000 contract to hire Michael Inzelbuch as its attorney doesn't comply with state regulations curbing high legal services costs, a complaint filed Tuesday alleges.
Asbury Park Press Read more
Editorial: Texas lawmakers voted against aid for Sandy victims. But no hard feelings
New Jersey has a message for you, Houston: We've got your back. Many of us have been there, having lost everything in Hurricane Sandy.
NJ.com Read more