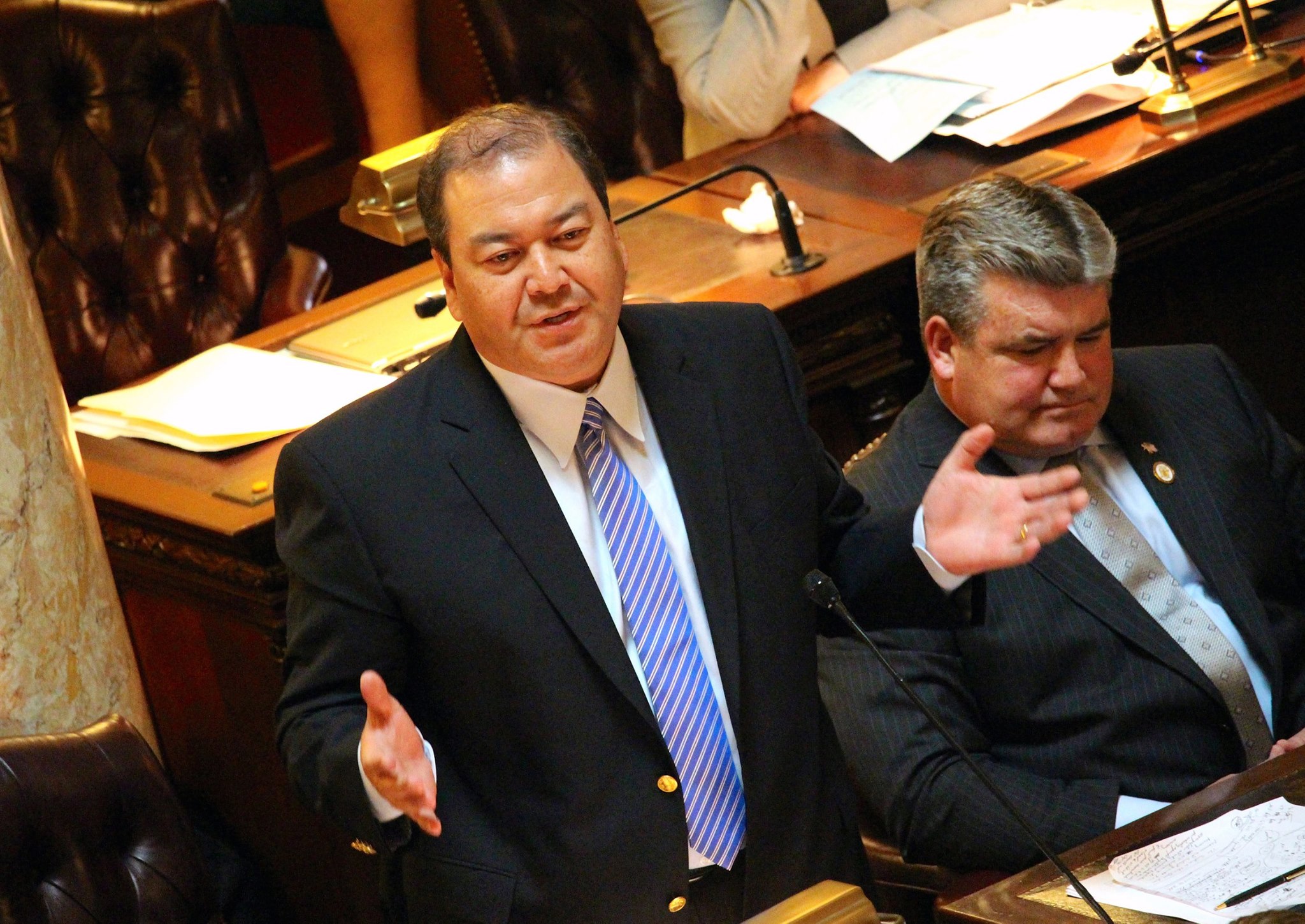 The dust is settling after Tuesday's big shakeup at the Port Authority, and some are questioning the selection of former New Jersey state Sen. Kevin O'Toole as the new chairman of the troubled bi-state agency.
One critic called O'Toole a "Bridgegate apologist" for once echoing an explanation from Port Authority officials that access lanes of the George Washignton Bridge were closed in 2013 as part of a traffic study. That was later revealed to be a cover story for a plot to punish the mayor of Fort Lee for not endorsing Gov. Chris Christie's re-election bid.
Others, though, are praising the pick of O'Toole to help lead the authority. And O'Toole, meanwhile, is still dealing with a defamation lawsuit filed by Bergen County Republican Chairman Paul DiGaetano.
Some residents in Essex and Passaic counties could vote for Sheila Oliver twice this November. That's because she's running for lieutenant governor and seeking re-election for her state Assembly seat. New Jersey law generally bars candidates from appearing twice on the same ballot, but Democrats argue candidates for lieutenant governor are exempt from the regulation.
Quote of the Day: "I didn't dump the nachos on him or anything, which was an option," – Gov. Chris Christie on in his exchange with a heckler during a baseball game.
Can Sheila Oliver Run for Assembly and LG at Same Time?
Democrats plan to run Sheila Oliver for lieutenant governor and for re-election to the Assembly in the 34th legislative district this November, arguing that state law allows her to seek both offices at the same time, even though she would only be able to occupy one of them.
Christian Hetrick, Observer Read more
Lesniak Bill Would Expand NJ Internet Gaming Market
State Sen. Ray Lesniak announced Wednesday he will introduce a bill vastly expanding New Jersey's Internet gambling market to allow bets placed in other states and countries.
Christian Hetrick, Observer Read more
Incoming Port Authority Chairman Still Being Sued for Defamation
As former state Sen. Kevin O'Toole prepares to start a new job as chairman of the Port Authority of New York and New Jersey, he continues to deal with a defamation lawsuit filed by Bergen County Republican Chairman Paul DiGaetano.
Alyana Alfaro, Observer Read more
Op-Ed: Kevin O'Toole Is Right Choice to Represent NJ at the Port Authority
In naming longtime ally Kevin O'Toole as the new chairman of the Port Authority of New York and New Jersey, Gov. Christie has made an exceptionally shrewd and astute choice. O'Toole, a former New Jersey state senator currently serving as a commissioner at the Port Authority, is a tough negotiator and an able strategist. In short, a wartime consigliere.
Ken Kurson, Observer Read more
Christie's new Port Authority chairman seen by some as 'Bridgegate apologist'
The man Gov. Chris Christie has tasked with further rehabilitating the Port Authority of New York and New Jersey was a key defender of the agency's actions after the George Washington Bridge lanes closures.
Politico Read more
Chris Christie says dumping nachos on heckler 'was an option'
It was Chris Christie, up close and personal.
The Chicago Cubs fan who was involved in a confrontation with Christie on Sunday vented on Facebook that the New Jersey governor violated his personal space.
Asbury Park Press Read more
'Bring it on!' Christie tells Dog the Bounty Hunter
Before the reporter could fully get the question out to Gov. Chris Christie about "Dog the Bounty Hunter" taking him to court, the governor interrupted with a message to the former TV star:
"Bring it on."
NJ.com Read more
Christie's presidential campaign is not dead yet
While Gov. Chris Christie's presidential campaign committee is closing its doors, two aligned political action committees remain up and running.
NJ.com Read more
White House feedback on opioid commission report 'great,' Christie says
Gov. Chris Christie said Wednesday that he got "great feedback" from the White House on his national commission's report on the heroin and opioid abuse crisis and said he anticipates that President Donald Trump will act on most of the panel's recommendations, if not all of them.
The Record Read more
Ed commissioner: Returning full local control to Newark school district is 'monumental'
Twenty-two years after being stripped of its autonomy by the state, New Jersey's largest public school system is on its way to regaining full local control, having received high marks in its latest state evaluation.
Politico Read more
State settles millions in Atlantic City casino tax appeals
A state-appointed city overseer has settled the resort's remaining casino tax appeals, including several with billionaire Carl Icahn.
Press of Atlantic City Read more
N.J. Supreme Court rules on pay hikes for public workers
The state Supreme Court on Wednesday ruled Atlantic County and Bridgewater Township committed unfair labor practices when they refused to pay employees' step increases after labor contracts with public workers expired.
NJ.com Read more