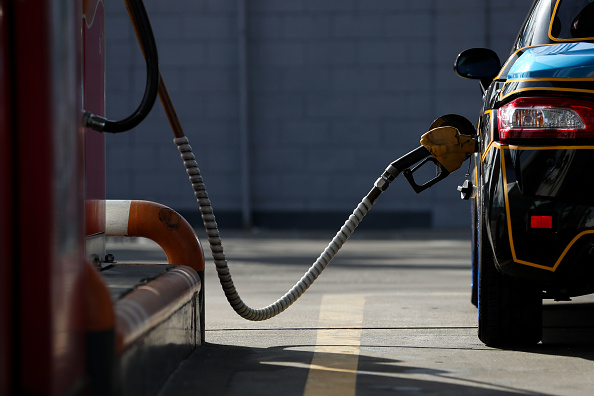 Gov. Chris Christie led the charge for a 23 cent increase in New Jersey's gas tax last year, and it will likely end up as one of his biggest legacies as governor, providing eight years of funding for improved roads, rails and bridges across the state.
But the landmark transportation deal has turned out to be political kryptonite for Republicans running in competitive legislative races this year. Up and down the GOP ballot, candidates in tough races have disowned and derided Christie's bipartisan plan to replenish the Transportation Trust Fund, often blasting the Republican governor for approving a tax increase.
Christie is term-limited and will be leaving his office in January. Democrat Phil Murphy and Republican Kim Guadagno, Christie's lieutenant governor, are running to replace him in the Nov. 7 election.
Guadagno loudly opposed the gas tax measure last year — "there is no such thing as a reasonable gas tax," she told 101.5 FM in October — but has not mentioned it on the campaign trail in recent months and has not said she plans to repeal it if elected.
However, in one of the most competitive legislative races, in the 14th district, Republican candidate Ileana Schirmer has launched an online campaign against state Sen. Linda Greenstein (D-Middlesex), an incumbent who voted in favor of the gas tax.
"Governor Christie and Linda Greenstein were wrong to raise the gas tax on an already burdened population, and we are tired of Trenton's 'if you can make it we can tax it' attitude," Schirmer, who was endorsed Tuesday by U.S. Sen Marco Rubio (R-Fla.), said in a statement last week.
On 101.5 FM, Schirmer last week said she would not necessarily introduce legislation to repeal the gas tax if elected, citing New Jersey's high level of debt. Greenstein did not respond to a request for comment.
In another competitive race, in the 38th district, Republican candidate Kelly Langschultz has made hay of the gas tax when discussing her opponent, Sen. Bob Gordon, a Democrat and the vice chairman of the Senate Transportation Committee. Like Greenstein, Gordon voted in favor of the gas tax last year.
"Funding for TTF reached a crisis level and Gordon and Christie bailed them out with a new tax at the expense of middle-class families," Langschultz said in a July statement. "We need a change of leadership in Trenton. We need someone that will have the leadership to not let issues culminate over time into these major problems like the transit crisis."
The gas tax is also part of the backdrop in another tight race, in the 11th district covering Monmouth and Ocean counties. State Sen. Jennifer Beck (R-Monmouth) is facing off against a well-funded Democrat, Vin Gopal. Beck opposed Christie on the gas tax measure last year, one of 14 state senators to vote no. She launched a petition along with conservative state Sen. Mike Doherty (R-Warren) in opposition to the tax, and introduced a plan to fund transit projects without raising taxes by merging several transportation agencies and a host of other complex maneuvers.
"The outreach from constituents on the gas tax is like nothing I've ever seen before," Beck said before a vote on the plan in October.
Beck spent months criticizing Christie's transportation plan last year, calling the gas tax hike a "regressive" one that would punish working-class families and the poor more than anyone else. "I don't know how any legislator could ignore so many people begging for us not to hurt them," she said. "You don't help people by taxing them out of the state."
Gopal has said he also would have opposed the gas tax initiative had he been in the Legislature.
The transportation funding deal had bipartisan support and buy-in from Senate President Steve Sweeney (D-Gloucester) and Assembly Speaker Vincent Prieto (D-Hudson). In exchange for Christie's agreement to raise the gas tax, the Democrats took the rare step of cutting two major sources of tax revenue in the $34.6 billion budget. One of those moves was to eliminate the estate tax over two years. The other was to cut New Jersey's sales tax from 7 percent to 6.6.25 percent over the same period.
"I've been involved in politics in this state for a long time, and everyone's going to play politics with an issue like this, but this is what second-term governors were invented for," Christie said in November. "I don't have to run for anything. I don't have to pretend that you can fix this problem without increasing a tax."
Christie argued that if he had not raised the gas tax, the state Transportation Trust Fund would have gone broke, and local governments would have been forced to shoulder the cost of any road repairs or transit projects. That would heave meant even higher property taxes in a state that already has the highest in the nation, Christie warned.
"Second-term governors are built to make the difficult decisions that first-term governors are a little more scared to make because they got one more shot in front of the voters," he said. "I made this deal because it was in the best interest of the state and I made this deal because we can't leave it to politics any longer on the way that we fund our roads and our bridges and our mass transit systems, and we shouldn't leave it to you to have to raise your property taxes in order to maintain your roads."
Michael Muller, executive director of the Senate Democratic Majority political committee, said that Republican attempts to flee from Christie on the gas tax ring hollow. The package was co-sponsored by a Republican, Sen. Steve Oroho (R-Sussex).
"It is interesting how Republicans up and down New Jersey are all finding religion as Chris Christie's popularity has waned," Muller said. "That doesn't change the fact that they are fast to support Republicans that nine out of 10 times voted with Governor Christie in their caucus. To find religion now that he is in his lame duck position just doesn't pass the smell test."
Ben Dworkin, the director of Rider University's Rebovich Institute for New Jersey Politics, said that the gas tax will likely not be an issue that significantly shifts votes come November.
"I don't think it is going to be the biggest issue," Dworkin said. "Property taxes are going to be a bigger issue at this point. While a candidate can certainly raise it, the gas tax issue is going to be one more argument to convince someone who is already there. It will resonate with people for whom taxes are already resonating."
But the issue does help distinguish Republicans from their unpopular governor. Christie's approval rating currently sits at 15 percent among New Jersey residents, according to a recent Monmouth University poll.