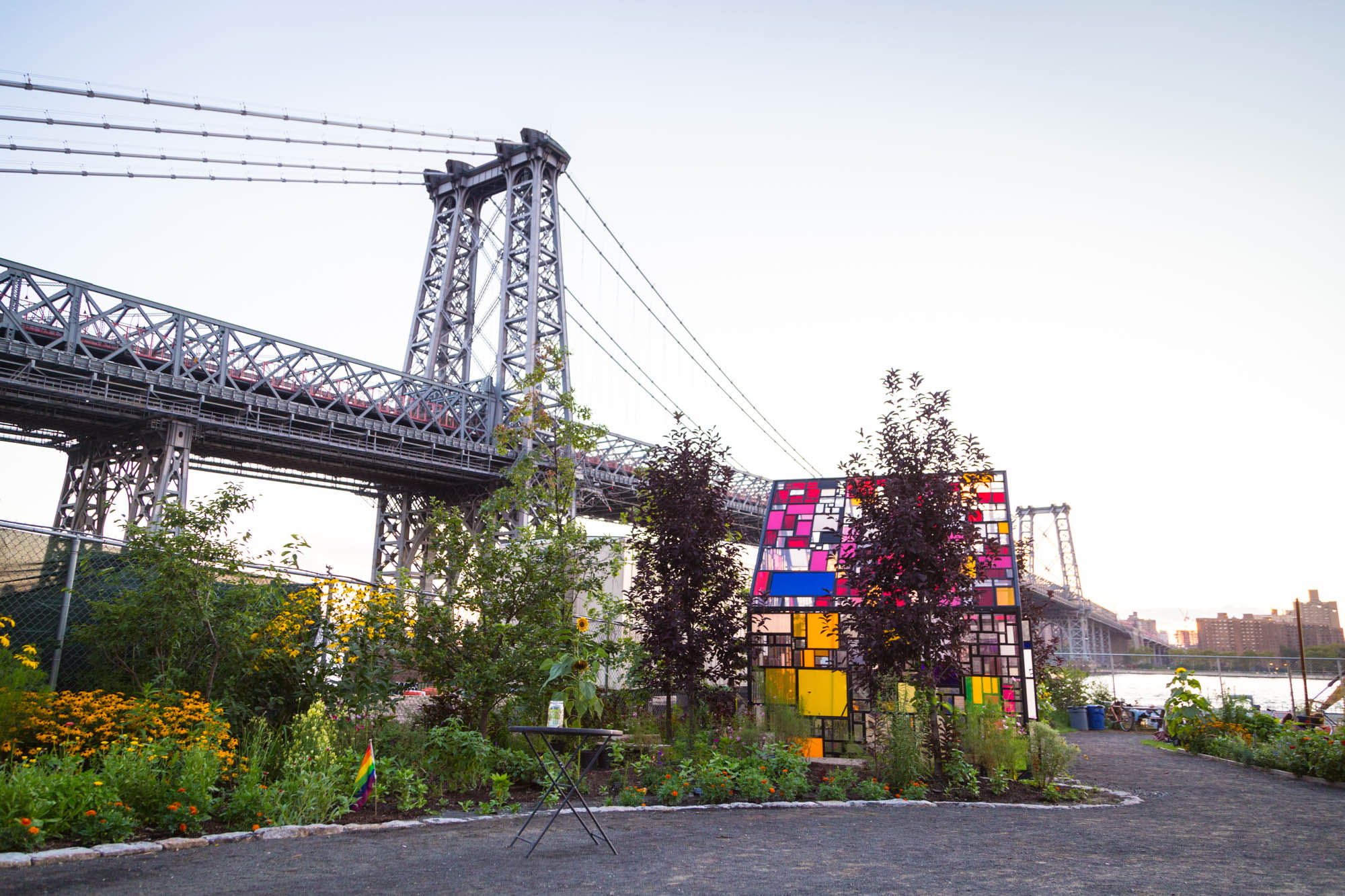 There are plenty of Instagram-worthy opportunities in Williamsburg, from avocado toast at every single eatery to the pop art-inspired murals dotting Bedford Avenue. But one 'grammable moment that actually stands out amidst ice cream sandwiches at Smorgasburg is the brightly colored glass house directly under the Williamsburg Bridge, since it's not exactly easy to find for those who don't already know about it. The colorful greenhouse is at North Brooklyn Farms, an unexpected refuge on the waterfront surrounded by the rapidly climbing high-rises.
Of course, a Williamsburg farm isn't exactly bucolic. Instead, the hipster space is home to a small skate park, and holds all sorts of events, with the Statue of Liberty and the Manhattan skyline as an ideal social media backdrop.
On the weekends, the farm offers a refuge from the typical boozy brunch routine, with a farm stand on Sundays and a small booth serving up cocktails and fresh food. There's even a weekend DJ if you want to pair lying out with lite EDM.
But the selling point of the secret farm, which is only open until early fall, and will potentially close to make way for more high-rises (just what Williamsburg needs!) this winter, is its availability for private events. This summer, the farm has played host to a Supper Women dinner party (their tagline is "ladies who launch and the (hu)men who love them), with a drone to capture the pre-dinner meditation moments—and in true influencer fashion, it was sponsored by decidedly on-brand almond milk). This week, the farm peppered their usual yoga classes with a dose of doga, or dog yoga, hosted by Y7.
If you thought nothing was more Brooklyn than the world's first avocado restaurant, you were wrong. Because dog yoga, female founder dinner parties and the opportunity to Instagram a farm no one knows about, which is basically the equivalent of a rural speakeasy, means peak Williamsburg has finally been achieved.