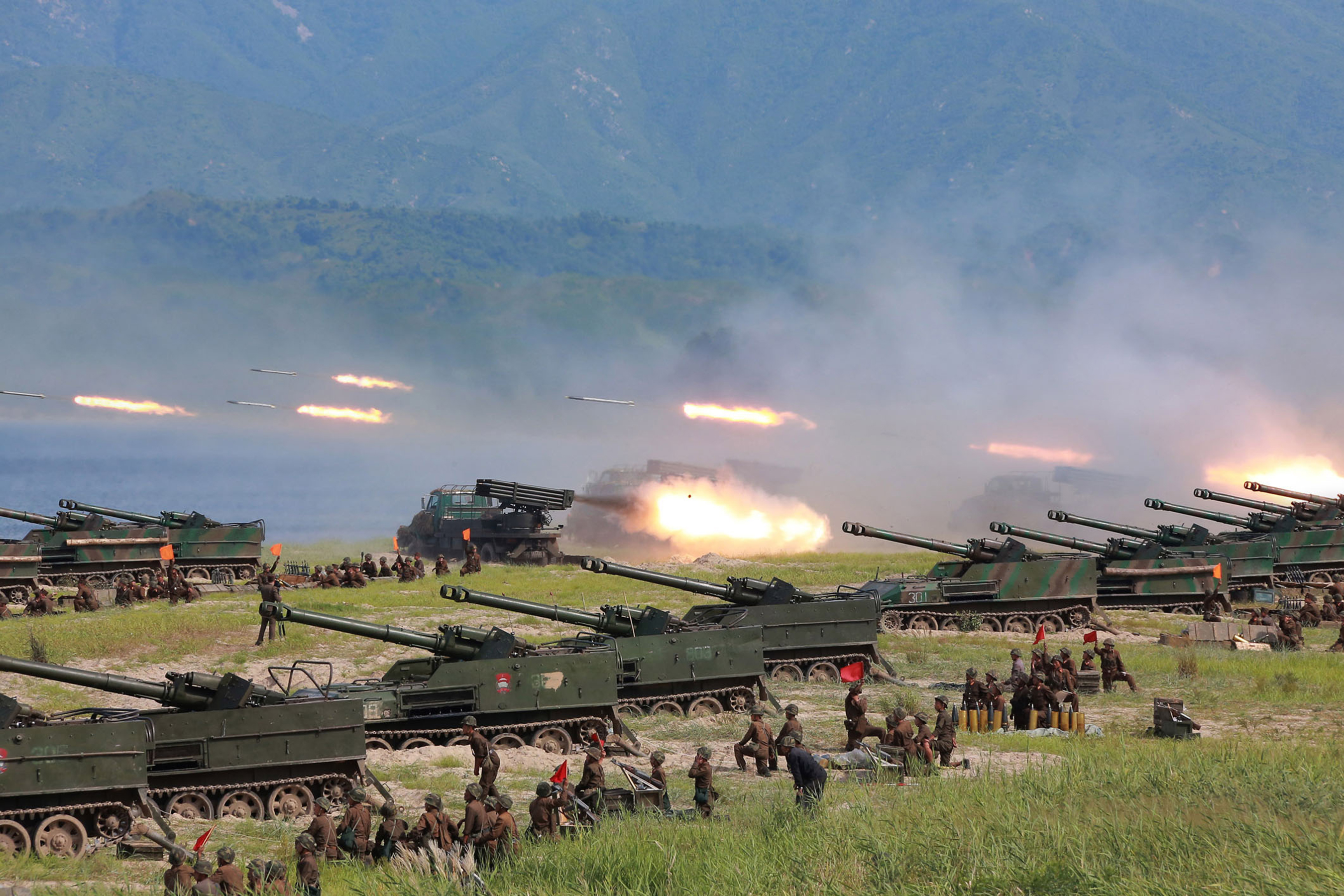 On August 29 North Korea test fired an intermediate range ballistic missile that approached the Japanese home island of Hokkaido on a worrisome flight path. Japanese officials alerted residents to prepare for falling debris. This was wise—not alarmist. Unarmed ballistic missiles returning to earth are threats to life and infrastructure. If they break up in flight their high speed fragments can inflict damage when they slam into the earth. A nose cone or other large missile component can turn a building into a crater.
The North Korean missile passed over the island and splashed down in the North Pacific, a little over 1,100 kilometers east of Hokkaido.
This latest missile's trajectory has a politically significant back story. Understand that Kim Jong-un and his regime lobbed the missile over Japan. The Fat Kid did not shoot at Guam as he threatened to do earlier this month—and more on that in a moment.
This isn't the first time a North Korean missile flew over Japan. The Great Ballistic Missile Wake Up Call of 1998 put a ballistic rainbow over Japan. The first stage of the missile hit water west of Japan. The second stage landed around 300 kilometers east of Japan. Japan responded to the  provocation by curtailing economic aid and issuing a diplomatic condemnation.
In 2017, however, Japanese Prime Minister Shinzo Abe reacted with undisguised outrage. He fumed, "North Korea's reckless action of launching a missile that passed over Japan is an unprecedented, serious and grave threat."
Why, at this time, did the Fat Kid fire at Japan?
After engaging in a hot rhetorical exchange with President Donald Trump, the Fat Kid threatened to hit the sea around Guam with a volley of IRBMs. That drew a telling rebuke from China. China warned North Korea that it's on its own "if it launches missiles threatening U.S. soil and there is retaliation…" China, however, "would intervene if Washington strikes first."
Guam is U.S. soil. It appeared that Trump, playing bad cop, had baited Kim into making that threat, and I said so at the time.
Mainstream media clutched its pearls at the thought of Trump's tantrum having strategic merit, but check the time line. China placed a strategic limit—in public—on North Korean belligerence, and Kim backed down.
Dictators can't lose face and retain power. Kim had to shoot again—so he took a pot shot at Japan, attempting to leverage bad history and ethnic hate.
East Asia has its share of these uglies. The Chinese despise the Japanese—Nanking's horror is one of many. Koreans North and South despise the Japanese—comfort women and enslavement are two reasons. However, North Korea's legacy of murder, its vicious quest for nuclear weapons, and constant threat of renewed all-out war have mellowed southern attitudes toward the Japanese. The Japanese? You're not supposed to say it, but they disdain everybody. Twenty-first century Japan, however, needs allies. China's rise to regional power and North Korean belligerence have given Japanese a new appreciation of South Korean military and economic prowess. As for Koreans and Chinese? They don't particularly like each other, either. Welcome to East Asia. Is there an upside? Sure. China, Japan and South Korea make a lot of money together.
Firing a missile toward Japan gave the Fat Kid a way to save face.
* * *
But at a cost. The U.S., South Korea and Japan are confirmed allies, and they are coordinating policy.
On the diplomatic front, Prime Minister Abe delivered the rhetorical heat. Firebrand Trump's response, however, was cool and carefully crafted, but it ended with a punch:
"The world has received North Korea's latest message loud and clear: this regime has signaled its contempt for its neighbors, for all members of the United Nations, and for minimum standards of acceptable international behavior.
"Threatening and destabilizing actions only increase the North Korean regime's isolation in the region and among all nations of the world. All options are on the table." 
All options.
South Korea provided a firepower demonstration that kicked sand in the Fat Kid's saved face.
In response to the North Korean test launch, South Korean F-15K fighter-bombers dropped 2,000 lb. bunker buster bombs on simulated "hardened" targets. Pyongyang deploys tube and rocket artillery north of the DMZ that can barrage roughly the northern third of Seoul. This artillery is an implicit military and economic threat. The bombs the F-15Ks dropped can destroy North Korea artillery, even the weapons in well-protected positions. The South Korean firepower display told the Fat Kid that his guns and rockets aren't the threat they once were. If he does shoot, American, South Korean and Japanese aircraft and allied missiles will strike his guns with accurate, devastating ordnance.
* * *
In an article The Observer published July 11, I listed six courses of action the Trump Administration might pursue to achieve its stated strategic goal: denuclearizing the Korean peninsula. The options illustrated ways the U.S. and its allies could use diplomatic, information, military and economic power to achieve the goal. They were not discrete.
Since the article was published, the Trump Administration has pursued a mix of Option 1 (Yet another "do the right thing" bid to Beijing) and Option 2 (Coercive diplomacy directed at China.)
China supports the new—and harsh—UN economic and political sanctions imposed on North Korea. China's and India's recent decision to defuse their latest Himalayan confrontation did not occur in a vacuum. North Korean belligerence and the escalating confrontation on the Korean peninsula influenced China's decision. As Option 1 stated, China's borders are anything but problem free.
Option 4, (Return of serve) looks increasingly attractive. Intercepting North Korean missile launches with allied anti-ballistic missiles has real diplomatic and psychological potential. It could stymie the test program and embarrass Kim Jong-un.
The South Korean F-15K firepower display offers a sobering window on Option 6 (Delayed reprisal and the war to denuclearize.) The adults in the room don't want to go there.
So Option 5 (Decapitation) remains on the table. Removing Kim probably requires a North Korean Army coup. As I wrote in July, if you know a North Korean faction with the guts to try it, contact CIA immediately.
Austin Bay is a contributing editor at StrategyPage.com and adjunct professor at the University of Texas in Austin. His most recent book is a biography of Kemal Ataturk (Macmillan 2011). Bay is a retired U.S. Army Reserve colonel.