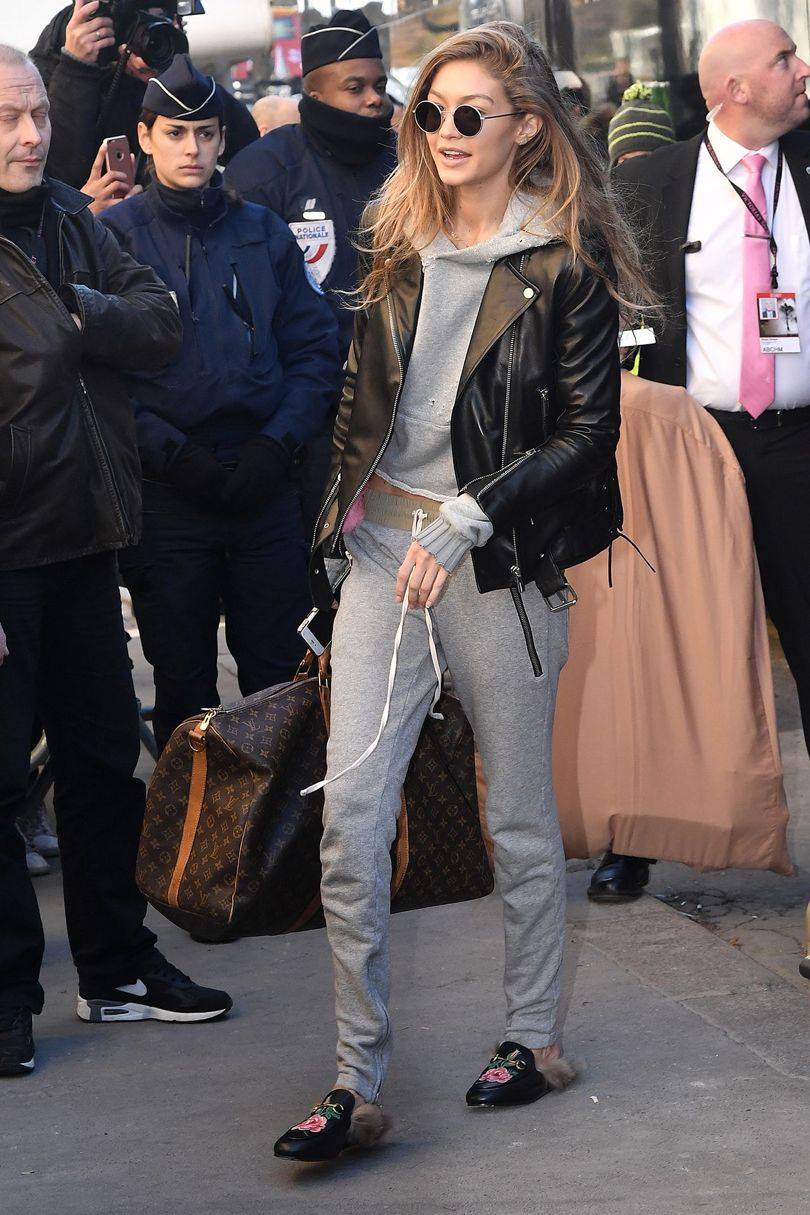 Erin Webb and Nour Hammour met as classmates at the Paris outpost of the Italian fashion school Istituto Marangoni. What started as a side project customizing leather jackets for friends in between classes grew into a thriving business, and three years ago they founded Nour Hammour, a Paris-based leather jacket label that supermodels can't get enough of. Now the pair produce exclusive pieces at their stunning 18th century atelier in the 16th Arrondissement.
"The whole idea, when we were doing our Masters, was that Erin and I would start a leather jacket business together one day," says Hammour from Paris by phone. "We left, and we had other jobs. We kept meeting up for drinks and talking about it and one day we just said, 'Let's do it.'"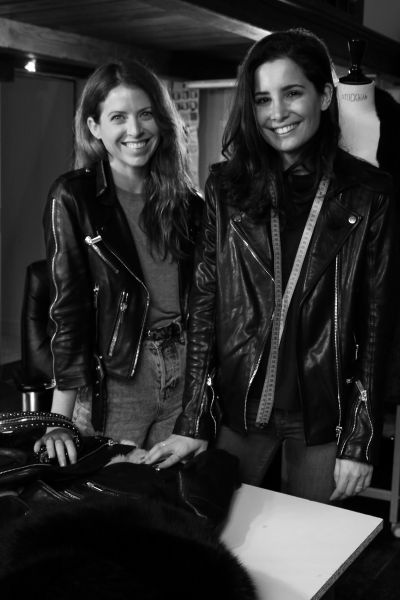 The brand has come a long way since its early says, when Hammour ordered fabric studs from heavy metal websites that she found online. They weren't so easy to come by at the time. "I think it was 2010 and studs were not really trendy yet," she explains. "They just started getting trendy after I started doing it. I'm not saying it came from me, but it was just like this crazy moment." Today, Nour Hammour uses a top secret studding atelier that all the top French fashion houses have turned to for embellishing their jackets. The brand also releases collections biannually, which are shown to private clients and press twice a year.
Kendall Jenner, Rosie Huntington-Whiteley, Gigi Hadid, Taylor Hill, Romee Strigid, Sara Sampaio, Blake Lively, Chiara Ferragni, Halsey, Hailee Steinfeld, Iggy Azalea, Kylie Jenner, Kourtney Kardashian and Ruby Rose are just a few of the celebs who have worn the brand's signature leather jackets. Hadid in particular is one reason why the brand has become so recognizable—the oft-photographed model has worn so many different iterations of their embellished jackets it's hard to count. There might be a reason why models in particular are so drawn to the label. Both Webb and Hammour cite images of '90s era Kate Moss and Cindy Crawford as their favorite pop-culture leather jacket moments. And, as Webb says, "our jackets are unique—they're pieces that models can throw on over their clothing and still look beautiful and put together."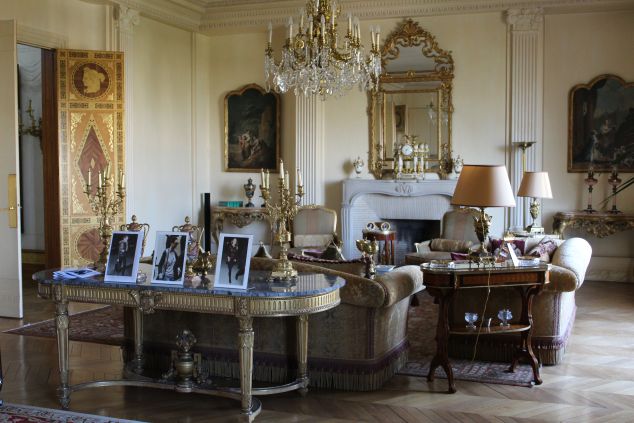 When Nour Hammour first started out, they mainly customized pieces for high-profile clientele in Paris. And up until recently, a visit to the atelier was one of the only way to get one of Nour Hammour's items. But as of this fall, Neiman Marcus will cary the brand at select stores nationwide.
"Out of the blue, we were able to show our collection to Ken Downing [SVP and fashion director of the stores], and he really liked it," says Hammour. "Neiman Marcus picked up the collection for 20 stores this fall, which is a pretty big deal." They created three exclusive styles in different colors just for the department store, and will also be on hand for custom studding events in select Neiman Marcus locations, making the young brand more accessible than ever before.
But that's not to say Nour Hammour won't continue customizing pieces for top clients. The average price of customization starts out at $2,000 and can go upwards of $5,000, which is similar in price to the jackets currently being sold at Neiman Marcus. According to the design duo, no request is too extravagant. Fox fur, Swarovski crystals and thousands of studs are all doable.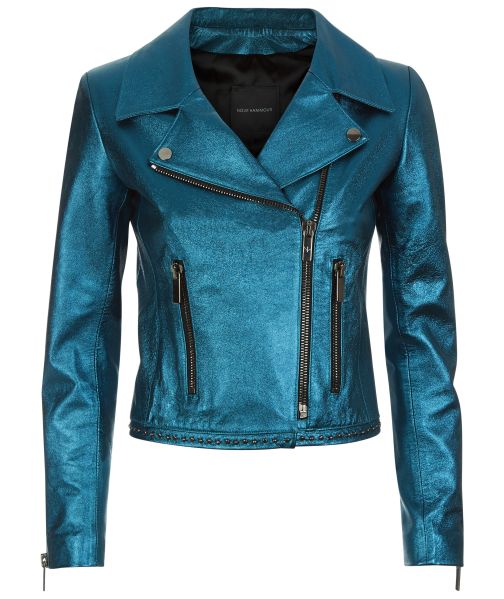 "We always figure it out somehow," explains Webb. "We did a jacket for Will.i.am in our first year where he wanted 10,000 studs. We had to do it in one night because we didn't know when he was coming." The two finished the body of the jacket and received a call soon after asking if they could drop off the jacket for Will, who was in Paris, as soon as possible. "That was a crazy day. It'll take about six weeks usually," says Webb, referring to the typical custom job.
Clients, who sometimes fly out from the U.S. to have their custom Nour Hammour jacket designed, can expect an incredible level of detail. "I think Erin is really, really good at developing studding patters and choosing the exact little studs and colors that go into each design," says Nour. While Erin counters, "Nour is amazing at silhouettes. She'll work on a jacket, adding or subtracting millimeters off the shoulder until it's perfect," exclaims Webb. "It's so true that it is both of us, though. Each and every piece has both of us in it. It's really crazy."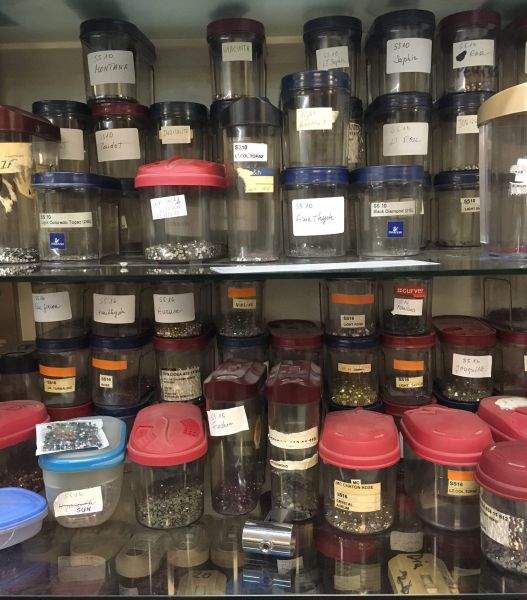 At the end of the day, the leather jacket will never go out of style for Hammour and Webb, and that's probably one of the reasons why their studded masterpieces are only growing more cult-worthy by the minute. "It's the one item that as you wear it, it can become better. I can't see that with anything else I own," says Hammour, referring to the aging process of their material. "On the contrary," she adds, "the leather jacket is becoming more and more easy to wear. People are wearing it at night with gowns. In the past, there were more rules with fashion and now, you're a little bit more free."