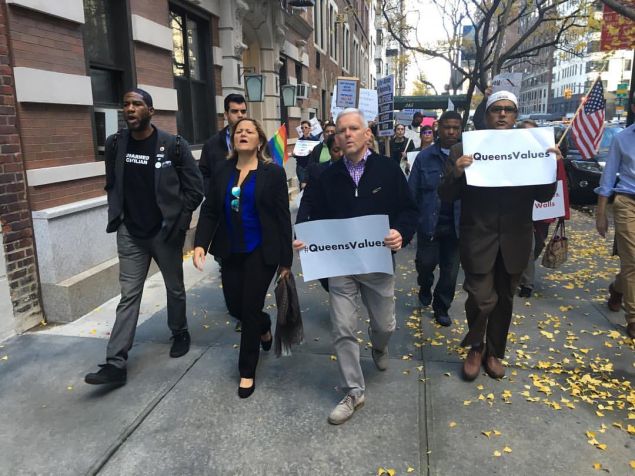 As President Donald Trump is set to visit New York City next week, City Council Speaker Melissa Mark-Viverito says he may have the right to come but that his values are "not welcome here" in New York City. And she's "ready" to join any potential protests that day.
On Monday, while on his 17-day vacation at his golf course in Bedminster, N.J., Trump announced on Twitter that he is planning to go to New York City next week "for more meetings." At the time, his spokeswoman said that they would provide more details "in the next day or two."
POLITICO, however, obtained a draft schedule indicating that he will go to Trump Tower on Sunday afternoon and stay there for three nights. The schedule also said that he will have "internal meetings" at this Fifth Avenue headquarters on Monday and Tuesday and head back to Bedminster on Wednesday.
Mark-Viverito — who has been a vocal critic of the administration since Trump was elected — said that she has "full confidence" in the ability of the NYPD to handle security while Trump is in the city and that people have the right to express themselves.
"I project that there will be some people probably protesting," Mark-Viverito said at her monthly pre-stated meeting. "There's a lot to protest."
And she said she is "ready" to join any protests that may be taking place that day. While she believes that Trump is entitled to visit the city, it does not necessarily mean that he will be greeted with smiles. She said that what the city strives for is to be an "inclusive city," a notion that she believes Trump "completely rejects," calling it "very unfortunate."
"I don't believe he incorporates any of our values and I know there's a large number of people that did not vote for him, therefore I believe he's not welcome here," Mark-Viverito continued. "He has the right to come here but in terms of his values and what he brings with him, it's definitely not what we welcome in this city."
Trump has visited New York City once since he became president, when he appeared aboard the historic U.S.S. Intrepid along with Australian Prime Minister Malcolm Turnbull, with whom he had clashed over the phone back in February. Hundreds of demonstrators, led by the labor-backed Working Families Party, liberal veterans group Common Defense and a host of local elected officials, rallied in DeWitt Clinton Park. They subsequently marched several blocks south.
In December 2016, Mark-Viverito and Mayor Bill de Blasio sent letters to President Barack Obama and Congress asking them to reimburse the city for up to $35 million that it spent for the period between Election Day on Nov. 8 and Inauguration Day on Jan. 20 protecting Trump and his family at Trump Tower.
On the last day of April, the trillion-dollar Omnibus Appropriations Act introduced on Sunday included $68 million for states and localities that protect the president and his family. Most of the money was allocated to Florida, where the president spends a lot of time at his Mar-a-Lago resort, and to New York—where First Lady Melania Trump and son Barron Trump where staying until the end of the current school year. They moved into the White House in June.
De Blasio said at an unrelated press conference on Monday that the NYPD "is the most expert police force on Earth" when it comes to handling visits by an American president, insisting that they "do an outstanding job." He said they will "be ready by any measure" and that Trump has visited the city "a lot less than we expected."
"We expected President Trump might be back a lot," de Blasio said. "He's only been back once previously and to his credit, he kept the time here very limited and the disruption very limited, so hopefully that will be he same this time."
The NYPD, for its part, said it is working with the U.S. Secret Service to prepare for Trump's visit.
Trump's immigration enforcement agenda has included executive orders barring entry to people from Muslim-majority countries, a proposal to build a wall along the Mexican border and expanded immigration detention. Mark-Viverito has participated in a number of protests and demonstrations against various Trump polices affecting marginalized groups, including immigrants, LGBTQ individuals and the Muslim community.
In January, Trump announced an executive order that would withhold funding for so-called "sanctuary cities" for undocumented immigrants. Following his election, he threatened to deport up to 3 million undocumented immigrants he claimed are criminals.
Mark-Viverito and Brooklyn Councilmen Brad Lander and Carlos Menchaca — chairman of the Council's Committee on Immigration — subsequently introduced a resolution reaffirming the Council's commitment to keeping the five boroughs a safe haven for all people, regardless of their legal status. The Council passed the resolution.
De Blasio has also said the city would remain a "sanctuary city," though some advocates say undocumented immigrants arrested for low-level offenses are at risk of deportation on the grounds that federal immigration authorities can access their information.
In response to news Chicago Mayor Rahm Emanuel filed a lawsuit against the U.S. Justice Department over its "sanctuary city" policies, de Blasio said they are "ready join in legal action" if there is a specific effort to withhold funds.