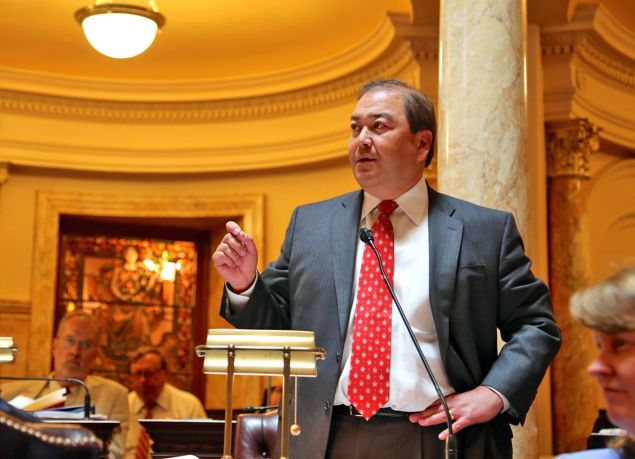 In naming longtime ally Kevin O'Toole as the new chairman of the Port Authority of New York and New Jersey, Gov. Christie has made an exceptionally shrewd and astute choice. O'Toole, a former New Jersey state senator currently serving as a commissioner at the Port Authority, is a tough negotiator and an able strategist. In short, a wartime consigliere.
But he's also a New Jersey patriot and that's exactly what this beleaguered agency most needs right now.
The way the Port Authority is set up, with New York choosing the executive director (Gov. Andrew Cuomo just announced that Tappan Zee superstar Rick Cotton will be replacing the sainted Pat Foye) and New Jersey choosing the chairman, the most important quality of the chairman is to represent the Garden State's interests ferociously.
New Jersey has an unfortunate and damaging history of having its pants pulled down by its bigger, more media-savvy neighbor to the east. Anybody who has ever negotiated against Kevin O'Toole, as I have from time to time, knows that nobody is going to get the better of this very tough guy.
There has been some criticism raised — on WNYC (which hyperbolically called him a "validator of Bridgegate lies") and elsewhere — that O'Toole was insufficiently hard on the governor during the George Washington Bridge scandal. That criticism is unwarranted. For one thing, the entirety of this years-long spectacle has done little but send to jail a single mother who sent an ill-advised email (Bridget Kelly) and an amiable fellow whose only "crime" seems to be that he had no damn clue what his own agency was doing (Bill Baroni). That's it.
If O'Toole was too soft on Bridgegate, it's because the startling fact that there was lots of traffic on the George Washington Bridge for a couple days just wasn't all that startling.
But the implication that O'Toole is somehow soft on corruption is plain false. Anyone who hung around Essex County Republican politics in the early 2000s watched this guy stand up to James Treffinger's mind-boggling array of carrots and sticks — including really sharp and dangerous sticks — as the corrupt former county executive tried mightily to keep O'Toole in his dubious fold.
It didn't work. At great personal cost and possibly even risk, O'Toole stood up to the Republican machine. It got extremely nasty, with O'Toole's sister and father being insulted, and eventually factions even attacking O'Toole's heritage in some of the most racist literature ever to land in New Jersey mailboxes. O'Toole eventually triumphed, becoming not only state senator but chairman of the oxymoronic Essex County Republican Party.
Another occasional knock on O'Toole has been that he's too cozy with Democrats. Well, if you're going to live in Essex County and get anything done, you had better learn to work with all sides. I view that as an asset at the Port Authority, not a liability. Indeed, his nomination was supported by his former colleagues in the state Senate, Steve Sweeney and even perennial Christie critic Loretta Weinberg.
What Republican purists never correctly understood was that having a senator who served a district almost entirely in Passaic and Bergen but who lives in Essex County provided tremendous leverage via the power of senatorial courtesy. All these judicial and other appointments that had to clear O'Toole's desk provided a critical check in a county where the Democrats regularly run up pluralities that would impress Saddam Hussein.
O'Toole wielded that power with masterly skill. If he's able to evidence some of those deal-making chops at the Port Authority, New Jersey has a chance at regaining some of its diminished clout in an agency that for too long has been used by both sides to park their weakest and least employable political lackeys. Christie has made a smart choice to head a critical agency and all of New Jersey stands to benefit from enhancements to a vital link to the region's prosperity.
Ken Kurson is a former editor-in-chief of Observer.