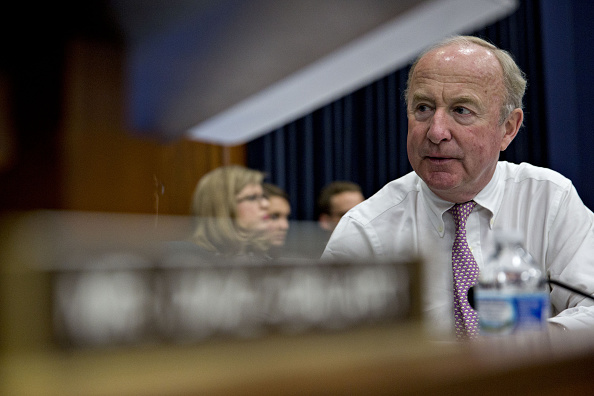 It is not often New Jersey leads the way for constitutional-interpreted policy, but thanks to a one-man campaign to overturn a half-dozen state laws, the Garden State has become ground zero in a debate on federalism and the Tenth Amendment.
For over a decade, the Department of Justice has employed an overly broad interpretation of the Wire Act, a law enacted during the Kennedy administration to ensure the mafia did not use telephones to bet on sports. Attorney General Robert F. Kennedy testified at the time that the law was enacted merely to assist with states' enforcement of their own laws — not as a federal power-grab to override state laws. Despite the clear language of the statute and its legislative history, the Department of Justice is now attempting to interpret the statute as a federal prohibition on the state legalization of all Internet gambling conducted by everyday Americans.
Ronald Reagan, my former boss, was correct when he told William Buckley that there is "a very practical advantage" to allowing the states to govern themselves on thorny issues. That's why the Founders gave us the Tenth Amendment to begin with.
Maintaining their state sovereignty is all that New Jersey is attempting to do. After a court decision finding the aforementioned Wire Act interpretation to be overly broad, New Jersey requested to exercise its right under the Tenth Amendment to legalize online gaming for their own residents within their own borders. The DOJ finally relented and at the end of 2010, the Garden State, along with Delaware and Nevada, set up a legal and regulated way for citizens to participate. Other states such as Illinois and Georgia followed suit by offering online lottery purchases for their residents.
The experiment has been as a success. After a slow start, New Jersey has begun to see massive increases in revenue from residents voluntarily participating in internet gaming. Thus far, it has generated more than half a billion dollars in industry revenue and has saved much of the Atlantic City casino industry from bankruptcy. Due to stringent privacy controls, no children have been found to participate like they do in unregulated, off-shore online casinos, and there has not been even an inkling of a connection between online gaming and organized crime.
Despite the success of the industry, one billionaire casino mogul is trying to override state law by imposing a federal ban on his competition. Las Vegas billionaire Sheldon Adelson, owner of the Sands Casino empire, has spent millions of dollars on the effort, unleashing an army of Beltway lobbyists, grasstops specialists, and public relations firms to rewrite state laws over the opposition of the states.
It goes without saying that Adelson's effort to override state law is a textbook example of crony capitalism. Darryl Nirenberg, the author of Adelson's poorly-named Restoration of America's Wire Act (RAWA), is a registered lobbyist for Adelson's company. He conveniently included an exemption for online fantasy sports because such gambling does not interfere with his casinos. After Nirenberg finished drafting the bill, Adelson turned to Sen. Lindsey Graham (R-S.C.), and then Sen. Tom Cotton (R-Ark.), to introduce the bill. Giving over $20,000 in campaign contributions to Graham's Senate campaign and $20 million to the Senate Leadership Fund that Cotton greatly depended on did the trick.
Adelson is funding a strong campaign. Nevertheless, New Jersey is fighting back. The New Jersey Legislature recently passed a resolution by near-unanimous margins to defend their rights under the Tenth Amendment against the potential federal onslaught. Even Gov. Chris Christie recently asked President Trump to defend the state's sovereignty.
Luckily, New Jersey has a potential ally with influence. The chairman of the House Appropriations Committee is none other than Rep. Rodney Frelinghuysen of the state's 11th congressional district. Adelson's allies have already signaled their desire to use the appropriations process to overturn state laws. As chairman, Mr. Frelinghuysen can single-handedly defend the rights of his own states and others.
We have yet to hear where the chairman is on the issue, but why would he not defend the Constitution by ending this crony capitalist push to limit competition? If Mr. Adelson feels New Jersey and other states should not legalize online gaming or the sale of lottery tickets online, the proper venue to ban it is not Congress but the dozen state legislatures that are now considering the issue. Rep. Frelinghuysen needs to stay Jersey Strong and defend his residents from crony capitalism.
Peter Ferrara, a senior fellow for the Heartland Institute and principal and general counsel for the Raddington Group, served in the White House Office of Policy Development under President Reagan and as associate deputy attorney general of the United States under President George H.W. Bush.