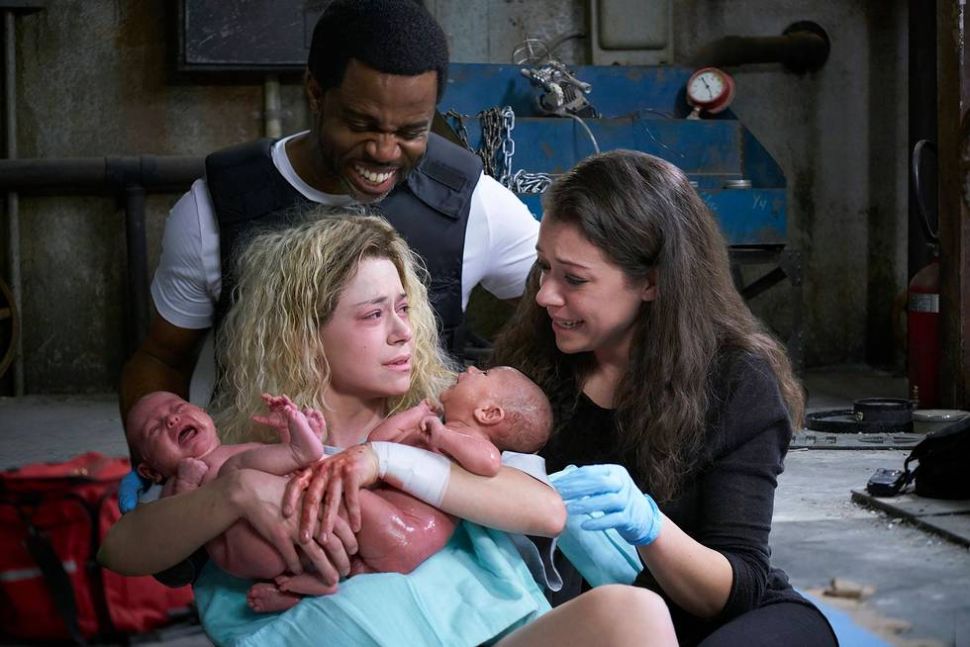 It was sometimes way too silly. Its plot was often overly convoluted, more maze than story. It made some questionable choices, and took some weird missteps. It never really hit upon the right way to sell its very specific and technical subject matter, and so it never really found a wide-enough audience.
Nevertheless, in the end Orphan Black turned out to be one of the best shows I have ever seen, probably the best science thriller that has ever been on television. Primarily because it took a central performance of incomparable brilliance and virtuosity and, instead of making it a sideshow or a gimmick, embedded it deep within its own DNA (yeah), in the deepest inner workings of its themes.
"Freedom looks different to everyone," Sarah tells her sisters in the finale. She's making excuses, trying to explain why she's still running, even now that they've won, gotten the thing they've always wanted, to be out from under anyone's control. Sarah is still fighting, still fleeing, even though there's no more enemy to fight or flee, and even she doesn't know why.
She tells her sisters this is what she wants, this is who she is. But the truth is she's still letting someone else write her story. And when her sisters talk her down, they tell her what she's always needed to hear. Freedom means the freedom not to be perfect. Before, when you were always running, a single misstep could mean the end. You were not free to be the real, flawed you, the one who fucks up sometimes. The one who is sometimes a lousy mom. Who can be emotionally closed off and violent and a bit of a brat. Freedom means the chance to meet yourself as you are, and to take responsibility for that person, flaws and all. And that is terrifying, and beautiful.
Freedom looks different to everyone, because everyone is different. Including sisters who don't "look different" at all, because they started from the identical place, genetically. The triumph of Orphan Black, and of Tatiana Maslany's performance, is that each of these women is a distinct, whole human, not a series of traits, or an accent and a posture and a wig. They each have an inner life, a self, a way of moving through the world. They're people, not performances.
And also: They're people, not genetic codes. Though they started in the same test tube, these sisters—all 274 of them, we learn at last!—all turned out to be very different people. And thus Maslany's performance itself, the various people she makes with her own face and body, her virtuosity becomes a metaphor for the show's central theme: The idea that biology is not destiny.
The show's antagonistic forces of control, the Leekies and the Coadys and the Duncans and the not-Westmorelands, they were forever trying to reduce the sisters to their DNA, to compel them to be "the science," instead of just people. Freedom from these controlling forces always meant the freedom to be separate, whole people. To live their own distinct personalities and their own distinct lives. To write their own stories.
There was always a storytelling aspect to this show—which is one of the things that makes it such great television. The freedom to live your own life is always also right to tell your story the way you want it told. And in the end, we learn that this story we've been told, the story called Orphan Black, is the tale that Helena tells her twin sons Arthur and Donnie (named after the "real men" in her life, after she spends weeks calling them Orange and Purple).
This is Helena's story, the way she wants it told, an "embroidery with many beginnings and no ending." This particular story has 274 beginnings, not, as the science would have it, only one beginning. Each sister gets her own thread—harking back to the very origins of storytelling (we 'weave' a tale; 'text' and 'textile' share a root)—and setting every single one of them free.
Just like Cosima and Delphine set them free, traveling the world and inoculating them, one by one, against the error that craven men left behind in their genes. Released from that affliction and that dependence, they're all now able to write their own stories.
This particular story is one I am sad to see go, but I can't think of a better way for it to have ended: We check in with each of the sisters one last time. Ending with Sarah, who is doing nothing more consequential than taking her daughter to the beach. In the end, we learn, she's stayed in town—perhaps finally, after all this time, ready to come face to face with herself.