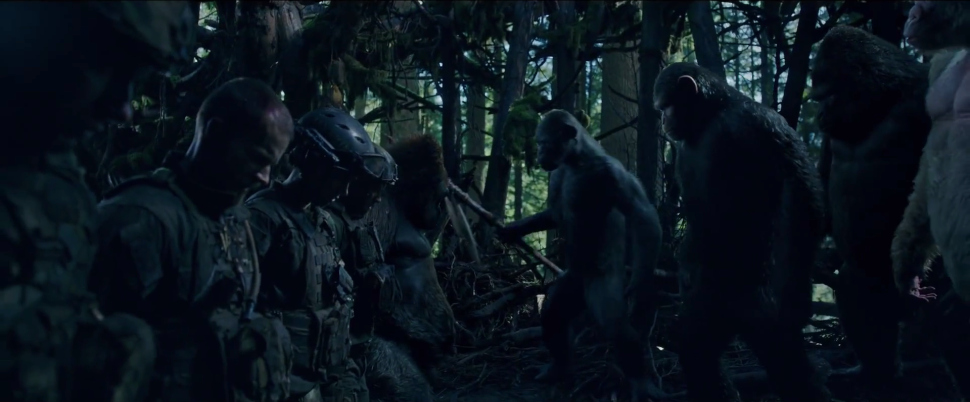 Running a successful Oscars campaign is a tricky and expensive undertaking; Film Data and Education estimates the cost of a Best Picture-winning Academy Awards effort to be around $10 million. So when you shoot for the gold, you better not miss. Although 20th Century Fox's War for the Planet of the Apes under-performed at the box office ($359 million worldwide off a $150 million budget, per Box Office Mojo), the studio is still planning a big push for a chance at a statue.
Deadline reports that Fox is planning a massive campaign unlike anything seen within the franchise since it began in 1968. In the near half-century that Apes movies have been around, the series has only seen a smattering of technical awards. This year, the studio has its eyes set on a Best Picture nomination as well as some well-deserved recognition for trilogy star Andy Serkis.
The studio's strategy is to build momentum with potential nominations and awards from a critics group and/or SAG. They hope nominations in the craft categories (production design, cinematography, costumes, music, sound, visual effects, makeup, etc.) will lead to the picture being taken seriously in other races. As the Academy has expanded over the last two years to include a more diverse set of members, Fox is planning to lean on the film's international appeal, per the outlet. Director Matt Reeves—who oversaw the last two entries in the series and is directing Warner Bros.' The Batman—will also be pushed for directing and adapted screenplay awards.
One insider told Deadline that Fox's campaign is built to "make it about the movie." They have even hired awards consultants to help in the effort. Even if the movie seems an unlikely contender, Apes is really Fox's only option if it wants to flirt with the Academy Awards. It's not like Kingsman: The Golden Circle is going to be an Oscars favorite (though it's likely to make a killing).
Former Fox shot caller and producer on the new Apes trilogy Peter Chernin believes the film is due for some hardware.
"I'm incredibly proud of this movie, and I do believe that on almost any level of storytelling, character development, narrative thrusts, or epic-ness, this is an extraordinary movie," he told the outlet. "In the past people probably have tended to sort of genre-ize it and sort of look at it, well, as if it is a genre movie and not take it as seriously as they should, and I think that you know our view is that this movie deserves serious consideration. Certainly it's been made with a level of ambition, care, and attention that's as meaningful as anything I've ever worked on."
Despite the film's disappointing box office return, it was embraced by critics and currently holds a sizzling 93 percent on Rotten Tomatoes. Still, it isn't easy to sneak a genre picture into the Best Picture race. The last example of that was 2015's Mad Max: Fury Road, which had more of a wow factor than Apes. But regardless of the challenges, Fox has already made up its mind.
"We are really going for it with this one," an executive told Deadline.