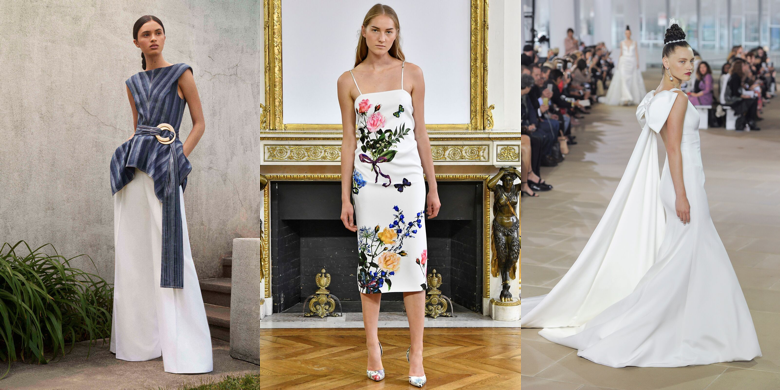 Hannah Bronfman's four-day Moroccan bash was one for the ages. And while camel rides at dusk aren't every bride's cup of tea, the eight (yes, eight) outfits she rolled out over the course of the long weekend certainly inspired a bit of bridal lust.
Being the star of a multi-day celebration calls for a wardrobe that's original, romantic, and by all means photo-friendly. This dream wedding trousseau hits all those marks. Camel rides optional.
Welcome Party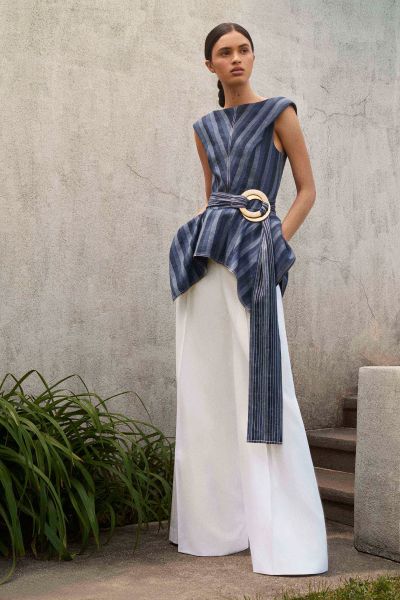 What Your Clothes Say: Grab a drink and relax.
Despite your wedding being One Very Big Deal, you're still the cool girl who doesn't spend hours fussing over what to wear. And yet, those pants! That belt! Katherine Hepburn would have approved. The lightweight striped denim top and palazzo pants are from Carolina Herrera.
Rehearsal Dinner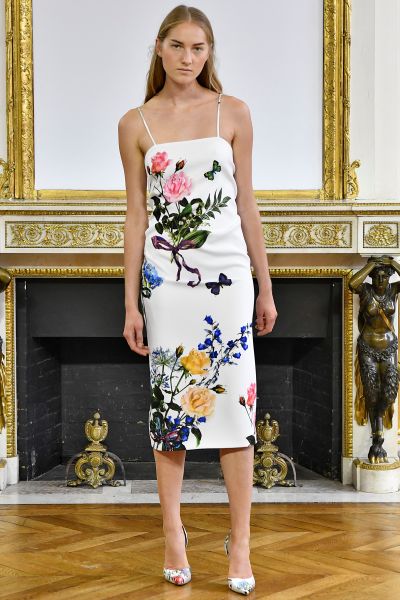 What Your Clothes Say: In case you forgot, I am the bride.
This saucy combination of an ultra-romantic garden print and sexy pencil dress means you're outfitted for anything from a poolside rum swizzle party to an al fresco feast in a California vineyard. Find this floral dress with matching shoes at Monique Lhuillie.
Morning Ceremony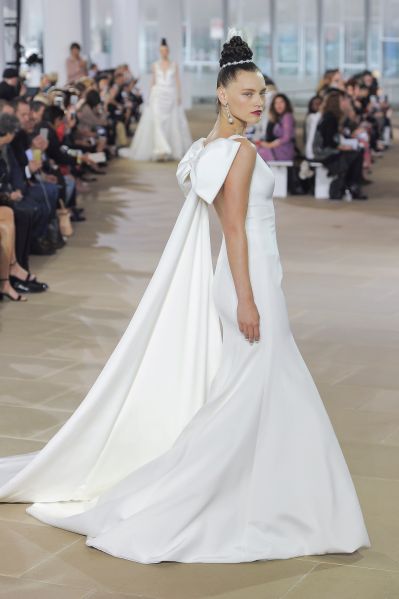 What Your Clothes Say: Pay attention, people.
A crisp vision in bridal white, this modern classic avoids distracting details in favor of simplicity and grace. The back bow works as an architectural statement and leads to a Watteau train, the definition of ceremonial style. Ines di Santo is its creator.
Evening Reception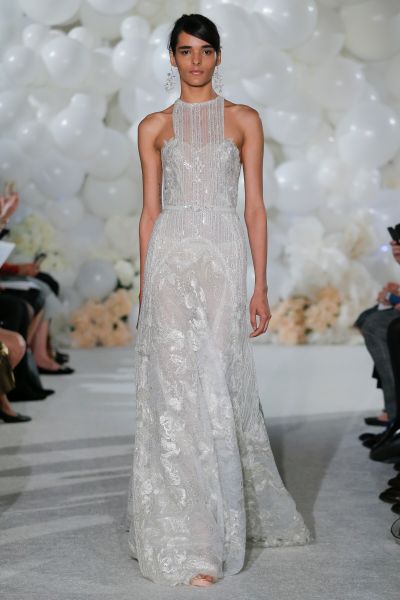 What Your Clothes Say: It's party time.
Once it's official, nothing gets the party started like a generous splash of sparkle. While the all-over shimmer and beading grab the spotlight, the effortless glamour keeps you looking fresh until the last dance. This beaded and embroidered gown is by Mira Zwillinger.
After Party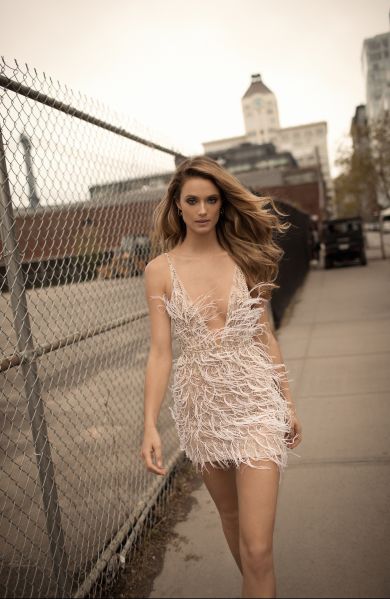 What Your Clothes Say: Go ahead and stare.
This micro-dress doesn't leave much to the imagination. While the feathers hint at coverage, you're basically wearing, well, nothing. But if you've got the bod, what better time to flaunt it than after you've promised fidelity to another—for life. Berta is responsible for this deep-V mini.
Day-After Brunch
What Your Clothes Say: Where's my Bloody Mary?
For nonchalant perfection, it's hard to beat a sheer organza flyaway top and cropped pants in wedding white. This large dose of 1950s Hollywood glamour is delivered with a serene shrug. Pants ensemble, turban, bow mules and earrings are all from Cynthia Rowley.
Farewell Party
What Your Clothes Say: Now the real fun begins.
No post-wedding depression for you—you're itching to dance into the adventure ahead. What better way to deliver a festive goodbye than in vivid gold-yellow samba ruffles? Your ultimate party dress is by Maison Rabih Kayrouz.
Rachel Leonard was the fashion director of Brides Magazine for 18 years and is currently the Editorial Director for The Bridal Council. Rachel can be followed on Instagram @_rachelleonard. 
A marketing executive currently living in Arizona, Sally Kilbridge spent 20+ years as an editor at Brides Magazine. She indulges her love of travel and romance on her website, a definitive guide to destination weddings.