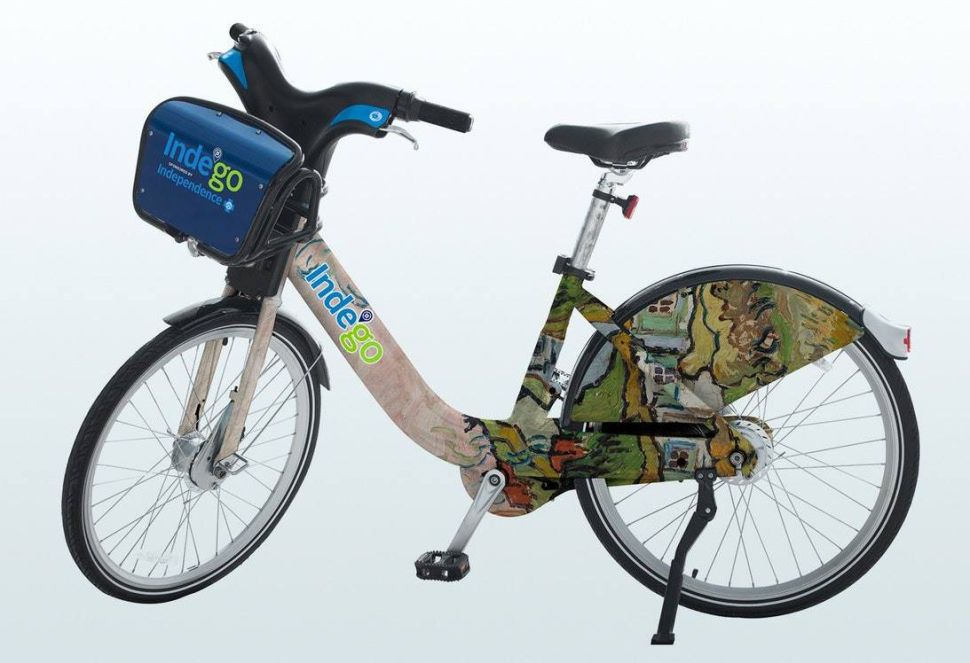 You may have heard the expression "pimp my ride" before, but Philadelphia's bike sharing system is giving the phrase an unexpected twist.
It was recently announced that 20 Indego bikes will receive a fine art makeover courtesy of masterpieces from The Barnes Foundation, home to some of the world's most representative works from the Impressionist and post-Impressionist movements, and which was the center of a controversial relocation project that moved the collection into the center of Philadelphia a few years ago.
The first collaboration of its kind, it came about in an effort to increase public programming and community engagement in the city. The 20 paintings that will grace the bike frames were crowd-sourced through an online poll. While Vincent van Gogh is the only artist whose work is confirmed to appear on an Indego bike, the Barnes Foundation's collection boasts a laundry list of art history greats: it has the largest holdings of Renoir and Cézanne, and no small number by Matisse, Picasso, Monet and Modigliani.
"Indego bike share is all about opening up the city for new experiences and exploration," said Michael Carroll, Philadelphia's deputy managing director for Transportation & Infrastructure Systems in a press release. "We're thrilled to be partnering with the Barnes Foundation to make it easier to explore art here in Philadelphia."
In a world where technology has allowed museums to text out works of art that reflect one's mood, it only seems natural that something as timeless as a bicycle can be used as another example of a fresh and exciting take on bringing culture to the public. Perhaps Citi Bike might be next?
The first 10 Indego bikes wrapped in masterpiece decals are set to be revealed on Thursday, September 14, during a free launch party called #BIKETOBARNES, where guests will be able to vote for the next 10 artworks to get the bicycle treatment. But if you can't make it to the City of Brotherly Love and want to participate, voting is also open online. Those choices will be unveiled at the museum's Free First Sunday program in May, 2018.