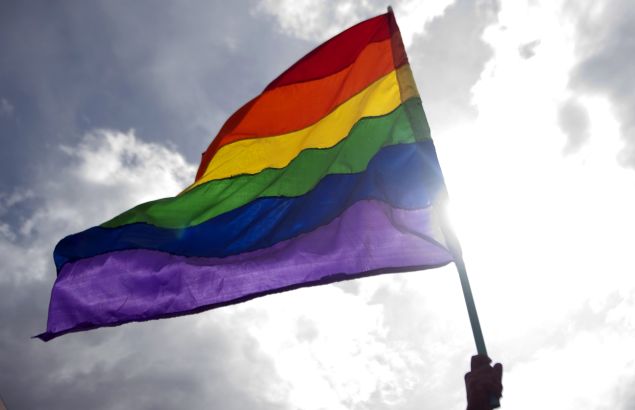 The nationwide controversy over flags and monuments has now found its way into an Alabama high school classroom. But a group of students is using the power of the internet to make sure justice prevails.
Last week students and parents at Auburn High School started a Change.org petition to protest social studies teacher Donna Yeager, who displays an LGBT Pride flag in her classroom. Yeager moderates the EDUCATE club, which promotes diversity at the school.
But the angry families think the Pride flag sows division more than inclusiveness.
"We strongly feel that it creates a hostile and provocative learning environment for students not comfortable to openly supporting the LGBTQ+ community in a public school where students come from diverse political and religious backgrounds," the petition reads. "Subjecting or explicitly exposing students from diverse political backgrounds to political views differing from theirs can make students uncomfortable and distract them from learning the material assigned to them, preventing them from reaching their full potential."
The anger doesn't stop there,  however—the writers actually compare the Pride flag to one of the most infamous symbols of slavery.
"Consider the uproar and chaos that would ensue were a teacher to hang for example a Confederate, Christian or Heterosexual Flag in their classroom," the petition reads.  It's not clear what a "Heterosexual flag" would be in this scenario.
So far, 810 people have signed the petition—its goal is 1,000 signatures.
But fittingly for the era of the counter-protest, a counter-petition has sprung up supporting Yeager and her Pride flag. In their pitch, the creators of this Change.org campaign affirm that their school is "a healthy environment for our LGBT+ peers." They also fault the writers of the "Confederate" pitch for their close-minded outlook.
"In the real world, to suggest individuals be isolated from differing political views is an absurdity," the petition reads. "To be made uncomfortable by opinions differing to your own is to function as a modern human. Attempting to insulate a student from political discourse would be an insult to their intelligence."
The vast majority of Auburn students seem to agree with this stance—the second petition has over 6,700 signatures, toward a goal of 7,500 names.
Both petitions are directed at Auburn High School principal Shannon Pignato, who has not publicly responded to the controversy. Yeager did not respond to an Observer request for comment.
Dr. Karen DeLano, superintendent of the Auburn school system, said in a statement that she is aware of the petitions and the matter is being handled internally.
"In our country today, people are often seen addressing their objections through violence and hate," DeLano said. "It is my sincere desire to assist our students in learning to address their opinions and their values in a calm and respectful manner."