For an A-list couple, Prince Harry and Meghan Markle have always kept a decidedly low profile, probably because dating a royal isn't easy. Unlike other young royals, they don't throw flashy parties, they don't post thirst trap photos on Instagram and they're never snapped by paparazzi in compromising positions, as said disreputable moments are a thing of Prince Harry's past. Even after a year of dating seriously, the world has yet to see a clear photo of the pair together.
It was recently revealed that Prince Harry has been quietly picking his girlfriend up from Heathrow Airport. Of course, he doesn't stand at baggage claim with a poster board proclaiming his adoration, although that could make for quite the Love Actually-inspired moment. Instead, the entire operation is top secret, and has been happening for months. Apparently, Prince Harry used his familial clout to enable Markle to go straight to the plane from his car, avoiding the photographers hoping for the first real picture of the pair, where they're not on an island together or half hidden in winter clothes.
It makes sense that he would want to tote her home privately, as they spend quite a bit of time apart for such a serious couple. Markle has been busy filming Suits and promoting it accordingly, while Prince Harry has been jet setting, as part of his philanthropic endeavors.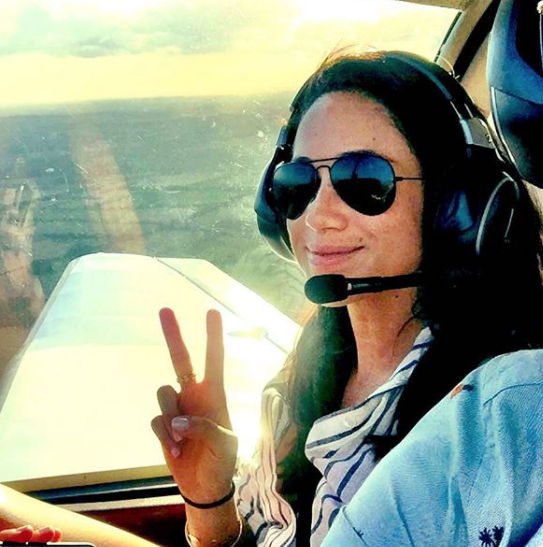 Everyone, royal or not, knows finding a ride home after a long flight is downright miserable, no matter the circumstances (though if you're heading towards a proposal it might be a more comforting trip). Prince Harry has always been open about how his mother, Princess Diana, wanted him to retain a sense of normalcy, even in the spotlight. And what's more normal than dealing with airport traffic? Hopefully, Markle gives back by picking him up in Toronto, complete with a post-flight snack.
It's rumored that Markle was offered an even more exclusive arrangement, in the form of a quick stay at the VIP Windsor Suite at Heathrow, where celebrities can hide out before and after flights for £3,000 a pop. But for a couple that seemingly prides themselves on their regular behavior, that's a bit much.
With this arrangement, it's less likely than ever the photographers will be able to grab a picture of the two. Though the paparazzi are guaranteed to be out in droves at the airport, the couple will surely be more safely guarded than ever. Plus, it's entirely cruel to attempt to photograph someone after a long flight. It's unlikely Markle wears sweatpants and no makeup to greet her beau, but just in case, these personalized pick-ups should continue for full privacy.