For those who are over Prince Harry and have already lost interest in Queen Elizabeth's thirst trapping grandnephew Arthur Chatto, all hope is not lost. Another royal just turned 18, and he celebrated with quite the extravaganza. Prince Nikolai's recent birthday firmly cemented his place as one of Europe's most eligible royals, despite his young age.
The Danish prince had a family fête that was far more low-key than Princess Olympia of Greece's epic extravaganza, but still quite notable. The festivities were attended by his father, Prince Joachim and his current wife, Princess Marie. The family posed happily for a group picture, even in spite of some previous family drama.
Prince Joachim divorced Prince Nikolai's mother, Alexandra, in 2004 when the prince was only five. The end of their marriage meant she lost her princess title (she is, however, a countess), and it was the first royal split in Denmark in 160 years. Luckily, the pair looked comfortable around each other for the birthday celebration.
Prince Nikolai's grandmother, Queen Margrethe, threw the celebratory dinner party on the Dannebrog yacht. If her name sounds familiar, it's because her husband recently made a stir when he refused to be buried with her.
The couple recently celebrated their 50th wedding anniversary, but Prince Henrik is salty that he's a prince consort, and not a king. Perhaps he should look to Countess Alexandra for inspiration on dealing with a lack of title with grace.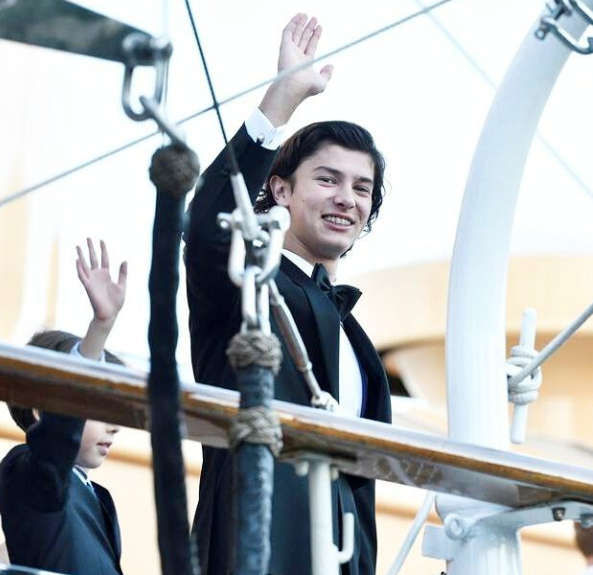 Of course, the prince donned a tuxedo for his 18th birthday celebration, as this wasn't exactly high school seniors smuggling beer with fake IDs. Instead, he was aboard a family yacht with his regal extended family.
If you're already planning a trip to Denmark to date the prince, know he still has some time to go before he truly reaches adulthood. While Nikolai is now a thoroughly eligible bachelor at 18, he is still completely supported by his parents. He is also seventh in line to the throne—and still has a mouth full of braces.