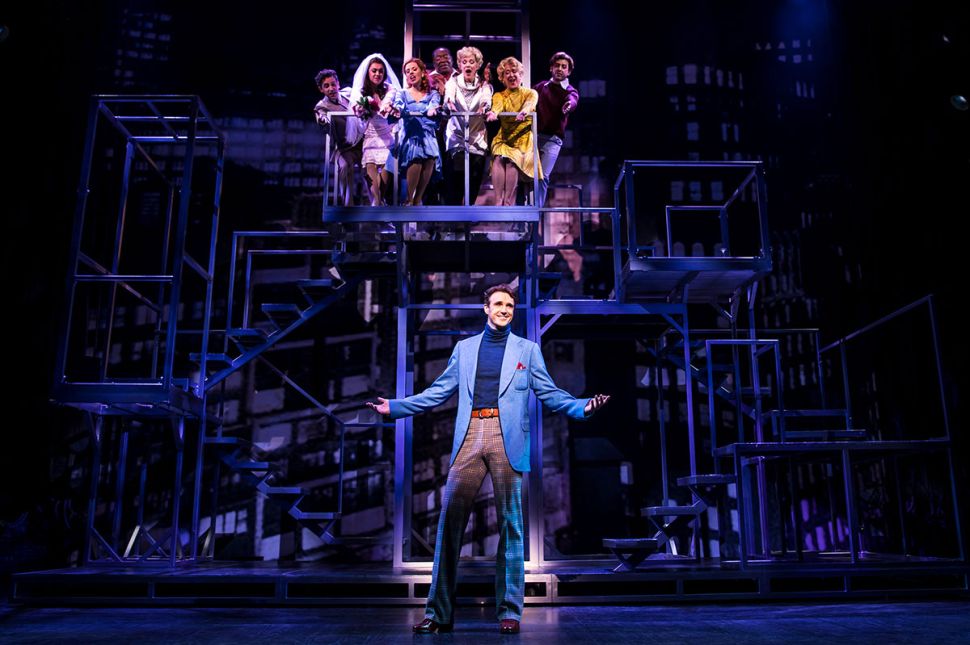 Unless you're a dedicated theater buff or live in the proximity of Broadway, Harold Prince might not be a household name. But, if you have been an audience fixture at any of the more than 32 history-making productions he's directed or produced over the past seven decades in the kingdom known as the Broadway stage, you know that Harold Prince (call him "Hal," everyone at Sardi's does) sits on the throne and wears the crown.  His rule has won him 21 Tony awards but now, in a dazzling new musical that just opened in the unheard-of middle of summer, Prince Hal is finally being honored for the entire body of his work, career and life. It's a joyous tribute called Prince of Broadway, and the people who make up titles aren't kidding.  This is noblesse oblige with a whole new meaning. See it and cheer.
Honoring a man whose achievements include everything from The Pajama Game to Phantom of the Opera (the longest-running musical in Broadway history, and still running) is not as easy as you think. What do you leave out? Starting his career in show business working for nothing as George Abbott's office boy, then moving into a job working for nothing as an assistant stage manager until he learned the ropes at the hands of the masters, you could say Mr. Prince worked his way up. There were more hits and flops on his resume than anyone else since David Merrick. Prince of Broadway does its level best to salute them all.  The result is an extravaganza nearly three hours long, in which you are entertained to dizzying heights.
The concept is simple.  A superb cast of seven seasoned pros takes turns portraying the boss with trademark glasses perched on top of his balding noggin, offering observations and sage advice about luck, preparedness, passion and how to succeed by really, really trying. Between musical numbers, you learn what it felt like in fallow periods (8 flops in a row), why he doesn't direct revivals (how do you improve on something tantamount to perfection the first time around?), and what it feels like to wake up the morning after a hit to rave reviews (he starts his next project before reality sets in). To the credit of all and sundry, the talk is minimal and it never gets cloying. Nor does the overcrowded program ever sink to the level of a concert. With the celebrated director Susan Stroman, Prince has collated diverse production numbers from a rich history of career highlights, pulling out every stop. Beowulf Boritt's beautiful sets provide extraordinary backdrops for condensed versions of the original settings for every show.  Lavish costumes by William Ivey Long and rich orchestrations conducted by Jason Robert Brown enhance a scrapbook compilation of what you could call "Hal Prince's Greatest Hits". Every number becomes a complete show unto itself, but before you can fully appreciate the brilliant efforts to recreate the feelings and moods of the original shows, the pace moves with such clockwork that you are onto the next number before the applause dies down.
The result is a multitude of small shows within a central frame that results in a night of ceaseless charms and challenges. Highlights include Tony Yazbeck's muscular dancing on "The Right Girl" from the fabulous score for Mr. Prince's personal favorite, Follies, and seasoned veteran Karen Ziemba, surpassing everything she has ever done onstage with her rolling pin, stretching out the filthy dough for the "Worst Pies in London" as a mendacious Mrs. Lovett in Stephen Sondheim's Sweeney Todd. Then there beady-eyed  Brandon Uranowitz spewing decadence as the Joel Grey-inspired emcee in Cabaret; the powerful baritone of Chuck Cooper plumbing the inner tragedy of "Ol' Man River" from deep within; handsome Michael Xavier, fresh from co-starring with Glenn Close in the revival of Sunset Boulevard, conjuring laughs as clumsy Clark Kent in his fruity Superman costume in the ill-fated It's a Bird…It's a Plane…It's Superman, then breaking hearts with Sondheim's "Being Alive" from Company.  And of course, there's the always awesome Emily Skinner, who gets some of the best material including "The Ladies Who Lunch" (Company) and "Send in the Clowns" (A Little Night Music). She stops the show every time she opens her mouth. One caveat: why nothing from one of my favorite Hal Prince shows, the innovative and spectacular Pacific Overtures?  Oh, well. As I said before, with this much greatness to choose from, the secondary concern after what to include is the problem of what to leave out.
There's much, much more, but with too much praise and too little space, I know when I'm licked.  Just forget about passing this one by, and make plans accordingly.  This is as good as polished, professional theater ever gets.  Did somebody say "Prince" of Broadway?  Harold Prince is the "King", and don't you forget it.