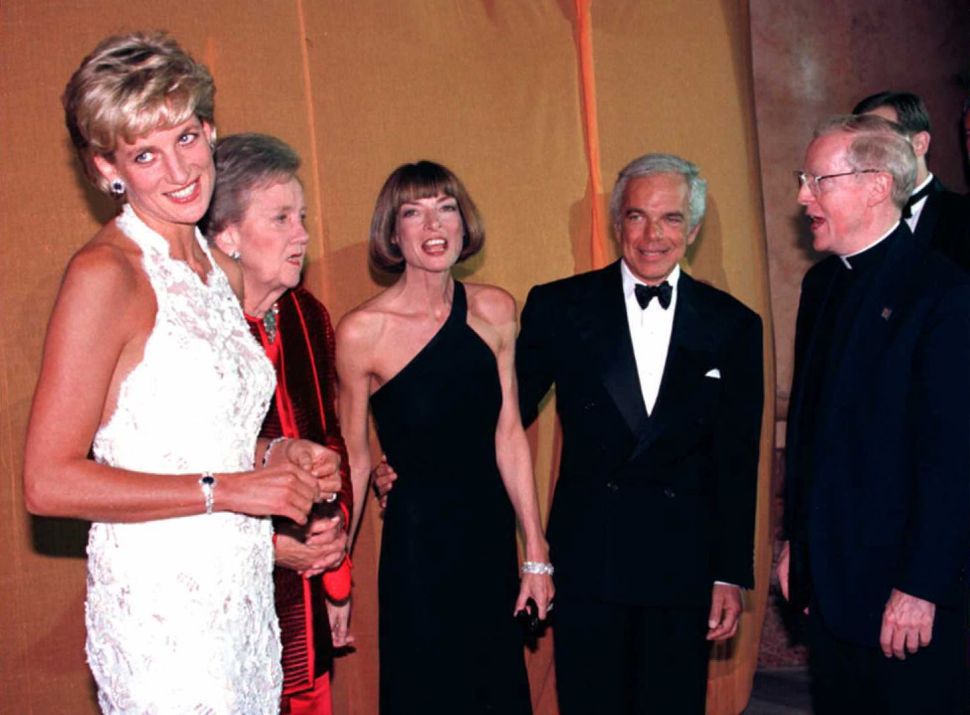 Earlier this week, Virgil Abloh rather unceremoniously revealed the inspiration behind his Spring/Summer 2018 collection for Off-White, which is set to hit the runway in late September during Paris Fashion Week. Via Instagram, he shared the visual invite for the show, which features an image of Princess Diana sitting by her lonesome on diving board of a yacht owned by her boyfriend, Mohamed Al Fayed. The iconic image, taken just a week before Diana's untimely death, was overlaid with the phrase "Natural Woman."
He captioned the photo: "40 looks c/o the muse Diana, Princess of Wales." Earlier in the summer he posted a concept board, covered in images of the late Princess, each of which was divided into themes. There was "Countryside Girl," "Young Diana," "Jogging" and even "Being a Princess." Clearly, Abloh is going deep into the royal's sartorial archives and paying homage to her legendary approach to style—which was quite boundary pushing at the time.
So, what are the chances that we will see more of Princess Diana during fashion month?
Well, considering this summer marks the 20th anniversary of her passing, it's pretty likely that the runways will include quite a few nods to the Princess of Wales. Over the past few months, her life has been revisited in a number of mediums, including the Kensington Palace retrospective of her life and clothing, plus a spate of documentaries that dug deep into the drama that surrounded her at almost all times.
"Diana left behind a legacy that will pass through and survive the portals of time. She was the most photographed woman in the world and will be remembered not just as a young woman that shook the very rafters of royal family traditions to it's core, but also as a style icon of the 20th century," pointed out Lizzy Bowring, the head of Catwalks at the trend forecasting firm, WGSN.
It's true, Diana was well-known for having an experimental and cutting edge approach to fashion. There was that time she shockingly wore a historic Art Deco emerald choker from Queen Mary as a headband. And she often made headlines for her purposeful outfits. Take, for example, the "Revenge Dress" that she wore to the Serpentine summer party, which happened to fall on the same night that a TV documentary aired revealing that Prince Charles had engaged in an extramarital affair. Bowring also referenced the 1997 Vanity Fair photoshoot, captured by Mario Testino, which immortalized Diana's place as a fashion darling.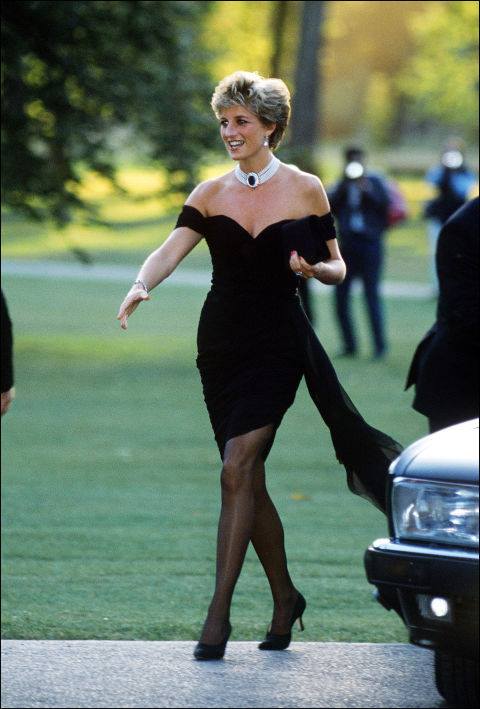 When she was still married to Prince Charles, Princess Diana was required to wear and support English designers, but her favorite brands aren't really part of the fashion discussion today, such as David and Elizabeth Emanuel (the duo who made her wedding dress), Bruce Oldfield, Arabella Pollen, David Sassoon, Victor Edelstein and Catherine Walker (a brand that is now worn by Kate Middleton and her mother). Following her separation from her husband—and her royal duties—Diana adopted a more global approach, selecting pieces from Versace, Christian Lacroix, Chanel, Christian Dior and so on.
Now that the '80s and '90s are being referenced by brands across the board, it's natural that they would gravitate towards Diana's style, particularly those extra flashy moments of lamé and very ornate embellishments. Even her nickname "Dynasty Di" (given to her because of her penchant of puffy shouldered dresses and feathered hair) is relevant again, as the thoroughly '80s television show is being revived by CW for an October 2017 debut.
"There are similarities in her dressing to a unique trend that has been evolving since Alessandro Michele took the reigns at Gucci and appears to have no signs of abating," explained Bowring. So now is the time to brush up on your Princess of Wales knowledge and keep an eye out for inspiration from the iconic figure on runways from New York to London, Milan and, obviously, Paris.