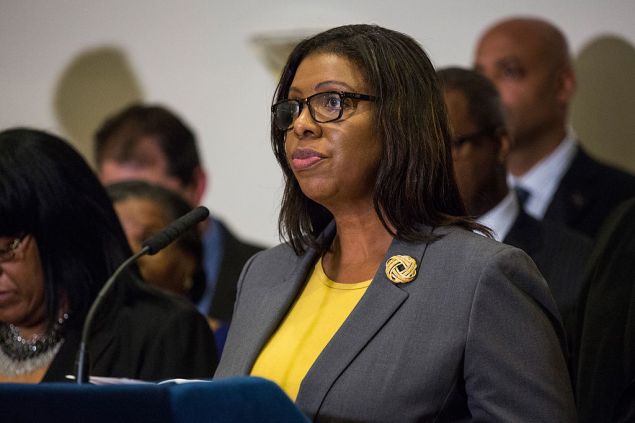 Public Advocate Letitia James is calling on U.S. Attorney General Jeff Sessions to investigate the White House's connections to white supremacist groups in the aftermath of white nationalist violence in Charlottesville, Va.
A group of neo-Nazis and white supremacists marched through the University of Virginia's campus last week holding tiki torches and shouting blood and soil," a Nazi slogan. They surrounded counter-protesters and hurled their torches at them.
White nationalist and alt-right groups subsequently hosted a "Unite the Right" rally against the city's decision to get rid of a statue of confederate General Robert E. Lee. James Alex Fields Jr., 20, of Ohio, drove his car into counter-protesters and killed 32-year-old Charlottesville resident Heather Heyer, and injured at least 19 other counter-protesters. Fields' high school teacher told CNN that he "was very big into Nazism" and "really bought into this white supremacist thing."
James wants the Department of Justice to investigate whether any White House staff are coordinating with members of hate groups in any way that may amount to incitement of violence, the extent of white supremacy influence in the White House and the fastest ways to get white supremacists out of the federal government.
"Hate, bigotry, and violence have no place in our society, especially at the top levels of our government," she said in a statement. "As we experience a deeply disturbing rise in the number of white supremacist backed hate crimes across the country, we must get to the bottom of alleged connections to President Trump's top advisors. The Department of Justice is responsible for protecting the American people, and I urge Attorney General Sessions to immediately launch an investigation."
James applauded Sessions's announcement that the violence in Charlottesville meets the Department of Justice's definition of domestic terrorism — though he has defended Trump's assertion that both sides are to blame — but she said she was concerned that white supremacists are at work in the White House, particularly at the highest levels of Trump's staff.
The Department of Justice did not immediately respond to a request for comment.
In the letter, which James sent to Sessions on Wednesday, she said that Trump's chief strategist Steve Bannon — who ran Breitbart News — had published articles lauding white supremacist groups and that White House aide Sebastian Gorka reportedly has ties to a Hungarian Nazi-allied group, which he denies. She also noted that White House policy adviser Stephen Miller stoked controversy when he used language linked to white supremacist groups at a press briefing in a heated exchange with a reporter.
"While the constitutional rights of these individuals must be protected, the increasing violence tied to extremist groups requires swift action," she wrote. "I urge you to investigate Bannon, Gorka, Miller and anyone else in the White House who may have ties to the KKK, Neo-Nazis, and other white supremacist groups across the country."
The public advocate outlined 32 different incidents from September 2001 to May 2017 in which white supremacists killed minorities, calling it not only a "twisted ideology" but a "violent movement."
Among the white supremacists she highlighted were Dylann Roof, who murdered nine black worshipers at the Emanuel African Methodist Episcopal Church in Charleston in July 2015; James Harris Jackson, who stabbed Timothy Caughman, a 66-year-old black man in Midtown Manhattan, in March; and Jeremy Joseph Christian, who stabbed two men to death who were protecting two Muslim women that Christian was trying to attack on a train in Portland in May.
She also included Mark Stroman, a member of the Aryan Brotherhood, who shot three South Asian men between Sept. 15 and Oct. 4, 2001, believing that they were from the Middle East and describing it as retaliation for the 9/11 attacks. James added that the Southern Poverty Law Center, an organization that monitors hate groups and other extremists throughout the United States, has reported a significant rise in hate groups over the last two years.
The largest uptick in hate groups is among anti-Muslim groups, according to the center, which noted that hate crimes against Muslims have increased by 67 percent since 2015. The Anti-Defamation League has cautioned against assessing the pervasiveness of white nationalists based on group membership because "most white supremacists do not belong to organized hate groups, but rather participate in the white supremacist movement as unaffiliated individuals."