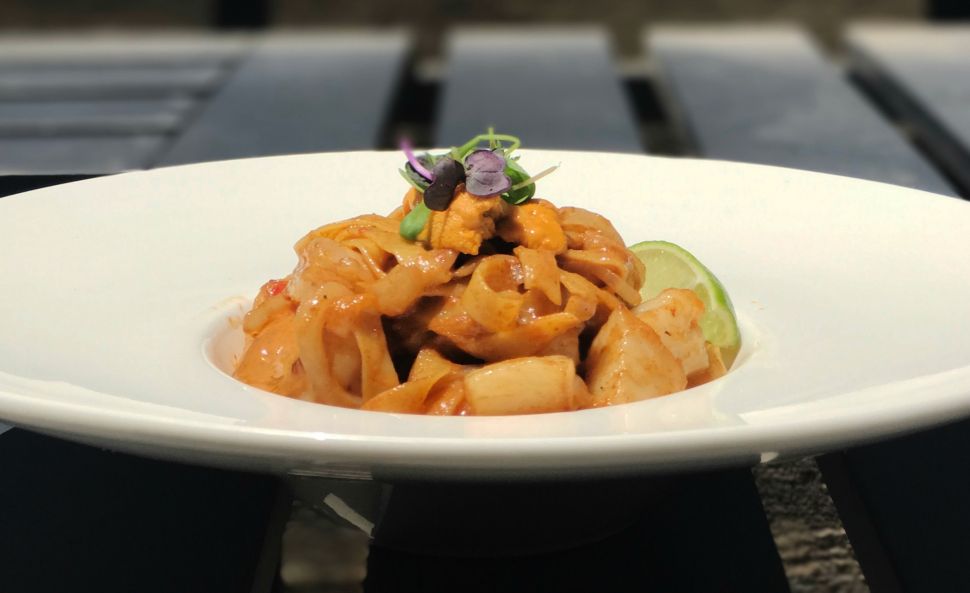 L.A.'s David Tewasart and Allen Wong are on some kind of incredible roll with a modern Asian restaurant empire unlike any other in the country.
Side Chick, the exemplary Hainan-chicken stand Tewasart and Wong opened with chef Johnny Lee in Arcadia's Westfield Santa Anita mall last September, was named one of GQ's best new restaurants in the country. Tewasart and Wong also run tea/dessert bar Matcha Matcha and gastropub Monkey Bar in the same mall.
Last December, Wong teamed up with Ivy Wei to open Fat Dragon, which serves exuberant and responsibly sourced versions of Chinese-American classics like orange chicken and honey walnut shrimp—sans MSG. The house-made fortune cookies quote hip-hop lyrics. Fat Dragon's food has been a crowd-pleaser at music festivals like Coachella and Arroyo Seco.
Then in March, Tewasart and White Guy Pad Thai's Bryan Sharafkhah-Sharp opened So Long Hi, which serves some of L.A.'s best and most uncompromising Thai food. The salted fried pork ribs, beef jerky and spicy dips with iced vegetables are a great way to start. The fried rice and tom saap gadook mu (a spicy and sour soup with pork ribs) are perfection.
And of course, Tewasart and Wong's Sticky Rice, with its lovely Thai noodles, pineapple fried rice (actually served inside a pineapple) and mango sticky rice, is a fixture at downtown's Grand Central Market and Smorgasburg.
Tewasart and Wong create scene-friendly restaurants that do things their own way. A lot of these spots don't have their own website, so finding out what's on the menu can be difficult. But that hasn't quietened down their social-media buzz or slowed down Tewasart and Wong's overall momentum.
I recently asked Tewasart why he was opening restaurants at such a rapid pace. He likened it to being in a casino. When you're running hot, you press your bet.
So in July, Tewasart and Wong opened RBTA, their contemporary robatayaki in on-the-rise Highland Park. It's a compact space (with a glowing sign outside) meant to simulate the experience of eating grilled meats in tiny Tokyo restaurants. Chef Justin Baey isn't serving tsukune, the chicken meatballs that are often the most delicious item at many robata spots, but he's got terrific chicken-thigh and rib-eye skewers. The splendid king oyster mushrooms are earthy and umami. A grilled spot prawn we ordered was bursting with orange roe.
Beyond the robata items, there's avocado toast, but this avocado toast has crab and tobiko. RBTA's whole blue-prawn sashimi is topped with uni. There's also uni pasta and a delightful yuzu-garlic-butter shrimp fried rice. Baey (who previously cooked at Sticky Rice, Side Chick and Ricardo Zarate's Mo-Chica and Picca) offers nuanced cooking that merges bold and familiar flavors.
What RBTA (like Tsubaki in Echo Park and Aburiya Raku West Hollywood) is ultimately doing is serving 21st-century versions of Japanese drinking food, so you can pair your meal with beer, sake, shochu or chu-hai. Cheers to Tewasart and Wong for raising the stakes once again.