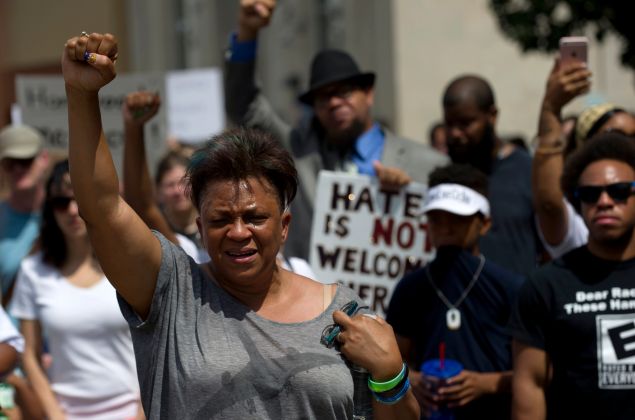 A week after neo-Nazi site The Daily Stormer was kicked off GoDaddy and Google, another ultraconservative site has lost its online home.
The Rebel Media, a far right news site based in Toronto, was cut by its domain provider today. With no internet registration, the site was rendered inaccessible to users around the world.
Site co-founder Ezra Levant did not identify the firm that severed his site's registration—he told Reuters he was given 24 hours notice of the move but no explanation. He's now looking for a new domain provider for the site.
Levant, a host for the now defunct Canadian Sun News Network, founded The Rebel Media in 2015, citing Breitbart as inspiration. The site propagated conservative conspiracy theories, suggesting for example that a shooting in a Quebec City mosque in January was carried out by Muslims.
Many young conservative activists wrote for The Rebel Media, including Lauren Southern (a 22-year-old Canadian Parliament candidate who believes "there is no rape culture in the West") and Jack Posobiec (a conspiracy theorist who went viral after he disrupted a Trump-inspired performance of Julius Caesar in Central Park).
Like The Daily Stormer, The Rebel Media came under renewed scrutiny following last week's "Unite the Right" rally in Charlottesville, Va. Brian Lilley, who co-founded the site with Levant, quit the site once he found out some of its writers had taken part. One of those writers, Faith Goldy, was also fired for livestreaming the killing of Heather Heyer and taking part in a Daily Stormer podcast.
Advertisers have been fleeing The Rebel Media since May, when the social media activist group Sleeping Giants urged companies to withdraw their ads from the site and its YouTube channel. The pace of cancellations accelerated last week in the wake of the Charlottesville attack.
Among the 300 companies who boycotted The Rebel Media were PetSmart, Hudson's Bay Company, General Motors, Volkswagen, Red Lobster and Penguin Books.