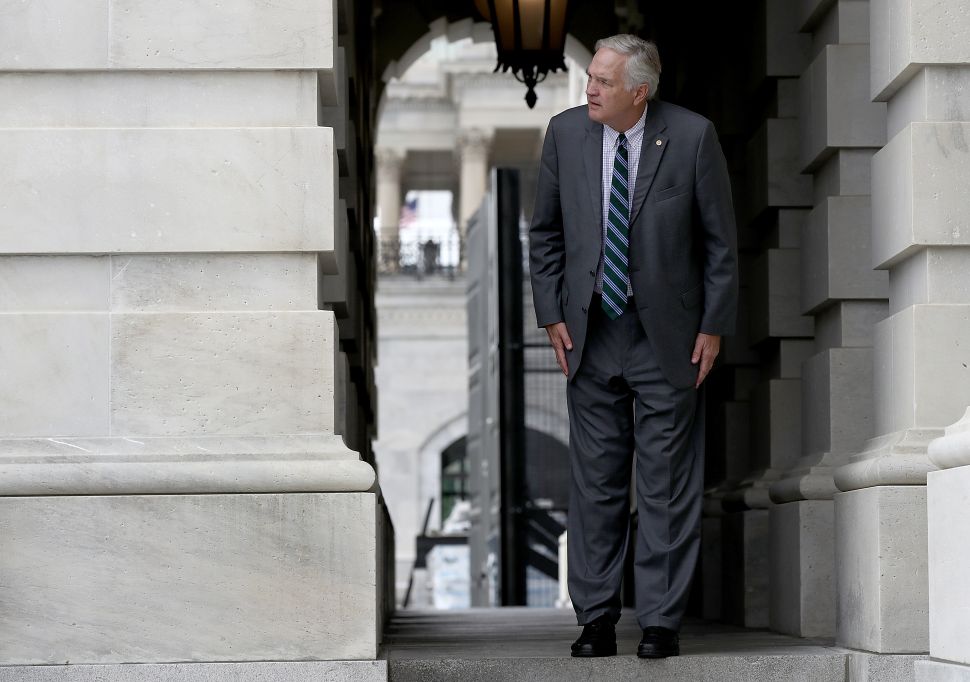 On August 15, Alabama voters will head to the polls to pick the Republican nominee to fill Attorney General Jeff Sessions' Senate seat. The race could signal which type of Republican candidate conservative states want, as well as which strategies will work for GOP candidates. Should the GOP be torn apart by a bitter primary and runoff, Democrats could have a chance to pick up a precious Senate seat in the closely divided upper chamber.
As with anything involving the Republican Party, it's all about Donald Trump. Pundits have concluded that the race is "all about being the most pro-Trump." That's not entirely accurate. It's about being like Trump, not claiming an endorsement or promising to be the most Trump-like.
The Chief Justice, Frequent Candidate and Front-Runner
First of all, look at the cast of characters: Roy Moore, the "10 Commandments Judge," who was impeached and removed for a controversial display of the 10 Commandments that he wanted on public grounds.
Moore ran for governor in 2006 against incumbent GOP Gov. Bob Riley but lost by a 2:1 margin. He ran for Alabama governor again four years later but finished fourth with less than 20 percent of the vote. He even flirted with running for president, first as a Republican and then as a Constitutional Party candidate.
He won his old job back in 2012 but got in hot water on ethics charges for refusing to enforce federal law. He resigned in order to run for the U.S. Senate.
These circumstances would finish off most candidates, but Moore's devil-may-care attitude about his political career seems to appeal to conservatives. Moore has shown his willingness to lose office in order to stand by his principles. Maybe that's why he's in first place so far, though his name recognition from running for something every four years might also play a role.
The Attorney General, Who Is No "Stranger" to Controversy
When Sen. Jeff Sessions resigned to become Trump's attorney general, Gov. Robert Bentley appointed Alabama Attorney General Luther Strange to fill his seat. But such a move may have hurt Strange more than it helped him. After all, he had been in charge of investigating Bentley for improprieties, and his appointment might appear to undermine the investigation. Bentley resigned, but the damage was done. It didn't help that Senate Majority Leader Mitch McConnell blundered into the race, supporting Strange while trying to undermine the other candidates. This has given Strange the dreaded moniker of "establishment candidate."
Despite being the most moderate of the top three candidates, Strange stunned pundits and voters by getting Donald Trump's coveted endorsement, even though he is McConnell's man. That should have sealed the deal, but it seems to have weakened Strange in a race that seemed to be all about devotion to Trump. He's now tied for second with 20 percent of the vote.
The Congressman, a Donald Trump-Wannabe Who Sticks Up for Jeff Sessions
Then there's Mo Brooks, a member of the House of Representatives from Northern Alabama. Brooks has gone out of his way to show that he would back Trump 100 percent, or 1,000 percent if he could. Nobody seemed to be trying harder to get that Trump endorsement, which he failed to secure despite his best efforts. He has barely been able to crack 10 percent of vote.
And then, Trump started feuding with his Jeff Sessions. Rather than back Trump, Brooks offered to drop out of the race if Sessions was fired or resigned, so Sessions could get back his old seat. It was a curious move for a candidate who had invested so much in the race. Yet it doubled his standing in the poll, putting him into a dead heat for second with Strange.
A New Theory Of Trump Republicans: Applied To Alabama
As the race unfolds, one is tempted to conclude that nothing can be gleaned from the results of this election. It is, after all, following a pattern from 2016: the only thing we can expect is the unexpected.
There is a method to the madness of the Alabama voter. He or she won't support someone because Trump says so, which explains Strange's struggles. He or she won't pick a candidate who trumpets how he'll support the president more than anyone else, which explains why Brooks started out a distant third. That's not what motivated the Alabama voters to pick the unconventional Trump. The Alabama voter wants someone in Trump's style, the freewheeling, unpredictable candidate who is "authentic" enough to say what's on his mind, even if it costs him an election or gets him impeached.
That's what Moore has done his entire career. Then again, before the Great Recession, such a style wouldn't have played as well, explaining his earlier losses. But these are different times. Voters, especially those in conservative states like Alabama, want actions, not words.
It also explains how Brooks vaulted from a distant third to within striking distance of a runoff. He abandoned his sonnets to Trump and showed a little independence by taking Sessions' side. Alabama voters responded, and he's now tied for second in a race where the top two advance to a runoff later this year and then a Fall contest. The key isn't to secure Trump's endorsement or woo his voters with promises of loyalty to the president. The best strategy in these red states is to act as an unrestricted candidate, beholden to no one.
An Opportunity for Democrats
Democrats don't typically perform well in Alabama. The last Democrat to serve in the Senate was Howell Heflin, who left office in January 1997 when his term expired. Democrats haven't won an election to the upper chamber since Richard Shelby was re-elected in 1992 (he switched to the Republican Party two years later).
But that could change. The Democrats have several nominees but their best, former U.S. Attorney Doug Jones, is likely to provide a tougher challenge than prior candidates. He's best known for prosecuting the Klansmen behind the 1963 church bombing in Birmingham that slaughtered four little girls. Democrats, once divided by fractious primaries like the 2010 contest between Artur Davis and Ron Sparks, are unlikely to emerge, as the party is united by concerns about Trump. If the Republicans continue their bitter battle after the primary, Democrats could have an opportunity. And with a razor-thin margin of control, the GOP can't afford to lose the seat.
John A. Tures is a professor of political science at LaGrange College in LaGrange, Ga. He can be reached at jtures@lagrange.edu. His Twitter account is JohnTures2.