Rihanna paid $6.8 million for a Hollywood Hills home. Scroll through to see inside her new mansion.
The Agency
The main house includes a full movie theater, and apparently the seller was something of a James Bond fan.
The Agency
There are six bedroom suites.
The Agency
The kitchen is equipped with all new stainless steel appliances.
The Agency
The formal dining room is right off the kitchen.
The Agency
There's even a billiard rooms.
The Agency
There are high ceilings and arched doorways.
The Agency
There are three floors of space.
The Agency
The home is located behind a private, gated entry.
The Agency
The house is right above the Sunset Strip.
The Agency
She also owns an apartment at the Century.
The Agency
The guest house is currently configured as a gym.
The Agency
One of the 10 bathrooms.
The Agency
Rihanna hasn't had the best of luck when it comes to her home choices in the past. First, there was the Beverly Hills Post Office home she paid $6.9 million for in 2009. She sold it for just $5.03 million two years later, and legal issues ensued that involved flooding, accusations of negligence, breach of contract, fraud and more. The place was eventually fixed up, and Chrissy Teigen and John Legend acquired the home for $14.1 million in 2016.
Sadly for Rihanna, she didn't have the same good fortune, and she began renting homes in the Los Angeles area, including a massive Pacific Palisades home where she had to deal with a serious stalker problem.
Hopefully, she doesn't have any similar issues with her reported new Hollywood Hills residence, which she paid $6.8 million for earlier this year. Fortunately, the six-bedroom, ten-bathroom Mediterranean estate is situated behind a private, gated entry, on nearly half an acre of land.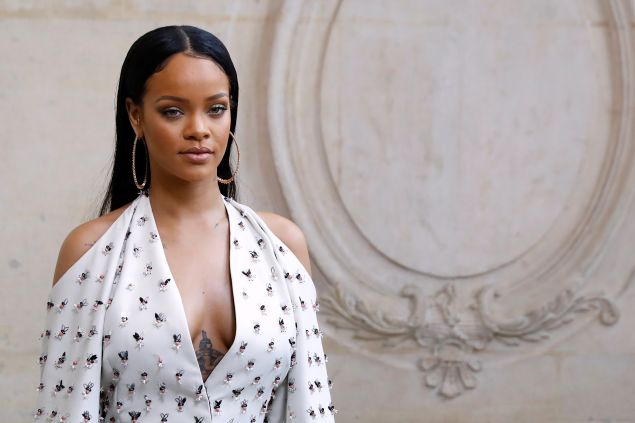 The sleek, contemporary 7,130-square-foot main house has high ceilings, arched doorways and steel framed doors throughout, according to the listing shared by The Agency brokers James Harris and David Parnes. The first level contains a chef's kitchen, family room, formal dining room and a living room with a fireplace.
The master suite is on the second floor, and has its own sitting area, an additional fireplace and a spa-esque bathroom. Other attributes include a billiards room and a fully decked out movie theater, while the guest house is currently configured as a fitness center. Outside, there's an infinity pool, spa and multiple lounging areas, and views of the Sunset Strip.
Rihanna scored a minor discount, as the house was last on the market for $6.99 million.
It turns out that it's not the only Los Angeles property Rihanna owns. She also apparently bought a three-bedroom, four-bathroom apartment at The Century condos, for which she paid $5.45 million in 2014. It's the very same building where Matthew Perry bought a glitzy $13.5 million penthouse this summer.