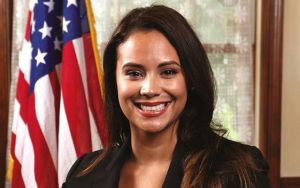 Assemblywoman Maria Rodriguez-Gregg, a Republican rising star who has been fighting a DWI charge for months, announced Wednesday that she will not run for re-election in November.
Rodriguez-Gregg, 35, was arrested in April on a charge of driving while intoxicated.
A Maryland man rear-ended her vehicle around 3 a.m. on April 28. Police investigating the crash said they smelled marijuana in Rodriguez-Gregg's car. She told the officers that she had been smoking cigars earlier that evening.
Rodriguez-Gregg also was given tickets for alleged reckless driving and charged with obstruction after refusing to take a field sobriety test, the Burlington County Times reported. The case is ongoing and one Republican source said Rodriguez-Gregg dropped out of her re-election race partly to focus on it.
In a statement on Wednesday, the assemblywoman from Evesham Township said she decided not to run for re-election after "some reflection on what's most important in my life right now." She did not mention the charges.
Rodriguez-Gregg became the first Hispanic Republican in the Assembly when she was first elected in 2013 and was seen as a rising star in the New Jersey Republican Party.
As a young Hispanic woman, she could appeal to voters in demographics that typically support Democrats. That combination would have been especially helpful in Burlington County, a traditionally Republican stronghold where Democrats have made significant inroads in recent years. State Sen. Diane Allen (R-Burlington) is retiring this term and Republicans have basically conceded her seat to Assemblyman Troy Singleton (D-Burlington), who is running to replace her.
"Serving as the first Latina Republican in the state Assembly, and blazing a trail for other young women to follow, has been an honor and a privilege," she said. "During my time in Trenton I have been a steadfast voice for fiscal responsibility, bipartisan compromise and the political moderation — three things that are sorely lacking in both Trenton and Washington today."
It's rare for incumbents to withdraw so late in a re-election race, less than three months before Election Day.
"I support and respect Maria's decision to step off the ticket and focus on her family free from the grind of the state Legislature," Burlington County GOP Chairman Bill Layton said in a statement. "She never shied away from a tough vote and is passionate about making New Jersey a better place to live, work and retire. I encouraged her to keep the door open to running again someday and expect she will do just that."
Rodriguez-Gregg maintains her innocence. After refusing to take the field sobriety test in April, she was taken to a hospital and took a blood test for illicit substances, her attorney said at the time. It's not known what the results of her blood test showed.
"I don't smoke weed so I'm sure it'll all work out," Rodriguez-Gregg told Observer in May.
Her defense attorney, John Eastlack Jr., has since been confirmed to a Superior Court judgeship. A representative from Eastlack's former law firm, Weir and Partners, told Observer the firm is no longer handling the case and would not say which firm is now representing the assemblywoman.
The case is still in litigation and Rodriguez-Gregg dropped out partly to focus on the charges, according to a Republican source who spoke on the condition of anonymity.
Republican county committee members will vote for a replacement Assembly candidate in the 8th legislative district. Assemblyman Joe Howarth (R-Burlington) is facing Democrats MaryAnn Merlino and former county Freeholder Joanne Schwartz, as well as Ryan Calhoun, who isn't affiliated with a major party.
Two contenders to get the Republican nod for Rodriguez-Gregg's seat are Burlington County Freeholders Kate Gibbs and Ryan Peters, two Republican sources said.