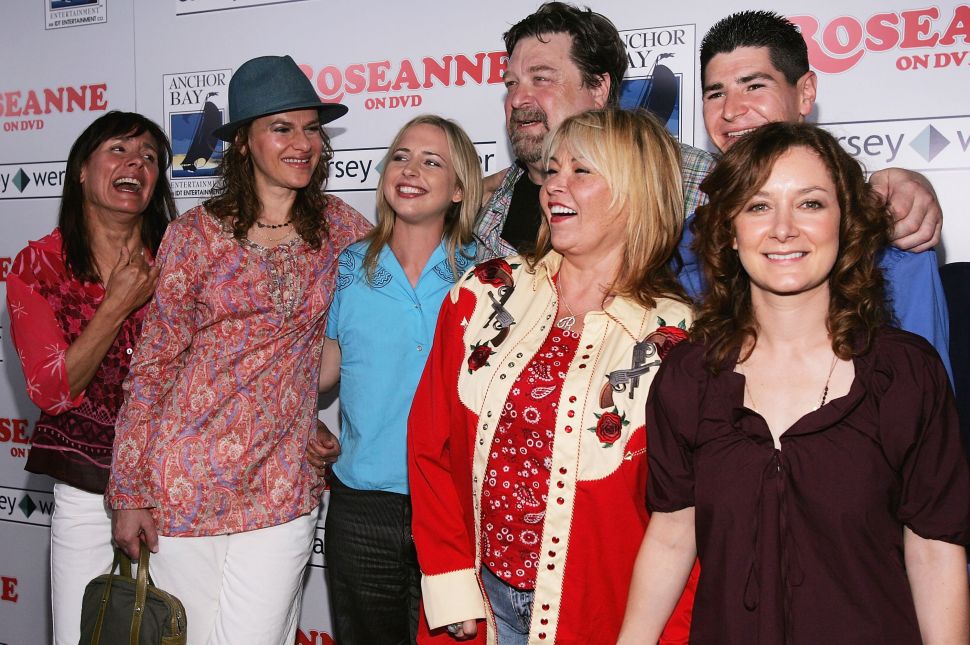 The recent deluge of television revivals has raised the question: Do series finales even matter anymore? We already know that Will & Grace will ignore the events of its concluding chapter. Now, it appears as if ABC's Roseanne is set to do the same to a certain extent.
John Goodman's Dan Conner was killed off in the 1997 series finale but will be returning for the revival, which is expected to begin production in October.
"I don't want to talk to specifically, but I wouldn't say we'll ignore the events of the finale," ABC Entertainment President Channing Dungey said via EW. "Dan is definitely still alive." Originally, the character died of a heart attack.
Goodman accompanied the rest of the cast on stage during ABC's May upfront with Roseanne Barr, Laurie Metcalf, Michael Fishman and Lecy Goranson, EW reports. But how exactly will the series bring Dan back? That remains to be seen, but it won't require too much effort.
As we mentioned, Will & Grace will kickstart its revival with a bevy of changes that fly in the face of its finale. Most notably, the lead characters will still be living together in New York City rather than enjoying their lives with their significant others and families. If NBC can mess with continuity to that degree, ABC should have no problems getting Goodman's character back into the land of the living.
Elsewhere, Dungey told reporters that he is trying to get The Big Bang Theory star Johnny Galecki to reprise his role as David Healy. We'll have to see if he can fit that in alongside his demanding CBS schedule.
As for what fans should expect, Dungey maintained that the revival will "very much tonally be similar to the original" and that it will be "unflinching, honest and irreverent at times. Very topical."
The Roseanne revival is expected to get a midseason premiere, according to EW.
Though the original series has a legion of loyal fans, this recent trend threatens television's method of storytelling. Will future showrunners be reluctant to end their shows on a definitive note to leave open the possibility of a revival? Will shows become structured like Marvel's "Coming Soon" shared cinematic universe that continually teases what's next? Networks should be careful with the precedent they are setting here. Stars are flocking more regularly to the small screen because it's where prestige projects have room to flex their long-form muscles. Hopefully, these nostalgia-driven continuations don't upend Peak TV's greatest strengths.