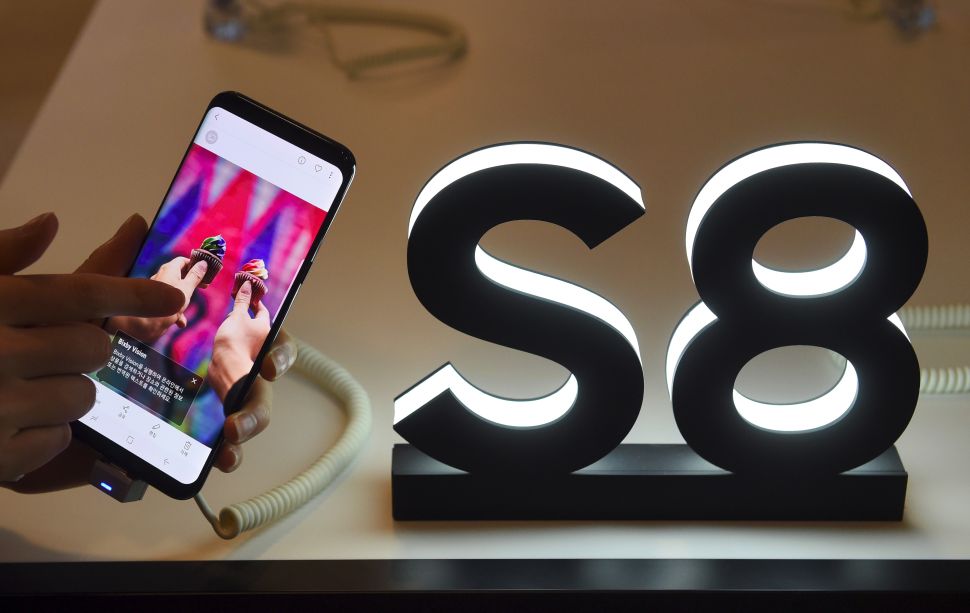 Samsung phones have an Android problem.
Or maybe it's Google's Android that has a Samsung problem. Either way, the struggle between Android's creator and its number one customer is getting ridiculous.
Buy a new Samsung phone and you're confronted with two duplicative sets of preinstalled apps and a series of decisions about which to use. Android Pay or Samsung Pay? Gmail or Samsung's mail client? Chrome or Samsung's browser?
Now we have the latest front in this ongoing struggle for control: Bixby. It's Samsung's new voice assistant, going up against not only Apple's Siri and Amazon's Alexa but also the Google Assistant, with which it coexists on the very same device.
Yes, you read that right. If you have a Galaxy S8, Samsung's gorgeous new flagship phone, you now have two assistants competing for your affection. Say "OK, Google," and Android's built-in companion snaps to attention. Say "Hi, Bixby," and the Samsung equivalent wakes up.
Or rather, responds, since both Bixby and Google are always listening to you at all times, awaiting a summons. As if having one assistant eavesdropping on your every conversation isn't bad enough.
Bixby Voice was expected to launch in the U.S. earlier this year with the rollout of the Galaxy S8. In fact, both the S8 and its larger sibling, the S8+, have a dedicated hardware button on the left edge, just below the volume control, for summoning Bixby if you don't feel like talking to it. But the voice component wasn't ready for the phone's April debut and has only just become available.
But not smoothly, if my experience is any indication. Following instructions, I updated my AT&T test phone's system software, then attempted to launch Bixby via the button. This opened the Bixby app on the phone, but when I tried to set up the voice feature, I was told the system software was out of date.
So I returned to Settings and sought to update the software again—only to be told that it was already completely up to date. Samsung eventually supplied a second phone, on Verizon this time, on which I was able to get Bixby Voice installed. Go figure.
Bixby's strength is its level of integration with, and control over, the S8's core functions and Samsung's proprietary apps. For instance, the command "Hi, Bixby, open the camera and take a selfie" was executed flawlessly, while Google Assistant replied lamely that no camera app was installed.
On the other hand, when I asked Google Assistant, "Where's the nearest FedEx store?" it immediately returned the location. Bixby's response to the same query: "OK, let's update Google Maps in the Play Store first." When I asked where I could go to get some ice cream on a Sunday night, Google returned a list of open establishments near my Northern California home; Bixby gave me listings in Las Vegas and Chicago.
But it's even worse than needing to know what kinds of questions to ask of each assistant. That's because enabling Bixby Voice appears to interfere with the Google Assistant's ability to respond to "OK, Google."
Before Bixby Voice was turned on, Google had no problem recognizing when it was being summoned; once Bixby was activated, "OK Google" began sporadically failing to respond. Judging from Samsung's message boards, my experience isn't unique, and several settings changes suggested by other users didn't seem to improve the situation. So you may find yourself forced to choose between one assistant that does more, Bixby, and one that knows more, Google.
Why does Bixby even exist? I suspect Samsung is playing a long game here. Apple's Siri and the Google Assistant have already demonstrated that voice control is the way of the future, while Amazon's Echo and its Alexa assistant have shown the importance of voice in controlling smart-home devices. Samsung, which also makes TVs and owns smart-home gadget maker SmartThings, wants to avoid a fate in which its hardware ends up being controlled by others' voice software.
But its long-term corporate goals shouldn't come at the cost of confusing and frustrating its customers. It's especially unfortunate because the Galaxy S8 is, in almost every other respect, the pinnacle of state-of-the-art in smartphones: dazzling display, excellent camera and a design so slender and narrow that even the jumbo S8+ feels and handles like a much smaller device.
It might be heretical to suggest, but maybe it's time for Samsung to start moving away from Android. After all, it already has its own mobile operating system, Tizen, that it uses on some phones outside the U.S. In any event, whether Samsung has a Google problem or vice versa, it shouldn't be our problem.