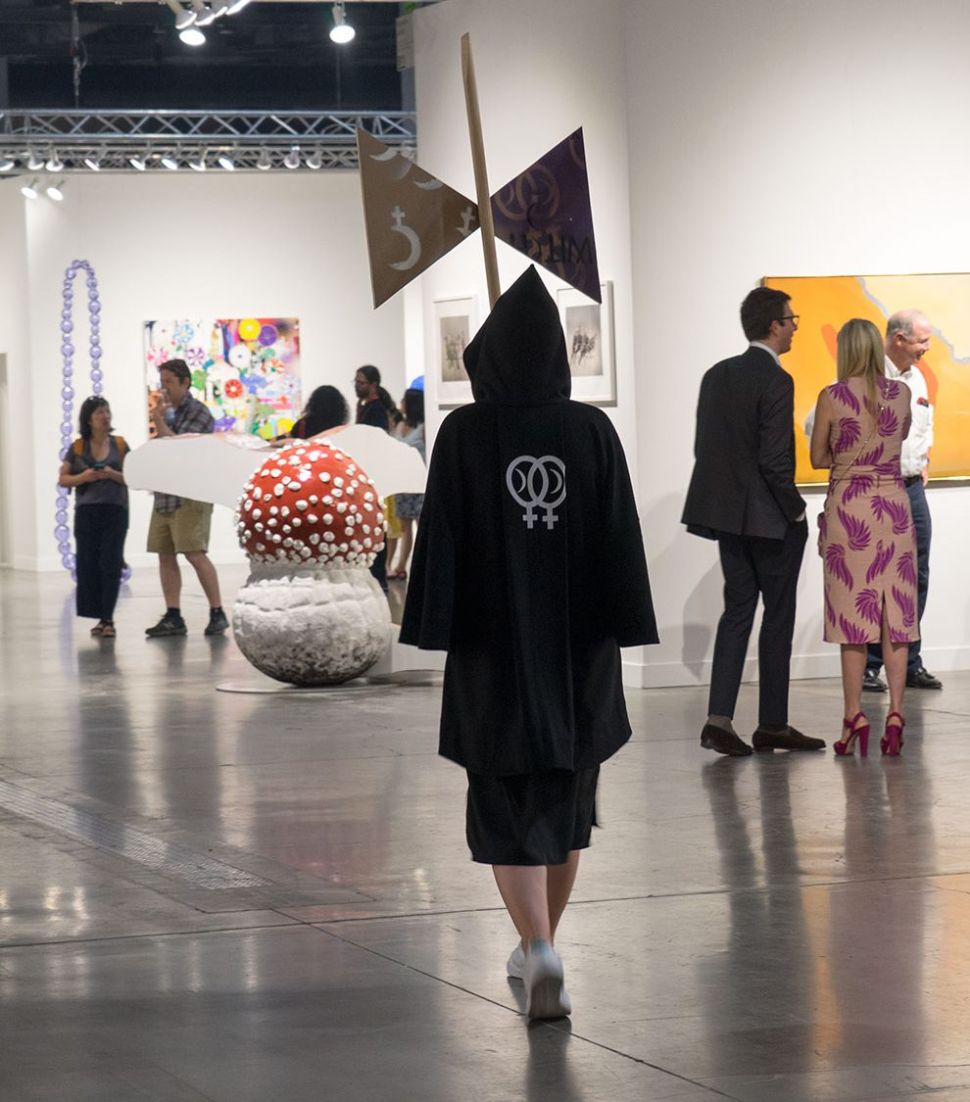 On Thursday evening, at the end of the first day of the Seattle Art Fair, I went on a witch hunt. Ten women wearing black hooded cloaks were wandering the aisles. Amid booths housing galleries from around the world, the dark figures walked, carrying battle axes, reading poetry, playing music and taking pictures on their phones. It was the VIP preview; they were dodging trays of passed hors d'oeuvres and caterers holding empty champagne flutes, too.
I followed one with red shoes. The word "WITCH" was emblazoned on the back of her cloak in white lettering. She stopped to speak with a small group inside a booth. After she finished, I caught her attention. She told me her name was Sandra Percival, and she directed a Portland art space called Zena Zezza. She described her actions at the fair: "I picked one gallery to stand outside the door in front of. It made me feel like I had some kind of resistance, some kind of performative relationship with the place that I was standing." Percival referenced the Dana Schutz controversy at the Whitney and the way that a protestor had blocked the work from viewers' sight as a political act. She was similarly choosing to stand in spots at the fair she felt deserved solemn, serious attention.
Percival and her cohort were part of a large performance piece by Ellen Lesperance, a Portland-based artist, which was commissioned by the fair. Separate iterations will occur throughout the weekend. Most participants had discovered the project through an open call. The work, titled W.I.T.C.H. 1985, arose from Lesperance's ongoing investigations into the work of feminist activist groups like W.I.T.C.H. (Women's International Terrorist Conspiracy from Hell), which has operated in different worldwide covens since the 1960s. After the performance ended, I asked Lesperance how she'd discovered them.
"A contingent of W.I.T.C.H. is really active in Portland right now, which is where I live," she revealed. "After the Trump win I think a lot of W.I.T.C.H. covens kind of re-arose, and that's been the way that they've functioned since the 60s." A glimpse at the Instagram account (@witchpdx) for Lesperance's local chapter reveals that they recently threw a "Hex the Patriarchy" party and donated proceeds to nearby LGBTQ groups. They have also published "spells, essays, art & manifestos" in their W.I.T.C.H.PDX: Witchcraft in Late Stage Capitalism zine, and participated (fully cloaked with their faces covered) in Portland's marches supporting women and science.
Lesperance isn't interested in joining the group, though, and her interest expands beyond her hometown roots. During her research, she became intrigued by the garments that the women at the Greenham Common Women's Peace Camp in Berkshire, England wore. For almost two decades, up until 2000, the residents regularly conducted protests against nuclear weaponry out front of the nearby Royal Air Force Base. Lesperance watched footage of an action at the camp and saw that one of the activists was wearing clothing adorned with an insignia that said "witch." She's not sure whether a W.I.T.C.H. sect migrated from the States to the United Kingdom, or whether the women donned clothing that read "witch" for some other reason. "I'm really interested in following women's histories that people don't necessarily know about," she says.
Apparently, no one's documented all the W.I.T.C.H. sects that have arisen throughout the past five decades. "There's a bridge to be made between now and then," says Lesperance. "There are people that I've been in contact with, [that were] like 'oh yeah we had a sect in Texas in the 80s' and other people that were like, 'I've seen people doing this in Italy in the 70s.'" Like many women's stories, these remain buried.
At the fair, Lesperance is also showing work at the booth of Portland gallery Adams and Ollman. Two framed works on paper display sweater patterns related to garments that women wore at Greenham Common. "Because a lot of them were outside a lot of time, and they weren't allowed permanent structures to live in, knitting really became part of what they did to stay warm. Knitting ideological messages in their sweaters was a thing there," she says. By designing new cloaks for the performance (Portland-based designer Jason Rens fabricated them, and Lesperance added her own beadwork), she preserves the idea that roles traditionally assumed by women—like knitting and making clothing—can result in powerful political statements.
When I asked her about her piece's antagonistic relationship with many of the forces that govern an art fair, Lesperance offered an anecdote. "A man came up to me afterwards and told me that having it be an anti-capitalist critique, it wasn't an appropriate venue for it. It's just like, 'you saying this to me is exactly…'" she trailed off here, exasperated. 
Elsewhere in the fair, another witch, a Seattle-based performance artist named Marchette Dubois played improvised music on small instruments near a large installation. She described her own motivations for participating. "What can we do that would sort-of bring that spirit of the feminist anti-war collective and put it in the space, and what do I have to offer?" she asked. "I also didn't have any projects this weekend and it seemed like a really weird and fun thing to do."