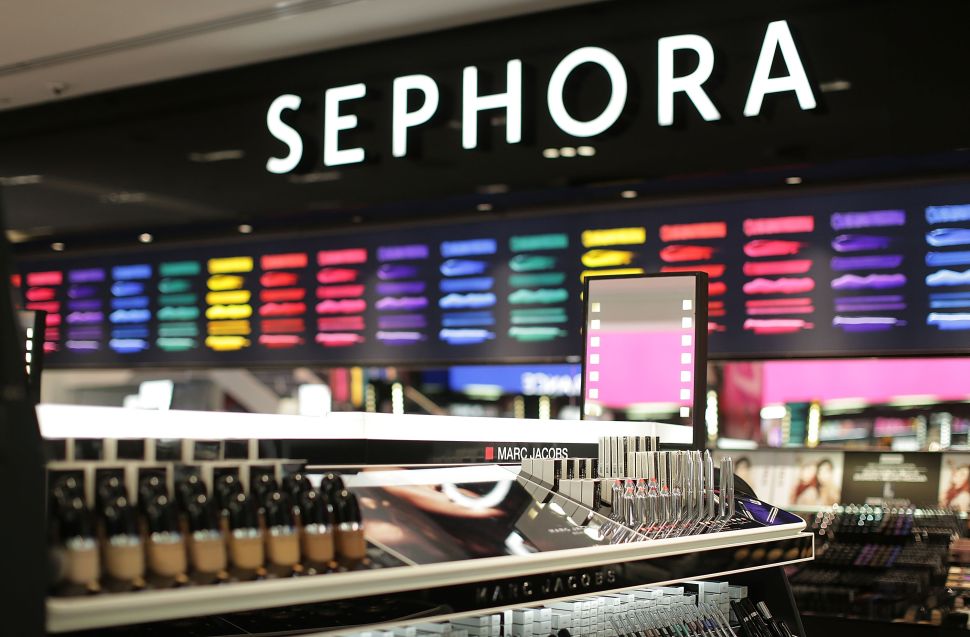 Sephora has long been the retail mecca for beauty nerds and casual buyers alike. With high-end beauty sales in the United States rising to $15.9 billion—and makeup comprising $7.3 billion of that total—the chain should be riding high on the frenzy for cosmetics. But Sephora just made a change to their policies that many industry insiders (and customers) are predicting will see a stampede of shoppers fleeing for Sephora's competitors.
One of the biggest draws of shopping with Sephora is the ability to earn points toward bonus gifts with every purchase. The bonuses on the site right now range from the minor ones, like a Sephora brand mini mascara for 100 points, to major ones for upwards of 50,000 (a three-day pass to the Austin City Limits Festival, for example). Lots of customers save their points up for years on end hoping to nab an epic prize, which could cost tens of thousands of points.
So it's no surprise that Sephora customers have been up in arms about the retailer's changes to their Beauty Insider program, and how the points are accrued, stored, and redeemed. The sticking point: All those points will expire permanently if the customer doesn't use their Beauty Insider account for 18 months, whether they are a lower-tier VIB status shopper or a top-tier VIB Rouge member.
In theory, this is not such a big deal. You don't even have to buy something to keep the account active. Just walk into any Sephora and claim the free annual birthday gift that comes with your Beauty Insider membership and that counts as activity. But if you shop Sephora online—as most people (even staff) do because of the samples and bonuses offered—you're out of luck. You have to make an online purchase to receive your "free" gift.
But theory isn't what counts for Sephora's bottom line. The poorly handled announcement, and the resulting backlash from customers, who range from high-volume spenders to infrequent shoppers, has done significant damage. That's because competitors like Ulta—which offers a mix of prestige brands and less expensive ones—have their own attractive (and less complicated) rewards programs. Even drugstores like Walgreen's now offer loyalty perks for beauty shoppers. What's more, beauty brands are plunging millions of dollars into eliminating intermediaries like Sephora and other retailers, offering far better bonus products when shoppers buy directly from the brand's own site.
Ulta, the top beauty retailer in the U.S., seems to be running further ahead of Sephora. Online forums devoted to discussing all things beauty are in an uproar. Hundreds of comments from beauty junkies show they know the score. A sample:
It just keeps getting worse for members lol…Good thing Ulta is adding more and more brands!
At the very least, the bungled policy change has resulted in superb (and free) word of mouth marketing for Ulta. Social media platforms are swamped with beauty fanatics informing their fellow cosmetics addicts that Ulta offers much better bang for their buck.
But it's not just mainstream consumers moving away from Sephora. Even beauty brand employees are shifting their spend from Sephora to other retailers. As one PR representative for several prestige brands told the Observer, "I personally do more shopping at Ulta since I love their rewards program and promos (i.e. spend $50 today and receive a free hair sampler)—their daily emails suck me in! Sephora is awesome, but Ulta is still my number one."
Perhaps luxury conglomerate LVMH, which owns Sephora, might be less adept at dealing with price-sensitive consumers than those who purchase their dozens of other brands. After all, those buying Dom Pérignon champagne, Louis Vuitton bags and TAG Heuer watches don't have the same considerations.
LVMH (LVMHF) acquired Sephora in 1997, and the disillusionment with the retailer's handling of rewards is not recent either. Longtime loyal customers were left fuming in 2015 when the retailer seemed to purposely incentivize them to drain their rewards points during their bi-annual sale—and, as soon as loyalists had, Sephora introduced exclusive access to new products for points. But they required thousands of points, which many had just spent at Sephora's urging. Customers felt tricked, pointing out that bonus rewards are supposed to be just that: extras given as a thank-you perk for spending so much money at Sephora. As one user on a subreddit devoted to makeup commented:
Overprice your shit, limit your "sales," hire people who are bad at doing other people's eyebrows, I don't care. Just don't try to blatantly manipulate and exploit us based on our passion for makeup. Don't disguise something as a "reward" for being a loyal Sephora customer when it's really just a tool to raise false hopes and profit margins. Stop taking advantage of the talented girls and guys who advertise your shit for free every single day through the art of makeup application / beauty techniques.

This isn't Wal-Mart, and Sephora isn't a supercenter. You cater to a niche. For once, please act like you actually appreciate the people that funded that massive foundation o' cash you're sitting on.
Another Sephora practice that has turned off its biggest spenders is the chain's habit of urging them to refresh their website repeatedly throughout the day, with the promise of extraordinary rewards. But the supply of these bonuses is massively dwarfed by demand, leaving millions of customers feeling manipulated and disappointed. Faithful Sephora Beauty Insider members encapsulated the apparent ploy on beauty subreddits:
COOL, Sephora. I know where I'll take my money – directly to the beauty companies or Ulta…They put some great rewards in there to rope us in.. "Sephora is doing something great!"… then release 175 of them to their hundreds of thousands of customers and then tell us to come back two days a week to refresh endlessly and increase their daily unique visit count. UGH…

…I have been a Sephora die-hard for a long time, but I've purchased a few things at Ulta here and there over the last few months. Even with my very limited purchases, I got $8 off a purchase last week. It made me think why the heck am I spending so much money at Sephora, when Ulta's reward system is so much better? It's honestly like a slap in the face from Sephora. I'd almost rather not even have one. "Spend 1000s of dollars on our products and we'll give you a tiny sample from a brand you've never used and probably aren't interested in anyway." vs. "Spend 1000s of dollars and get reward money back towards future purchases." What have I been doing all this time?!
Even those who don't feel personally shorted by Sephora's handling of rewards judge the retailer harshly for its practices:
I don't spend money at Sephora to get points – I'd be spending that money anyway because I'm buying things I want to own…That said, encouraging people to obsessively camp their site and buy shit they don't need just to avoid missing out is a seriously gross attitude, in my opinion. It's mildly predatory. And for what? The UD Vice vault was 20,000 points (aka $20,000 spent at Sephora) – it would cost less than $3,000 to just buy the entire line outright if someone really wanted it that badly.
For the past few years, Sephora customers have kvetched about the noticeable decline in quality of the rewards on offer—and the (often sub-par) free samples that are supposed to come with every shipment but are often omitted. "It doesn't matter which samples I request. I always end up getting some cheap-smelling perfume testers that go straight in the garbage," one VIB Rouge member told the Observer. More often than not, the selection sent seems random rather than based on customer request. This represents yet another failure of managing expectations on Sephora's part.
Some industry pundits are wondering if Sephora might be making this move to shift more inventory so as to acquire more sample products. "This might give the retailer room to provide even more samples (perhaps from larger assortment of brands they carry) and therefore, customers will have more variety and chances to fall in love with new products," one beauty executive theorized to the Observer.
That exec also used the term "forced spending of points" to describe what Sephora's new policy will enact. It is a truth universally acknowledged that human beings don't like to be forced to do anything. Enthusiasts who plunge hundreds or thousands of dollars a year into their obsession really don't like to be forced to do things by those whose pockets they are lining. They know what their business is worth, and are well aware that there are plenty of other places to shop. Sephora needs customers more than customers need Sephora—whether the retailer realizes it or not.
Jackie Danicki created one of the first and most popular beauty blogs in 2004 and has consulted some of the world's most iconic brands on digital content strategy and innovation. Jackie blogs at http://burnedoutbeauty.com, and you can find her on Twitter, Instagram, and Snapchat as @burnedoutbeauty.