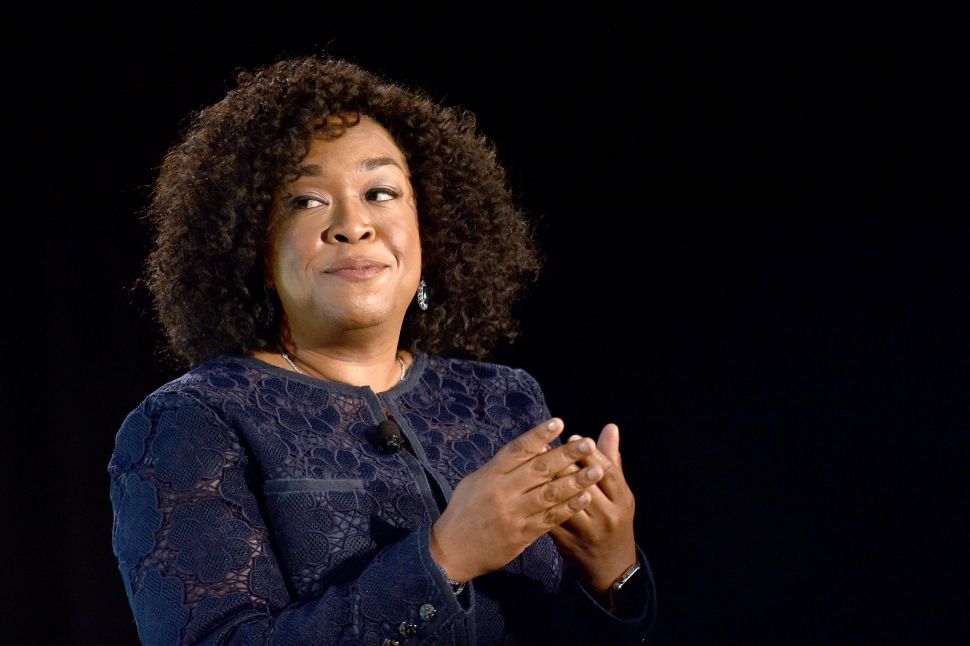 On Sunday night, THR reported that creator Shonda Rhimes—known for dominating ABC's Thursday television block with hits such as Grey's Anatomy, Scandal and How to Get Away with Murder—had signed a massive multi-year deal with Netflix (NFLX). This is a significant development for multiple reasons and speaks to the ongoing power struggle on the small screen.
Rhimes is a proven hit-maker who has been with ABC Studios for 15 years. Though her production company, Shondaland, will still deliver the upcoming drama For the People along with future seasons of currently airing shows to ABC, the network is losing its most notable talent at the worst possible time. What's more, it is losing Rhimes to the rival Netflix, which is exerting more and more influence on the entertainment industry as a whole.
"Shonda Rhimes is one of the greatest storytellers in the history of television," Netflix chief content officer Ted Sarandos said (via THR). "Her work is gripping, inventive, pulse-pounding, heart-stopping, taboo-breaking television at its best. I've gotten the chance to know Shonda and she's a true Netflixer at heart — she loves TV and films, she cares passionately about her work, and she delivers for her audience. We're so excited to welcome her to Netflix."
Rhimes' lucrative deal—the first of its kind for the freely-spending Netflix as it continues to lure top-tier talent away from traditional mediums—is said to be for four years during which time she will create and produce new projects for Netflix and receive a percentage of the back-end on programming she oversees, per the outlet. With upwards of 450 scripted original series airing across a plethora of TV platforms these days, the streaming service has just brought in a proven and steady veteran with a strong following of her own. That's a big talent pick-up.
It also strikes a blow to Disney (DIS), which owns ABC, shortly after the company announced it was removing all of its films from Netflix.
"Shondaland's move to Netflix is the result of a shared plan Ted Sarandos and I built based on my vision for myself as a storyteller and for the evolution of my company," Rhimes said. "Ted provides a clear, fearless space for creators at Netflix. He understood what I was looking for — the opportunity to build a vibrant new storytelling home for writers with the unique creative freedom and instantaneous global reach provided by Netflix's singular sense of innovation. The future of Shondaland at Netflix has limitless possibilities."
ABC Studios will retain many behind-the-scenes talents who have sprung up under the Shondaland coaching tree: Pete Nowalk (How to Get Away with Murder), Krista Vernoff (Grey's Anatomy), Stacy McKee (Grey's spinoff), Don Todd and Paul Williams Davies (For the People), Mark Fish (Scandal), Mark Wilding (Grey's spinoff), Bill Harper (Grey's Anatomy) and Allan Heinberg. But Rhimes, who THR reports was renegotiating her overall deal with ABC Studios over the last several months, is gone.
"Our current shows will continue to thrive on ABC and Shondaland will be there every step of the way," Rhimes said. "I could not have asked for a better home to begin my career. I continue to be grateful to work with so many talented people — especially our studio gladiator Patrick Moran and our most powerful and brilliant champion Channing Dungey. Starting today, we are thrilled to begin creating new Shondaland stories with Netflix. Everyone at Shondaland is honored to expand both our audience and our creative identity with Ted and the entire team at Netflix."
Beyond the industry implications, the move provides Rhimes with significantly more creative freedom as she no longer must adhere to the strict regulations of the FCC that oversee broadcast television. Considering the viewership numbers of her current hits—Grey's Anatomy (7.8 million live viewers), Scandal (5.6 million) and How to Get Away with Murder (4.6 million)—we're guessing most of her fans will be interested to see what she comes up with over at Netflix.