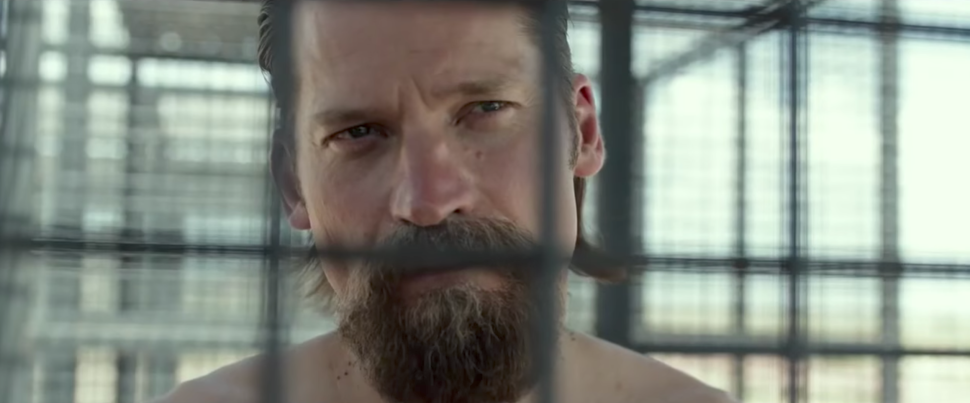 Prison movies are a genre well-explored in literally scores of dramas behind bars, I have rarely seen one grimmer or more unsettling and downright terrifying than Shot Caller, a harrowing study of what can happen when an innocent man slips down the rabbit hole of social injustice and lands in dragon country. Unflinchingly written and directed by Austin, Texas-based filmmaker Ric Roman Waugh, it's too unnerving to recommend to the squeamish, but for anyone curious enough to find out what really happens to turn decent people into savages in the bedlam of the American prison system, this is one for the must-see list.
Nikolaj Coster-Waldau, the charismatic Danish star of the epic TV series "Game of Thrones", makes a big-screen breakthrough as Jacob Harlan, a handsome, clean-cut, father, husband and successful Pasadena stockbroker who lands in jail after a drunk-driving conviction that accidentally costs the life of a friend. His efforts to defend himself by putting up his home as collateral to hire a powerful lawyer backfire, leading to a stiff sentence he did not deserve, losing him his home, job and family. Ten years later, when he is released, Jacob is a hardened criminal called "Money", covered with tattoos, a gang member trained to kill by the primal prison system, and trapped in a life of crime with a new set of moral values. Pursued by both cops and thugs, Jacob longs to return to the normal life he left behind, but finds himself fated to commit a serious crime to fulfill his obligations to the gang he joined behind bars in order to survive. The movie explores the hair-raising code of ethics among inmates in the violent, overcrowded American prison system and the myth about rehabilitation. It comes by its creepy feeling of authenticity honestly. Writer-director Ric Roman Waugh researched Shot Caller working undercover with the California parole officers disguised as a rookie cop, learning the ins and outs of prison culture and gang rules. The result is a film that never fails to involve the viewer in the choices Jacob makes in his acceptance of a fate beyond control. As one of the police officers says: "Once a dude gets institutionalized, anything is possible."
With an electrifying centerpiece performance by Coster-Waldau (who proves anyone who can survive a name like that in show business can survive anything) the director's goal is to show what happens when the system fails, the theory of justice loses meaning, and a first-time offender can be turned into a vicious monster. After 10 years of being brutalized, a desensitized Jacob naively thinks he will finally be able to pick up his life interrupted with the wife and son he loves, but the most alarming lesson the movie teaches is that the gang life a man adopts in prison to stay alive is a forced lifestyle from which there is never any escape. It's hard to believe that hope is irreversibly crushed, and there are examples of former inmates who do successfully start over fresh after incarceration, but this the story about a man doomed by the system. It's a chilling moment when one fellow prisoner in the lockup says to Jacob: "You think the fucking honor of being one of us ends at the gates? It ends when you're six feet under." Achieving a hardy balance to a complex character and heightened importance to an otherwise terminally depressing study in total immorality, the star is powerful and so riveting you can't take your eyes off him. The strong supporting cast including Benjamin Bratt, Emory Cohen (so great in Brooklyn), and Jeffrey Donovan lends enough tangible reality to build phenomenal suspense.
---
SHOT CALLER ★★★
(3/4 stars)
Directed by: Ric Roman Waugh
Written by: Ric Roman Waugh
Starring: Nikolaj Coster-Waldau, Benjamin Bratt, Emory Cohen, Jeffrey Donovan
Running time: 120 mins.
---
Director Waugh is just as capable in the big action scenes as he is with intimate dialogue. The big showdown between rival gangs is less important than the reason for it, but what Jacob does in the twist ending to save his family from gang revenge is as shocking as stepping on a land mine. Completed in 2015, it's a mystery why Shot Caller has been gathering dust for two years. Released at last, I can only say its two hours of relentless energy makes up for lost time.