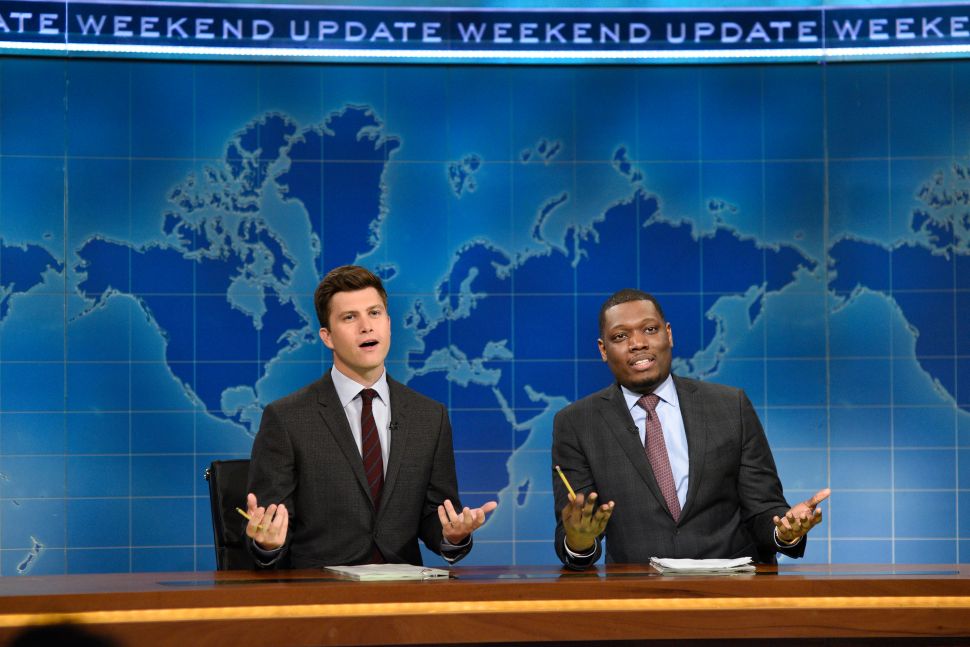 NBC's Saturday Night Live enjoyed its highest ratings in years this past season thanks to its blistering political commentary (hat tip to Alec Baldwin). Hoping to capitalize on the momentum, the network premiered the spinoff of long-running segment "Weekend Update" on Thursday night and things went pretty well.
The half-hour comedy special garnered a rock solid 1.7 rating in the advertiser-friendly 18-49 while drawing 6.5 million viewers overall, according to Variety.
Per the outlet:
"It built on its lead in from The Wall (1.2, 6.2 million) by 42% in the key demo, and was the number two original show of the night on the Big 4 in the demo behind only Big Brother on CBS, as well as the second most-watched. In addition, no summer comedy, new or returning, has debuted higher than a 1.5 in eight years since ABC's The Goode Family in 2009."
"Weekend Update" has been featured on SNL in every single one of its 42 seasons. Many credit the segment as the inspiration to Comedy Central's The Daily Show and other political satire news shows. Previously, "Weekend Update" has aired special broadcasts in prime time during election years (2008, 2012). Back in 2009, the network tried to roll out a six-episode mini-run, but only made it through three installments before canning the series. However, with SNL's ratings rising 20% this past season, the timing was right to try again.
"SNL is having its best season in a quarter of a century…so we didn't want them to take the summer off," NBC Entertainment President Robert Greenblatt told the LA Times back in March. "We're thrilled to have Colin Jost and Michael Che continuing their unique brand of news with fresh 'Weekend Update' shows in prime time this August."