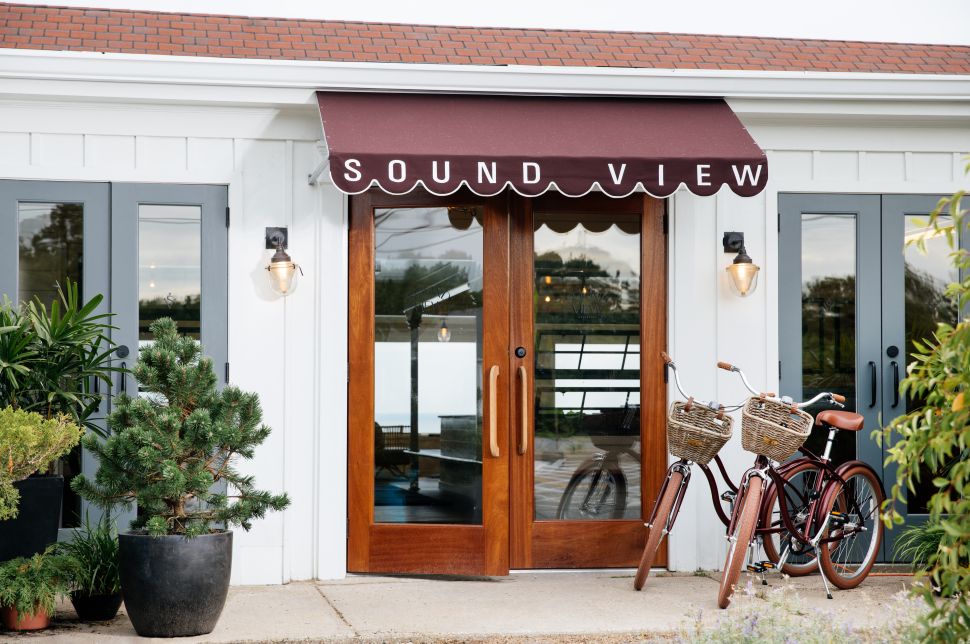 Low-key crowds have long idled on the North Fork, soaking in verdant farmlands, top-notch vineyards, and its all-scenery, no-scene ethos. But as the rustic lifestyle became de rigueur, a lack of modern accommodations kept the peninsula at bay—until now.
Enter the Sound View, a former midcentury motel opening next week in Greenport that's elevating the bucolic waterfront with a star chef and a worthy, swish redesign.
Here, Brooklyn's Studio Tack has refashioned a languished property, now owned by NYC's Eagle Point Hotel Partners, into a brilliant, cozy perch along the pebbled coast. Recalling the golden age of motels, and acclimating high-design with Greenport's pared-down nature, they've updated a clutch of three buildings—comprising 55 rooms and suites, and a handful of venues—that hug a quarter-mile of private beach.
The original motel, a mom-and-pop operation since 1953, hosted repeat generations of beach-bound vacationers, from families to couples, along Route 48. Greenport, a historic whaling port with a penchant for oyster farms, has long drawn a calmer bunch. Look behind the fences and you'll find lifetime farmers alongside ex-Manhattan-types who've traded careers at law firms and hedge funds for hobby farms and vineyards. While quaint, Greenport has its thrills, from upmarket vintage stores to hip oyster shacks and, for the city-minded, a bonafide speakeasy.
The motel's new lobby opens into a low-slung, airy lounge of blonde wood and whitewashed wainscoting. Finely crafted seating, from fixed stools along a curved wooden breakfast nook to pillowy wicker loveseats, are all poised towards panoramic windows that overlook the coast. In the morning, the space floods with light as guests arrive for a spread of warm berry muffins, freshly herbed fruits, bowls of Kix (not just for kids) and strong La Colombe Coffee. It evokes a tidied up boardwalk, or classic train cabin, accented with niche magazines from abroad and midcentury copies of Sports Illustrated. Light and smart, it is refreshed with vases of freshly plucked lavender from a nearby farm.
The sunny vibe is anchored by moodier counterparts on either side: A Library Room and a Piano Bar. The latter has been left largely unchanged from the 1970s original, with red booths and a handsome bar—a piano inherited from the former motel has been restored with plush leather armrests, transporting guests to evenings in West Village boltholes.
Above all, the team rinsed the motel's guest rooms of their outdated distractions—patterned comforters and drapes, clunky furniture, carpeting and drop ceilings—opting for knotted throw rugs, nimble dining stools, and dollops of dusty-blues and maroon. Drawing inspiration from modernist homes of New England, the aesthetic is organically inclined, connecting guests with the location's natural splendor. Walls are lined with untreated cedar, while muted textiles and the occasional splash of marble connect the dots. The effect brings clarity to a bright and airy space that seems very at home with the raw coastline outside the window.
The nostalgia of the classic motel—a home on the road—hasn't faded. Rooms feature updated kitchenettes and flat-screen televisions, while tiled bathrooms are stocked with NYC's Malin & Goetz amenities. Each room gets a complimentary San Pellegrino and Tate's Bake Shop chocolate chip cookies. Bedding is plush with Brooklyn-spun, color-blocked bedspreads, while deep-seated chairs are upholstered in blue-and-white striped textiles. No longer plastic, the patio furniture (each room boasts either a private balcony or a shared deck) is now designed with sail cloth affixed with rope, nodding to the area's nautical history. A generous pool, circled by updated lounge chairs and tables, bustles with cheery conversation.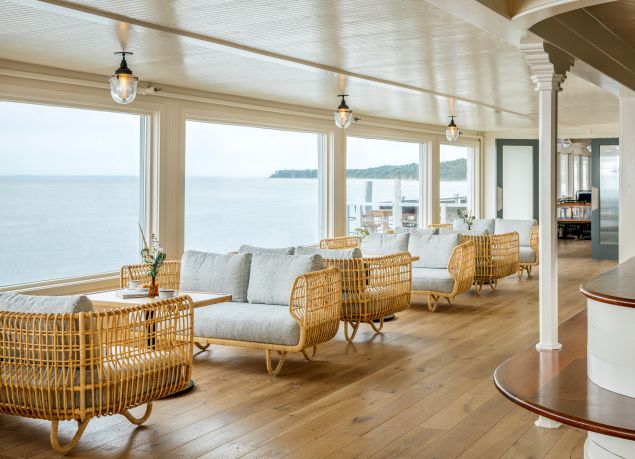 Perhaps the motel's most ambitious lure is its new restaurant, The Halyard, which commands a view of the Long Island Sound and offers flavors that match. Helmed by the James Beard Award-winning Galen Zamarra—chef and owner of Manhattan's Mas (farmhouse)—the menu is casual, but painstakingly crafted with ingredients sourced only from the North Fork and the Atlantic Seaboard. Expect American classics like lobster beignets, buckets of fried chicken and biscuits with corn. Guests can also pick up picnic-style lunches that include things like oyster po'boys or lobster rolls—apt takeaway for the natural surroundings.
But it isn't quite finished just yet—the owners plan to add even more programming and facilities to the mix. In the short term, a new collaboration with Joe's Pub at The Public Theater will bring a rotating roster of live music to the Sound View's restored Piano Bar every Saturday through the fall. Coming soon, a new shack will also open next to the pool with snack-friendly items for sunbathers. They also plan to create a space for hosting wellness activities at a location down the road—yoga is well within reach.
Unlike the frenzy of the North Fork's southern sister, the Hamptons, in Greenport the vibe is porch-sitting and sun-soaking. Now with a fresh place to stay, charming Greenport has never been more relaxing.
Nightly rates range from $290 for a king suite to $595 for a two bedroom suite.