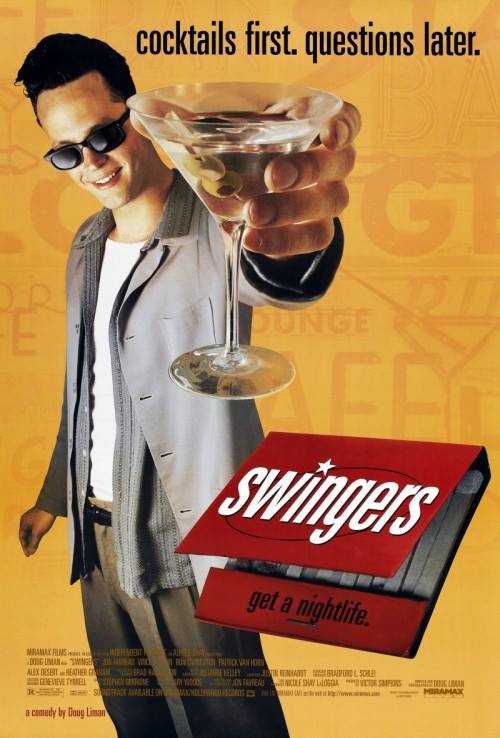 If you're one of those vinyl collector folks, you already know we're in a golden age of special edition re-releases of great soundtracks, while almost every new release these days gets some kind of wax treatment. But there's an incredible gap starting in the mid-'90s through the late aughts. Specialty labels are going back to try and fill in some of the blanks, but there's still a lot of great movies that haven't been given their vinyl due.
The summer release of Baby Driver from Edgar Wright (a director famous for how his music works diegetically within his films) caused me to wonder why Wright's entire Cornetto Trilogy hasn't been given the vinyl box set treatment. Mondo, who put out a three album set of the Back To The Future trilogy last year, has released a pressing of Shaun of the Dead on discs that look like beer, and the Hot Fuzz vinyl just came out in July. They're two thirds of the way there—so where's The World's End? This sent me down a rabbit hole of thinking about the films where the music is the movie, finding the ones that have been strangely ignored by the vinyl world. Here's a list of the top ten, presented with the hope that someone soon fixes these terrible oversights.
C'mon. This is the easiest, no-brainer on the list. It's a movie about records featuring original music and it gives us history's only case of a one-hit wonder in both the 1960s (fictional) and the 1990s (actual) so why don't we have access to a sleek pressing of this that comes with its own shades? Also, "Mr. Downtown" is still catchier than the title song. Colin Hanks made a documentary last year about the disappearance of Tower Records. Ask your dad to make this one for us.
There are few films that have a narrative as closely tied to the soundtrack as… well, any Cusack film. But Minnie Driver's radio DJ character takes over this film, and her station provides the background to everything except the big dance at the end. Unfortunately, I get why this 1997 masterpiece only really got an audio cassette release. There's nearly one hundred songs used across the course of this film, including multiple Bowies, so doing a complete vinyl release would probably be a licensing nightmare. (Curiously, Howard Shore's 2015 award winning score for Spotlight is also only available on audio cassette. I do not have an explanation for that one.)
Favreau's 1996 cult hit spawned a double soundtrack CD release but still no vinyl. Tarantino's entire catalogue just got a vinyl re-pressing over the last year (which gave us Death Proof thank god) so maybe all the Miramax stuff is headed our way soon. Hopefully, this means we can get some audio clips from the film with warm analogue so I can hear Vince Vaughn make Wayne Gretzky's head bleed in high fidelity. But please, if you release it as both parts, please don't call the second one "Swingers Too!" again. That was embarrassing.
Fight Club got a vinyl re-release this year, making one of the most expensive records I've ever purchased worth slightly less. But it allowed access to one of the greatest "write to this" albums ever. The same should happen with the Trent Reznor and Atticus Ross scored The Social Network. This double disc of music you associate with manic typing and coding has been ripped off by absolutely everyone in the last few years—especially the TV show How To Get Away With Murder and yes I will fight you if you disagree. Unfortunately, the excellent vinyl release of this was extremely limited, and now the cheapest badly used copy I can find online starts at $250. This one has had a release, but it deserves one that—you know—non-lunatics can get a hold of. (Worth noting that the much lesser soundtrack follow-up for Girl With The Dragon Tattoo goes for a cool grand right now on eBay. That's a sickness, folks.)
I feel good giving one big entry here to the horror film soundtracks. I have both (humblebrag) but neither are easy to come by because you're depending on original releases that still play without bumps or hisses and. Murphy's score has become one of the most immitated horror themes in cinema, and Wendy Calros' work on The Shining is a high point in early electronic music, made mostly on an instrument she basically invented.
In the vein of American Graffiti, this single night party is soundtracked by a playlist of everything good about the year in which it is set. There's even some Creed. Look, it transcends the Creed folks. This deserves some wax and it's a disappointment no one has pushed for it yet.
This Guy Ritchie double feature should get it's own snarling low class box. Lock Stock had an original limited pressing that resells on the low-end at $250 for a used copy, but Snatch has never seen the vinyl light of day. Which is a shame, because I would finally taking up boxing if only this would come out. C'mon Ritchie. Help me out.
Soderbergh's trilogy of heist films features all that great "You're Cool And What You're Doing Is Cool" curation from classical Vegas sounds up through modern dance-infused bangers and everything in between. When your crimes feel choreographed, there's a dance between form and function happening that someone deserves to repress in a beautiful format—perhaps on money-colored vinyl.
Mid-'90s teen horror films were just a treasure trove of incredible curation, featuring the best songs from bands like Harvey Danger who will never get a stand alone vinyl release. Luckily, The Craft just got a repress. Let's build on that success.
Maybe the best soundtrack out there that we don't have vinyl access to. Easily the darkest. U2 and Seal and PJ Harvey really set a bleak but beautiful stage here, but there are also brilliantly quirky inclusions from The Flaming Lips and a cover from The Offspring that make sure this is grounded in '90s gritty angst. Bonus points for Nick Cave.
Bonus Picks:
Jawbreaker, 10 Things I Hate About You, Spring Breakers, A Life Less Ordinary, American Beauty, Young Adult, Romeo & Juliet (a better pressing), The Truman Show, all three releases from Hackers, Cruel Intentions, and of course the entire Fast & Furious franchise.