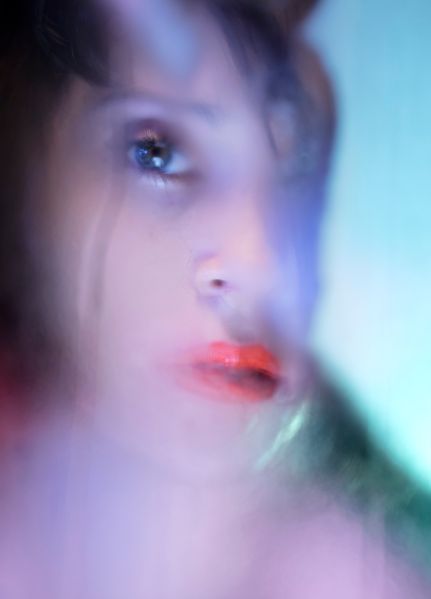 The August 28th issue of The New Yorker magazine features a lengthy profile of songwriter and musician Annie Clark, better known to fans as St. Vincent. The piece, written by Nick Paumgarten, comes out just ahead of Clark's forthcoming sixth album. The yet-to-be-titled album drops this fall, and was done in collaboration with producer Jack Antonoff.
But between anecdotes in the profile about Clark's self-induced seclusion (she's traded her East Village apartment for the Marlton Hotel to write the album without distraction) and theories surrounding the personal inspiration behind her lyrics ("It's a composite," she told Paumgarten, referring to any assumptions that they're based a single person), the article also includes a show-stopping portrait of the singer by artist Marilyn Minter.
New York-based Minter is best known for her photo-realistic paintings examining the body, beauty and sexual desire. Her first major museum retrospective wrapped in May, and was shown at the Contemporary Arts Museum Houston, the Museum of Contemporary Art Denver and the Brooklyn Museum. For The New Yorker, Minter photographed Clark slightly obscured through a piece of glass, and saturated with rich purple and green hues that compliment the singer's eyes and give her an otherworldly quality.
"I'm not interested in just another pretty face," Minter tells me by phone, on working with the musician. "And she's not interested in being one."
On the way her image's unique effects were created in the studio, Minter explained, "Lately, I've been shooting behind steamed or frozen glass. I sort of let the 'gods of moisture' take over. I never know whats going to happen. I look thru [sic] the lens and wait for something interesting."
Minter previously used the technique to capture performer Miley Cyrus for a campaign for Planned Parenthood, and her 2016 series exploring natural depictions of female public hair—shown at Salon 94 gallery on the Bowery—follows the same thread. For now, the artist says she has no plans to adapt the portrait of Clark further for the canvas.
"Annie is a wonderful talent, I am looking forward to her album," says Minter, discussing Clark's music. "But I must admit I got thrills watching her sing Nirvana's 'Lithium' on the R&R Hall of Fame show."
Read The New Yorker's full profile on Annie Clark here, and see more of Minter's work on Salon 94's website.