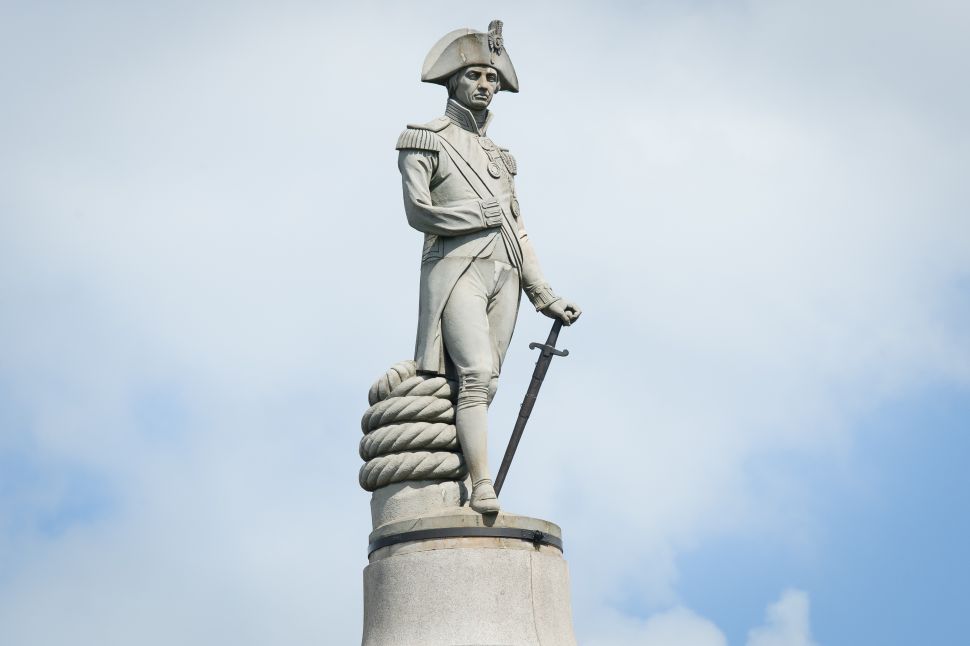 America has always been a trailblazer. Whether it be Silicon Valley technology or a subprime debt disaster, last week's U.S. news is this week's global news. The latest export from America is the removal of controversial statues, and the world has responded with their own figures of hate.
It began with the protests in Charlottesville over the removal of a statue of General Robert E. Lee, a man whose popularity isn't what it once was—not least because he commanded the Confederate Army, a bunch largely blamed for racial tensions that still blight America today.
British newspaper The Guardian responded by demanding that Nelson's Column in London be pulled down because Admiral Horatio Nelson was "a white supremacist." His monument has stood in Trafalgar Square since shortly after his defeat of the French Navy in the 1805 battle of the same name.
The victory established him as a figure in popular culture, partially because he was killed shortly before the moment of victory. His contribution to the slave trade appears far more difficult to establish. He was not a vocal opponent of it, unlike many of his contemporaries.
But should Britain beat itself up over the slave trade? It was one of the first major powers to abolish it, and the practice had largely died out on the U.K. mainland by then anyway. After abolition, the Royal Navy fought a war against slave ships in the Atlantic and freed huge numbers of people who had been kidnapped in Africa.
Pulling down Nelson's Column would wrongly imply that the average Brit has anything to be ashamed of on this issue. We do not.
The removal might also backfire: A survey of children in Trafalgar Square showed that most thought the column was a tribute to Nelson Mandela. So much for the once proud British education system!
Perhaps The Guardian should turn its attention to Oxford, where hypocritical Rhodes Scholars are trying to demolish the statue of their own benefactor: Cecil Rhodes. Luckily for Cecil, most students appreciate his contribution to their university and the authorities have declared him safe—for now.
If Rhodes Scholars removing Rhodes seems odd, then the students and professors at Ghana University have an even more controversial choice of demolition: Mahatma Gandhi.
A petition garnering online support says the leader of the Indian independence movement was a racist who supported class divisions through the caste system. He was an Asian Supremacist, apparently.
His statue was erected in the university in 2016, after it was donated by the Indian government as a symbol of cooperation between the two countries.
It has been causing "outrage" ever since, despite Gandhi's worldwide fame for pacifism and inclusivity. The demand to get rid of him highlights how fast this whole statue demolition thing could escalate.
Ukraine has some public art it wants rid of, too. In fact, the country announced it has completed the removal of a whopping 1,320 Soviet Era statues. It would be wrong to suggest this process had anything to do with America. The statues in question are in the Western part of the country; the Eastern part was invaded by Russia in 2014.
Moreover, the Soviet Era was an unhappy period for Ukraine, during which it suffered appalling hardship. Thus, the country has also renamed streets and parks to remove mention of communists. Many places have been renamed after Ukrainian heroes, however a Lenin Street in Zakarpattia was renamed Lennon Street in a tribute to the Beatles lead singer.
This global process of statue removal reveals an underlying problem: You cannot demolish a statue because of a change in taste or because some people dislike the person in question. If statues could only be erected to people everyone liked, then none would be built at all and all existing statues will eventually be demolished.
However, there are some people that ought not to be venerated. I cannot imagine an argument in favor of leaving statues of Hitler up in Germany.
Russia may have happened upon the answer to this question. The country has moved most of their communist era statues into one area, fallen monument park. The idea is the public can see the old statues but they are no longer making a statement by being in prominent positions.
A very sensible solution indeed.