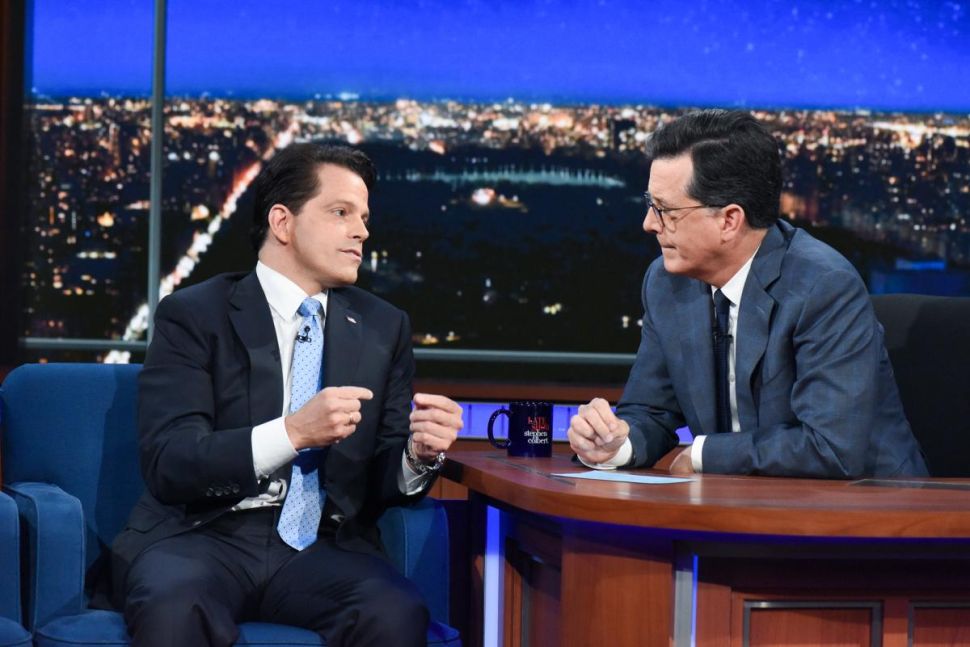 Remember earlier this month when NBC network entertainment chairman Robert Greenblatt said he wasn't worried about Jimmy Fallon getting consistently thumped in the ratings by Stephen Colbert over the last few months? Remember when we said he should be? Well, he should have been.
Last week's visit from Anthony Scaramucci to CBS' The Late Show led to Colbert beating Fallon's The Tonight Show by an average of 770,000 total viewers. It is the show's second-biggest weekly win behind the 900,000 overall lead Colbert scored earlier this month for the week ending August 4, according to a CBS press release. Monday's broadcast with The Mooch averaged 3.60 million viewers, marking The Late Show's largest-ever Monday audience and besting The Tonight Show by a whopping 74 percent (3.60 million vs. 2.07 million).
For the week ending in August 18, The Late Show averaged 3.15 million Live+Same Day viewers, per CBS. The Tonight Show, meanwhile, put up "just" 2.38 million viewers.
Fallon may have cornered the late night market on viral videos and hashtag-friendly gags, but Colbert has seen a steady rise in the ratings ever since Donald Trump was elected; the former Colbert Report host is no stranger to political satire. After struggling initially to find his footing following David Letterman's retirement, Colbert has really hit his stride with his show's renewed focus on Trump's presidency. Fallon, meanwhile, has seen a drop in ratings while still holding as one of the more popular options in late night.