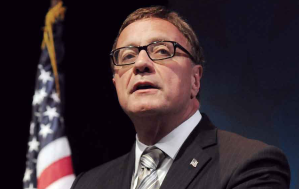 Perennial Republican candidate Steve Lonegan is planning yet another run for office.
Lonegan, the conservative firebrand and former Bogota mayor, said he will make an announcement regarding New Jersey's 5th congressional district at 11 a.m. Thursday at the Marriott Courtyard in Paramus.
The congressional seat is currently held by Rep. Josh Gottheimer, a Democrat who won in one of the most conservative parts of the state in 2016, ousting former Rep. Scott Garrett.
Lonegan would not confirm that he will be running for the seat in next year's midterms. "We'll be doing an announcement on Thursday," he said. "That's all I can confirm." But then he said he looked forward to being interviewed at length at the event. And an email sent to supporters said Lonegan is jumping in the race.
After serving as Bogota's mayor from 1996 to 2007, Lonegan has repeatedly sought higher office and come up short. Most recently, he lost to Rep. Tom MacArthur in the 2014 Republican primary in the 3rd District. (Both men moved from Bergen County to South Jersey when that seat became vacant.)
A year before that, Lonegan lost to U.S. Sen. Cory Booker in a 2013 special election after the death of Sen. Frank Lautenberg. Lonegan twice ran for the Republican nomination for governor, in 2005 and 2009, and lost a state Senate race in the 37th legislative district in 1997. He is a former state director of the New Jersey chapter of Americans for Prosperity.
Lonegan was New Jersey chairman for the presidential campaign of Sen. Ted Cruz (R-Texas), and argued last year that delegates to the Republican National Convention should have been unbound so they could vote their conscience (a move that could have derailed President Trump's nomination).
Despite lacking a record of electoral success, Lonegan is known as a passionate advocate for conservative causes and knows how to drum up attention. He is plugged into the national conservative movement and on Saturday had a column in Breitbart News blasting a plan to raise a tax on advertisements.
In 2006, Lonegan led a mini-crusade to take down a McDonald's billboard in Spanish in Bogota, and unsuccessfully tried to make English the town's official language. In 2008, he was arrested by the state police for protesting outside one of former Gov. Jon Corzine's town halls.
During a U.S. Senate debate in 2013, Lonegan made headlines for claiming there were bodies floating in the Passaic River in Newark, where Booker served as mayor.
"You may not be able to swim in that river, but it's probably, I think, because of all the bodies floating around from shooting victims in your city," Lonegan said. "Oh, my God. Oh, my God," Booker replied.
If he enters the race, Lonegan would be running in his home turf, a district that has long leaned Republican before Gottheimer, a centrist Democrat, swung it into the Democratic column last year. The freshman Democrat had $1.4 million in his re-election war chest as of June 30, according to FEC fundraising reports.
Michael Soliman, a Democratic strategist, said Lonegan would be a "gift" to Gottheimer.
"I would say Steve Lonegan is to the right of the tea party, and so, by Steve Lonegan entering the race, that's sort of a gift because Josh beat a very conservative member of Congress for that district in Scott Garrett, and yet Lonegan is even more to the right than Garrett," Soliman said.