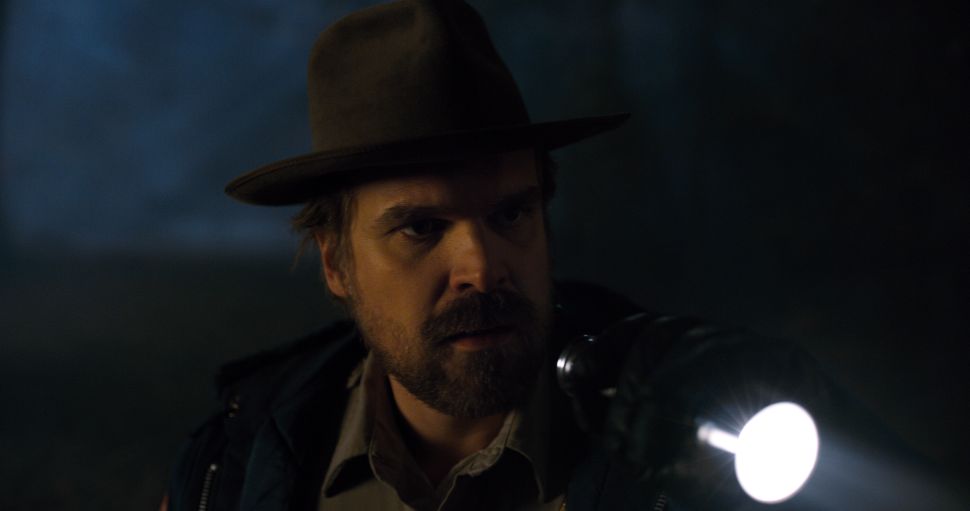 David Harbour, best known as Chief Hopper on Netflix's Stranger Things, may have unintentionally broken some big news in the television industry last week. Harbour was at LAX when TMZ caught up to him and the actor began talking about season three of his hit show. On the surface, that all sounds pretty innocent, right? But then you remember that season two of Stranger Things hasn't even dropped on the streaming service yet.
Whoops.
[protected-iframe id="bdbe84c860462d79eb2eeaa100ab956d-35584880-125099115″ info="//cdnapisec.kaltura.com/p/591531/sp/59153100/embedIframeJs/uiconf_id/6740162/partner_id/591531?iframeembed=true&playerId=kaltura_player_1413478522&entry_id=0_ecug7zcg" width="664″ height="421″ frameborder="0″ style="width: 700; height: 394px;"]
Harbour talks about raging hormones on the set and how the child actors are getting older and how that will play into season two and season three of the show. Again, Netflix hasn't made any official announcement about a potential third season and you can see Harbour attempt to try and walk back his comment. Could he have just let everyone know that the streaming service is moving ahead yet again with the series?
This wouldn't be a huge surprise as Stranger Things quickly became a phenomenon when it debuted in summer 2016 and is thought to be one of Netflix's biggest original series. But renewals are big news in the TV world and Netflix would have likely preferred to break the story itself. Still, even the showrunners themselves have said they hope the series lasts four or five seasons.
Season two of Stranger Things, debuting on October 27, is so highly anticipated that Hollywood studios have abandoned Halloween release dates to avoid competing with the series that weekend. Hopefully, the new season lives up to the hype.