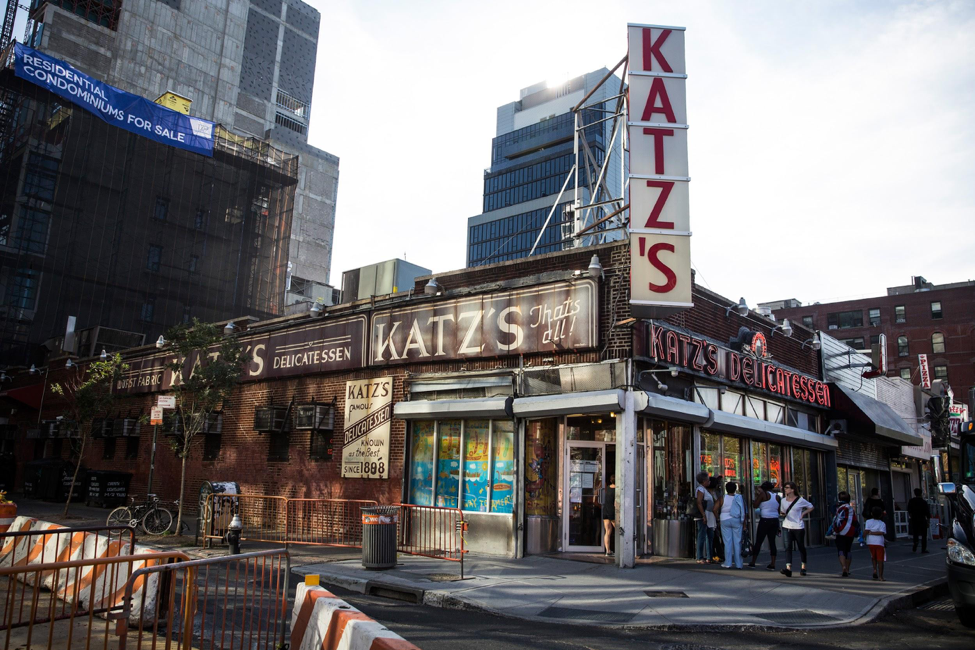 Elon Musk once compared building a business to "eating glass and staring into the abyss of death." George Orwell, for his part, once described writing a book as a "bout with a long illness," a sentiment that many entrepreneurs and creatives would agree with. The point is: No one would willingly subject themselves to any of the suffering that goes into building something if they thought their efforts were going to disappear with the wind.
Yet the truth is, most businesses and most art does disappear. It might be easier than ever today to start a business—a few bucks on LegalZoom and you're the CEO of a brand new LLC. What is still hard and what has always been hard it keeping your doors open, staying in business, and keeping customers happy over the long term will never be easy. In a world obsessed with the new and the trendy, we don't tend to give enough credit to people do manage to do that—who endure and survive, week in and week out, decade after decade.
As I was researching my book Perennial Seller: The Art of Making and Marketing Work that Lasts, I was amazed to find that beneath the blog chatter and the Fortune magazine covers, there is a class of businesses and products and art that have done more than just stand the test of time—they've defied time. Many of them are so evergreen we don't know realize that they're old. For instance, did you know Zildjian Cymbals has been in business for nearly four centuries? Or that Katz Deli, from When Harry Met Sally, opened when Grover Cleveland was president? Or that Les Misérables, which won multiple Oscars in 2012, was first published in a small installment in 1862?
These enduring perennial businesses are inspiring and awesome and deserve to be recognized. Below are 25 awesome companies who will shock you with how old they are—and how well they carry their age.
Enjoy!
Original Pantry Cafe
Established: 1924 (93 years ago)
Right next to the Staples Center in Los Angeles, the Original Pantry Cafe that is open twenty-four hours a day, seven days a week, every day of the year…and has been since 1924 (it famously doesn't even have locks on the doors). Known simply as the Pantry to its devoted regulars, it has amassed over 33,000 consecutive days (and over 792,000 consecutive hours) of selling breakfast food and the occasional steak. Most mornings there is a line outside to get in. The only thing that's changed in ninety-three years are the prices, grudgingly increased due to a century of inflation. And while they might not accept credit cards, but they did put an ATM at the front to make paying easier.
Fiskars
Established: 1649 (368 years ago)
Named after the Finnish city in which it was founded, Fiskars is the company that makes the ubiquitous orange handled scissors we're all familiar with. But scissors that the company are famous for today didn't hit the market until the 1960s.
Fiskars was originally founded as an ironworks and initially produced nails, wire, knives, hoes and reinforced wheels, frying pans and pots. It is this focus on well-made staple products that has kept the company going so long.
Zildjian
Established: 1623 (394 years ago)
There are lots of examples of perennial sellers in the music business, albums that sell steadily every single day. But selling actual music is not the only way to be perennial in the music business. Have you ever seen a drummer playing Zildjian cymbals? If you've watched Dave Grohl (Foo Fighters and Nirvana), Keith Moon (The Who), or Phil Collins, you sure have. The popularity of Zildjian cymbals is surpassed only by the company's longevity—it was founded in Constantinople in 1623. Zildjian has been making cymbals for four centuries. The company found a niche within the music industry and has been dominating it ever since.
Cire Trudon
Established: 1643 (374 years ago)
The high-end candle company Cire Trudon has been around since the seventeenth century, the oldest of its kind. Trudon may have made its name supplying candles to the court of King Louis XIV and later to Napoleon, but it's still a growing company—Trudon opened its first New York City retail location in 2015. It is a testament to Cire Trudon's technique and craftsmanship they were not only able to outlast revolution, but also the advent of electricity, and become a truly international company.
Katz's Delicatessen
Established: 1888 (129 years ago)
Delis like Katz's—which has been serving customers since 1888—serve as a safe place for Jewish people to reconnect with the food and culture of their people. And due to its unbelievable longevity, the restaurant has become a cultural touchstone for everyone else too. Plus the food is good.
If you want to send a salami to your boy in the army or just get some soup, it's an awesome place to go—for the food, or for what Grub Street described as the "the clanking, chaotic living history of the place itself—less stuck in time than beyond time, somehow."
Johnson & Johnson
Established: 1886 (131 years ago)
Johnson & Johnson is one for the largest, most profitable companies in existence today. The Fortune 50 manufacturing company owns hundreds of subsidiary companies like Neutrogena and Janssen Pharmaceuticals and operates in almost every country on the planet. But like every creative, entrepreneurial undertaking, it started with a simple idea. It was founded by three brothers looking to produce antiseptic surgical dressings in the 1880s. Since sanitation in the nineteenth century was a massive problem (and because their product worked) the company took off. Now it makes $70 billion a year in revenue making everything from Band-Aids—a product so successful people now use it as a generic term for a bandage—to medications and baby products.
HarperCollins
Established: 1817 (200 years ago)
Before it was HarperCollins, the book publisher was actually two separate book publishers, both of which were founded in the early 1800s. Each of them began as family businesses, overcame early obstacles, and found success—one by printing bibles. The company as it is known today is one of the Big Five publishers in the English language, a company with millions of books in print and a truly global reach. The first book HarperCollins ever published was actually a translation of the ancient Stoics. Today their imprints are still publishing various versions of those texts.
HarperCollins has embraced the concept of the perennial seller and taken it to the next level by having their own, separate imprint called Harper Perennial that published titles like Democracy in America and One Hundred Years of Solitude. The know people are pretty happy reading old books. But they aren't letting their offering become old or tired. Book publishers put exciting new covers on classic books every few years ("old book, new look") and assign new translators every few decades.
Cliftons Cafeteria
Established: 1935 (82 years ago)
A few blocks away from the Original Pantry Cafe there's Clifton's Cafeteria, a restaurant that's been serving diners since 1935 (and that partly inspired the whimsical personality of Disneyland). On its wall is the longest continuously running neon sign in the world—lit without fail for over seventy-seven years.
In 2010, Andrew Meieran, a real estate investor, movie producer, and restaurant impresario, bought the then seventy-five-year-old Clifton's Cafeteria in downtown Los Angeles and spent $10 million renovating and expanding it. "One of the things that also drew me to Clifton's," he would say, "was its sense of timelessness. It's difficult to identify when and where it exists. Is it 1930s LA? A forest grove in Northern California? A lodge in the mountains? A hut in the South Pacific? It could be anywhere, anytime. And with that it becomes timeless. It cannot be identified with an era, a trend, or a style. It is so many things that it is constantly in and out of fashion!"
The Great Gatsby
Written: 1925 (92 years ago)
It goes without saying that F. Scott Fitzgerald's most timeless classic The Great Gatsby is considered by many to be among the greatest novels ever written. What most people aren't aware of is that the book was actually rejected several times by publishers and received only a tepid response from critics at the time of its publication in 1925. What even fewer people realize is that beyond the novel's retroactive (and deserved) acclaim, The Great Gatsby is now an entire entertainment business ecosystem unto itself. It has spawned theatrical, radio and ballet adaptations and been made into a film no less than five times. All of this is before mentioning that The Great Gatsby still sells approximately half a million copies each and every year. It is the ultimate perennial seller.
It's worth considering too how unusual it is that this book has lasted. After all it was supposed to be a timely criticism of the fads of the day—the Jazz Age—and yet it somehow became a timeless novel assigned in English classes all over America. It was by no means a hit at release which is one argument for the book's eventual ubiquity is that millions of copies were distributed to soldiers during WWII which eventually gave it the audience it needed to be seen as the classic it is today.
WD-40
Established: 1953 (64 years ago)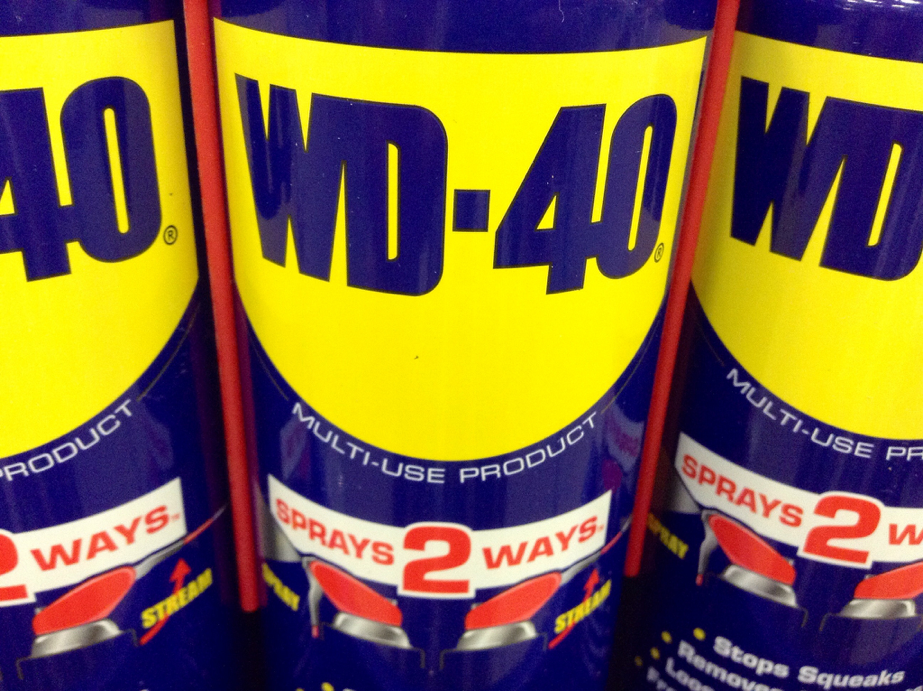 The timeless, recurring problems in our lives are ambitious problems to tackle. WD-40 solves one of the most timeless problems of all: entropy. Things get rusty and stuck, and WD-40 helps grease things along and gets them going again. WD-40 is named after the forty attempts it took its creators to nail the working formula back in the 1950s, and the original formula is still the formula they sell today. It was launched as commercial product in the 1960s and the company is still based in San Diego, where it was invented.
Wrigley Company
Established: 1891 (126 years ago)
William Wrigley, Jr. began his company in 1891 selling soap and baking powder, but he noticed that his customers were even bigger fans of the freebies he was giving away to those who bought his projects: sticks of gum. Two years later Wrigley introduced two flavors of chewing gum that that we all recognized today: Juicy Fruit and Wrigley's Spearmint.
As for why a Wrigley's five-stick pack of gum costs thirty-five cents, when the company announced a price increase from twenty-five to thirty cents in 1986 a spokesman for the company said, "We haven't been the price leader in years, but when Wrigley raises prices it draws attention."
Bic
Established: 1945 (71 years ago)
Bic has done for pens what Wrigley did for gum. The first Bic pen was priced at nineteen cents. A half century later, it's roughly the same price when you adjust for inflation. Keeping the price low has made it the default pen for millions of people. Instead of running expensive celebrity ad campaigns, Bic's marketing strategy is simply to keep its price low—and that's not an easy thing to do.
As a general rule, the more accessible you can make your product, the easier it will be to market. You can always raise the price later, after you've built an audience.
Craigslist
Established: 1995 (22 years ago)
How crazy is it that if Craigslist, were a person it could legally buy a drink? The site began as an email list for Craig Newmark to alert his fellow San Franciscans about apartments and events. As he put it to me, "Email, aside from spam, is what people might want to see, and is delivered into one's mailbox, which is almost always in a convenient window. It's pretty much universal." It's now more or less timeless. It helped him build a billion-dollar company that has survived countless competitors, trends, and changes. As Forbes reported in 2017, the site still looks the same as when it was launched but it is obscenely profitable—and makes hundreds of millions of dollars worth every year.
Nintendo
Established: 1889 (127 years ago)
Wait, how is a video game company older than the technology it produces? It's because for the lion's share of its existence Nintendo wasn't an electronics company. In fact, Nintendo didn't break into the video game marketing until the late 1970s. The character Mario wasn't conceived until nearly a century into the company's existence. Before then it had been founded as a Japanese playing cards company, later producing several lines of toys and even a taxi cab business.
Les Misérables
Written: 1862 (155 years ago)
Victor Hugo's magnum opus, Les Misérables, is an iconic novel that, unlike The Great Gatsby, was a critical and commercial success out of the gate. Interestingly, it wasn't published all at once but rather in five parts. Part I's initial print run was 6,000 copies. It sold out within a day. The next two volumes had runs of 48,000 copies. The complete Les Misérables continues to sell to this day.
Not only is Les Mis a perennial book seller, it's a perennial seller on the stage as well. The musical version of Les Mis has been running in London's famous West End since 1985, totaling over 13,000 shows. It also ran on Broadway for 16 years beginning in 1987, amassing nearly 7,000 performances in the process.
Kikkoman
Established: 1917 (99 years ago)
Kikkoman, famous for its soy sauce, was founded with perennial sales in mind. In fact, the establishment of the company was the unification of several family businesses which were already in existence in Japan, at least one of which had been in operation since the early 1600s. What's more, the name itself, Kikko-, refers to a tortoise shell—a representation of longevity in Japanese folklore—and -man, meaning 10,000. Clearly the founders of the company had designs of perennial sales—"what every company hopes for," according to their corporate website.
Beretta
Established: 1526 (491 years ago)
Even if you know nothing about guns, the image you likely have in your head when you think of what a handgun is a Beretta. After all, that's what James Bond uses. In fact, one of the first Google results yields the question from a message board user, "Is the Beretta 92 in every movie ever made?" The Italian firearms company held a contract with the U.S. military for over thirty years beginning in 1985, delivering over 600,000 units in that period. But long before Beretta were mass producing sidearms they began by manufacturing barrels for something called an arquebus, a firearm technology so old it became obsolete in the late 16th century.
Stella Artois
Established: 1366 (651 years ago)
Some of the oldest businesses on the planet are breweries, and one of the oldest among those breweries is the Belgian company Stella Artois, though it originally operated under a different name. In fact, Sébastien Artois (who lent his name to the company) only became the master brewer after the brewery had been operating for nearly 350 years. Though it is now part of the Anheuser-Busch InBev umbrella, the brewery and brand are still going strong as it slowly marches toward its 700th year of operation—making it the oldest company on this list by well over 100 years.
DuPont
Established: 1802 (215 years ago)
Originally a gunpowder manufacturer, DuPont has expanded its horizons throughout the centuries into the automotive, chemical, space and military spaces, among others. It's hard to fathom that DuPont is so old that the founder, a French immigrant, incorporated the company just two years after he fled France to avoid the hardships of the French Revolution.
Pretty much none of the most prolific perennial sellers do only one thing. Diversity is a critical parts of that type of longevity. It requires ability to experiment, to try new things, and see what works.
Hartford Courant
Established: 1764 (253 years ago)
People have been bemoaning the steady fall of print journalism for years now, but the challenge of selling newspapers predates the internet age. And yet the Courant has found solutions to those challenges and survived long enough to be called the oldest newspaper still in circulation in the United States.
The success of the Courant predicated on its audience. Specifically, finding its audience. An audience isn't a target that you happen to bump into; instead, it must be explicitly scoped and sighted in. It must be chosen. Successfully finding a niche requires asking and answering a question that very few creators seem to do: Who is this thing for? 
Louis' Lunch
Established: 1895 (122 years ago)
Just 45 minutes from the Hartford Courant is a little restaurant that was recognized by the Library of Congress as the originator of the hamburger and happens to be one of the oldest restaurants in America. Initially (and for the first two decades of operation) just a food truck, Louis' Lunch opened a restaurant which moved a couple times throughout the years, but they are still serving the same hamburgers they served over a hundred years ago. The restaurant is not only popular with the locals—it has been featured on numerous food related travel shows, and served up famous celebrities and even heads of state (including George H.W. Bush and George W. Bush).
Sotheby's
Established: 1744 (273 years ago)
Today, Sotheby's is by far the most recognizable auction house and fine art broker in the world. But did you know the founder of the company, Samuel Baker, held his first auction for what would become Sotheby's in 1744? And that the primary business of the company for the first century of operation was dealing in rare books? Early on, Sotheby's found a niche that wasn't going anywhere any time soon and dominated it, which has allowed them to expand that niche wider and wider, becoming internationally recognizable (and profitable) all the while.
Field View Farm
Established: 1639 (378 years ago)
This dairy farm is one of the oldest farm businesses operating in the United States, and it's still a family business even after twelve generations. The family has faced plenty of adversity trying to keep the business running over the years, including a large fire in the mid-1990s that devastated the business's ability to generate income. To compensate for the lost revenue, the farm began manufacturing and selling farm equipment, an adaptation that allowed the centuries-old business to stay afloat while they rebuilt the dairy operation.
Comédie-Française
Established: 1680 (337 years ago)
Entertainers—actors, comedians and musicians—who lead a long and successful career are unfortunately a rare breed. What may be even rarer are legacy establishments in which those theatrical performers perform. For every Comedy Store, there are dozens (if not hundreds) of failed comedy clubs across the nation. The Comédie-Française, located in Paris, is perhaps the oldest active theatre in the world—so old in fact that the theater may have been burning Cire Trudon candles in the 1600s.
History of the Peloponnesian War
Written: 431 BCE (2,448 years ago)
Considered to be one of the earliest scholarly histories to ever be recorded, History of the Peloponnesian War was written by an Athenian general and historian Thucydides. Not only has this text survived literally thousands of years, it has thrived in that time. It still gets translated, revised, and published. Today it's published by Penguin Classics, Simon & Schuster and a number of other publishers. The book still makes headlines, too. Recently it has been noted for its viral spread through the Trump administration, who find this old book to be immensely relevant to the rising thread of China. In any case, the book still sells—a lot and doesn't look to be going anywhere.
***
The craziest through line of all these companies? Chances are they'll all still exist for years into the future. I have little doubt that, barring some tragedy, the Pantry, Nintendo, Zildjian and all the rest will still be going strong. The so-called Lindy Effect, named after the New York restaurant (opened in 1927) where showbiz types used to meet to discuss trends in the industry, posits that everyday something lasts, the chances that it will continue to last increases. Or as the investor and writer Nassim Taleb has put it, "If a book has been in print for forty years, I can expect it to be in print for another forty years. But, and that is the main difference, if it survives another decade, then it will be expected to be in print another fifty years…Every year that passes without extinction doubles the additional life expectancy."
In other words, classics stay classic and become more so over time. If we're lucky, in a hundred years people will still be reading Thucydides at Katz Deli and then head home to the apartment they found on Craigslist. And hopefully someone reading this article will be inspired to create something of their own that lasts just as long.
Ryan Holiday is the best-selling author of Perennial Seller: The Art of Making and Marketing Work that Lasts. Ryan is an editor-at-large for the Observer, and he lives in Austin, Texas.
He's also put together this list of 15 books that you've probably never heard of that will alter your worldview, help you excel at your career and teach you how to live a better life.