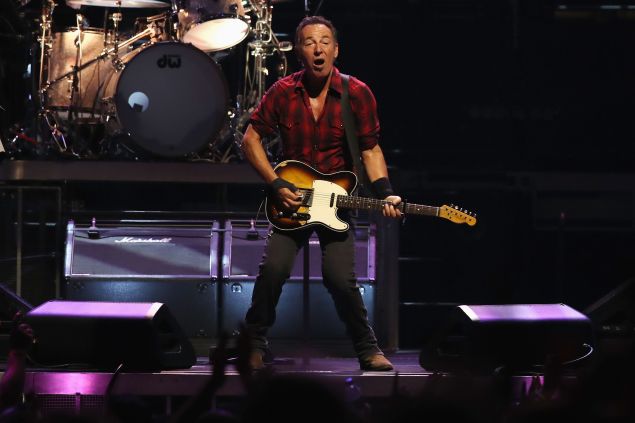 Of course the Boss was the one who finally figured out how to stop bots and scalpers.
Fans who wanted to snag tickets for Bruce Springsteen's 2016 tour found that shows were sold out within seconds of being posted for sale. At the same time, resale sites like StubHub offered those same seats at sky-high prices.
How did that happen? The culprit, as New York Attorney General Eric Schneiderman discovered last year, was ticket bots. Brokers used bots (a special automated software) to scoop up as many tickets as possible, then offered them on resale sites at markups up to 1,000 percent. Schneiderman found that tens of thousands of tickets were acquired each year using the software.
Artists like Springsteen and Lin-Manuel Miranda railed against ticket bots along with consumers, and their voices were heard—President Obama signed a bill outlawing bots in December.
But New Jersey's favorite son isn't taking any chances: he's still fighting the bots, now with Ticketmaster's help.
Today he announced Springsteen on Broadway, an eight-week limited engagement at the 960-seat Walter Kerr Theatre. The show will run five nights a week, Tuesday through Saturday, from October 3 to November 26.
Springsteen will perform solo on guitar and piano—he'll also read excerpts from his 2016 autobiography Born to Run. The New York Post first leaked rumors about the Broadway show in June.
Ticketmaster isn't gonna let just anyone (human or otherwise) see the show, however. It's using a new technology called Verified Fan to weed out bots and scalpers. The system, which Ticketmaster has been using on and off since February, asks prospective buyers to register in advance—and it even checks users' purchase histories and social media activity to confirm their legitimacy.
Between now and August 27, Springsteen fans can log in with their Ticketmaster account and submit their information. Verified, randomly selected fans will then receive a text message on Wednesday, August 30 before 10 AM ET (when tickets go on sale). The text will include a unique offer code for users to unlock tickets (which will cost $75 to $850).
There are several caveats: the website notes that registering "does not guarantee you will be verified, receive a code or have the ability to access tickets." And to allow as many fans as possible to enjoy the show, there is a two ticket maximum per purchase.
While the bot industry may never be fully eliminated, Ticketmaster says 90 percent of the tickets sold through Verified Fan were kept off secondary markets.
Springsteen on Broadway isn't the only high profile show using Verified Fan. Producers of Harry Potter and the Cursed Child, the hit London play coming to New York this spring, announced last week that it would also utilize the service to keep bots and scalpers out.
Registration for Cursed Child runs from October 1 to October 5, and tickets go on sale October 12 at 11 AM. It will use the same randomized selection process as Springsteen on Broadway, and the same caveats apply.
So if you want to sing along with "Born to Run" or see Harry, Ron and Hermione's latest adventure, you'd better have luck on your side.