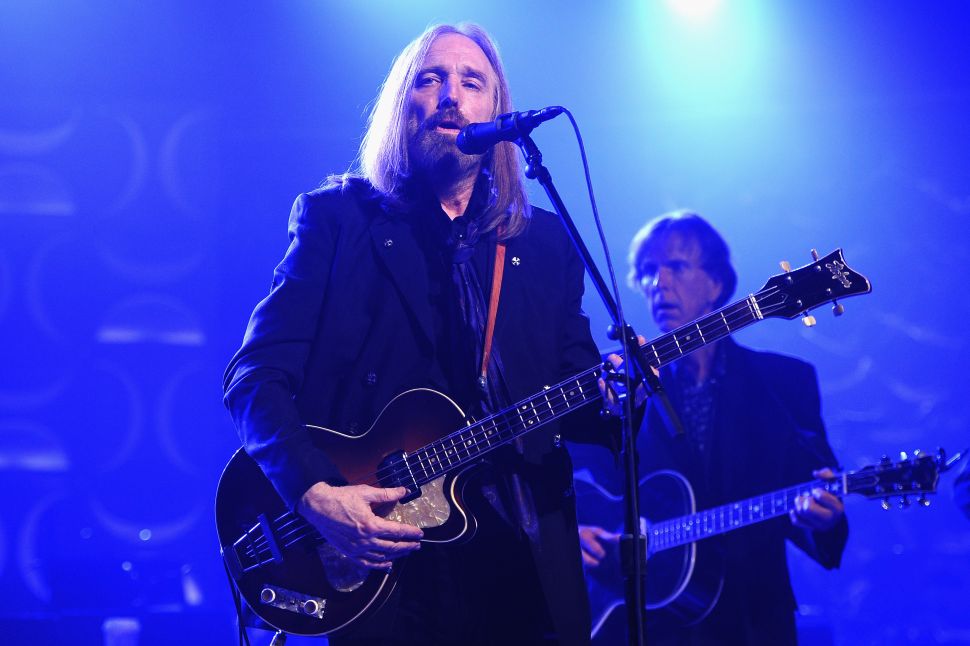 Tom Petty and the Heartbreakers recently rolled through New York with two sold-out performances at Forest Hills Stadium in Queens. This summer tour celebrating the Gainesville, FL band's 40th anniversary left at least three generations of rock and roll fans breathless.
No other band has ever truly crossed the divide between classic and modern the way this group of men—Petty, Mike Campbell, Benmont Tench, Scott Thurston, Ron Blair and Steve Ferrone, not to mention original drummer Stan Lynch and the late, great Howie Epstein—have since the release of their eponymous debut in 1976. Their feel was ripe for classic rock radio programming—as NYC radio legend Dennis Elsas of WNEW and stations like WPLJ immediately recognized. In the 1980s, kids like me were sucked in by their sound and their highly imaginative videos for hits like "Don't Come Around Here No More" and "Runnin' Down A Dream." The masterful pop songs they crafted truly bridged the gap between Nick Lowe and Bob Dylan for us at the time.
You walk into a Tom Petty concert with a wish set list already scratched on a piece of paper in your mind. There are so many great songs in the repertoire of both the Heartbreakers and Petty's solo career (barring, of course, the more recent lackluster fare of The Last DJ, Highway Companion and MOJO, all of which are thankfully avoided). Petty does not disappoint with this tour, which might be the band's last major trek across the country. The Heartbreakers have never sounded better on stage, especially with the augmentation of the Webb Sisters on background vocals, as they fire off gem after gem from the top shelf of their catalog. They'll wrap up with a three-night stand at the Hollywood Bowl in September.
Here are five songs that are killing the crowds on a nightly basis during this grand road run.
"You Got Lucky"
If you were a kid growing up in the mid-1980s with a head full of such Reagan-era sci-fi fare as The Ice Pirates and Spacehunter: Adventures in the Forbidden Zone, the video for this 1985 hit was no doubt your favorite thing on MTV at the time. 33 years later, no other song in the band's catalog captures their uncanny balance between AOR and New Wave like "Lucky," a tune they hadn't played in concert for years before this 40th anniversary tour.
"It's Good to Be King"
The centerpiece of what many consider to be Petty's singular masterwork in 1994's Wildflowers is often stretched out in concert. And on this tour, they carry this song for as long as 14 minutes on some nights, showcasing the kind of chemistry that renders them one of the most exciting live bands of the last 40 years.
"Yer So Bad"
This song is one of the highest peaks of an album of nonstop classic tunes. It has always deserved to be as much of a staple as such Full Moon Fever faves as "Runnin' Down A Dream," "Free Fallin'" and "I Won't Back Down." And for those of us who've been in the corner of this jangly, cheeky heart of Petty's masterful solo debut since 1989, hearing it performed live with the Heartbreakers was one of the concert's best moments.
"American Girl"
In the same week that Petty was playing Forest Hills, Donald Trump fired off that random series of tweets declaring transgender individuals be banned from enlisting in the military. So when the face of the late Alexis Arquette enjoyed the most screen time amidst the litany of women and girls featured on the giant LED screen behind the Heartbreakers as they tore through their signature hit, it rang out with a resonance.
"Walls"
For a certain faction of the Tom Petty fanbase, the 1996 soundtrack to the Ed Burns romcom She's The One is largely considered the single best album he made with The Heartbreakers. And one of the reasons why is this mid-tempo ode to conflicted love.