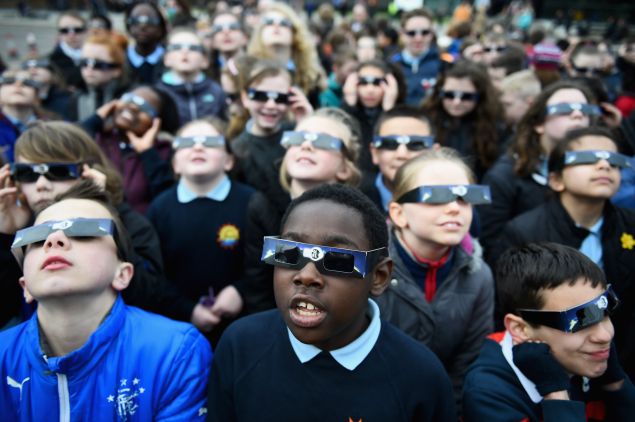 The entire country is preparing for this afternoon's total solar eclipse, and because it's 2017 that prep includes making sure your cell phone is ready to take the best photos. Luckily wireless carriers are looking out for their customers to ensure those tweets, Instagram posts and Snapchat stories can load without any issues.
Verizon, AT&T and Sprint are all bulking up their networks with "Cell on Wheels," mobile trucks which are primed to offer extra coverage during major events. The companies are particularly focused on the towns which will have the best view of the solar event, including Madras, Oregon (where the eclipse will first be seen) and Hopkinsville, Kentucky (which is directly in the path of totality, or point of greatest eclipse).
AT&T is offering its television customers an extra benefit by simulcasting NASA TV to both DIRECTV and U-Verse customers. The NASA feed, which will broadcast from the International Space Station among other places, is usually only available online.
Customers in both rural and urban areas could see their networks slow during the eclipse, which in most parts of the country will only last about two minutes. So wireless carriers also offered tips on saving data and getting the most out of your eclipse experience.
Charge your phone before going to an eclipse site, and bring along an extra power pack to stay connected—Mophie's battery powered smartphone case is one option.
To ensure you have wifi, pack a mobile hotspot like the Verizon Mifi or Ellipsis Jetpack.
If possible, bring a second phone from another carrier to ensure you have the best coverage—i.e. in some areas AT&T has more reach than Verizon, or vice versa.
Once the eclipse actually starts, temporarily disable app updates to save data.
Take photos or record video, but whatever you do don't livestream—that uses the most bandwidth. A photo takes up only three megabits of data, but livestreaming uses 10 to 20 megabits.
If you'd rather stay inside than use up cellular data, have no fear: Facebook, Twitter and YouTube are all livestreaming the eclipse on their respective sites, no eclipse glasses necessary.