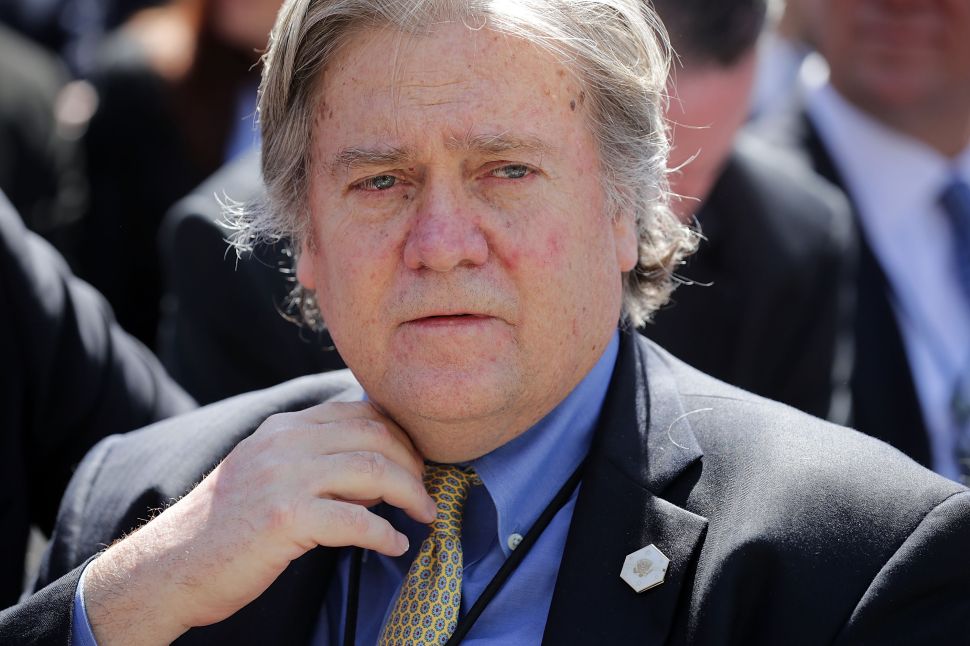 Looks like Steve Bannon and Donald Trump—the Ross and Rachel of the militia crowd—are officially on a break and have decided, almost Gwyneth-like, to consciously uncouple. It's been quite a journey!
In the hour or so since the New York Times broke the Steve-Bannon-is-out! revelation, Twitter feeds from across the political spectrum have erupted. Liberals think they've notched a resistance-victory. Whatever remains of the middle thinks removing Bannon means a possible return to normalcy. Traditional conservatives, especially those on the Hill, nervously hope Trump has made his first smart decision with an eye toward taking control of his presidency by expelling a toxic, controlling, blotchy Rasputin-like figure.
And reactionaries in the base of the Republican Party are howling in dismay that Trump is bowing to pressure from the globalist cosmopolitan (for God's sakes just say "Jewish") Gary Cohn/Jivanka wing.
None of these hunches are true or matter.
First, much like Jack Torrance at the Overlook Hotel, Steve Bannon remains. Whether corporeally inside the White House or technically operating in another location, he is not going anywhere. If anything, with acolytes Sebastian Gorka and Stephen Miller firmly in place, Bannonism is alive and well.
Secondly, in reality there's little to no air between the president and Mr. Bannon. The supposition that Trump was the former Breitbart guru's hapless marionnette doesn't hold a lot of water. True, Bannon was a pugilistic force and an organizing bridge to the alt-right community, whose most influential news source he created and whose main trolls—Cernovich and Prosobiec—he mentored and magnified. But Trump was spouting Breitbart-isms, including those about white superiority and economic isolationism—not to mention birtherism—without knowing it long before the nationalist media platform was a glimmer in Rebekah Mercer's cat-eye glasses.
In the big picture, these immediate reactions miss the point entirely, because what matters is that Steve Bannon, unfettered from a White House job and unencumbered by whatever norms such as they were that accompanied a government position, is far more powerful on the outside than he was on the inside.
This is the question everyone should be asking: What is he going to do with this power? Because this will go one of two ways, and they are both more like Game of Thrones than House of Cards.
In one scenario, Bannon marshals the troops from the outside in support of the Trump administration, like the Greyjoys aiding the Lannisters. Trump's presidency is in shambles. Especially post-Charlottesville, Trump has lost the middle and the center-right, through whom electoral victories from the White House down to state legislature seats run. But when a man like Donald Trump goes to the mattresses in desperation, his instinct is not to build or rebuild a coalition; it's to double down and solidify the base he has. It has worked in the past. And he still has the far-right, who will, if recent polling data is true, stick with their guy no matter what. The idea would be to keep this base, dispirited over lack of a wall and Obamacare the law of the land, as motivated and mobilized as possible.
Steve Bannon can do this using much more incendiary, effective tactics on the outside of the White House. This could include accessing the Mercer dollars to create a nationalist media giant loyal only to the president, making Fox News—which some on the far-right think is growing soft in its old age—look like Elizabeth Warren's dream journal. This is what Trump wants. A lifeline.
On the other hand, Bannon the Night King could summon the white walkers and train their easily-transferrable fury onto the White House if it doesn't deliver on its nativist promises. The idea being Bannon giveth and Bannon taketh away. Remember the base's lack of trust. If Bannon goes rogue and uses his messaging, influence and tactical canniness against the White House, it would be a devastating barrage with no recovery.
His interview with the progressive American Prospect was a warning shot. Bannon is a pro. He has been around long enough to know the difference between on-the-record and off-the-record. Imagine what would happen if Bannon uses that message and burn-it-down tactics to tell the faithful that Donald Trump has let them down? Welcome to Donald Trump's worst nightmare.
Jon Reinish is a native New Yorker who works in political communications, strategy and media. His opinions are his own and can be taken with a deer lick's worth of salt. Follow him on Twitter or Instagram: @jonreinish