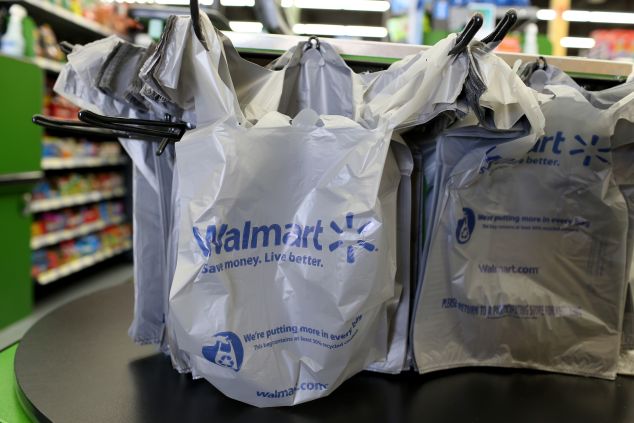 If it wasn't clear already, today's earnings proved it: Walmart wants to become Amazon. But it's got a long way to go before it's successful in that quest.
The retail giant released its second quarter earnings report this morning, which showed sales growth at its U.S. locations for the 12th consecutive quarter—revenue increased 2.1 percent to $123.36 billion. Same-store sales were up 1.7 percent, sales for stores open at least a year increased 1.8 percent and traffic grew 1.3 percent.
Not all the news was good—Walmart forecast profits of only 90 cents to 98 cents a share, compared with the 98 cents analysts were predicting. And net income, or residual earnings after all expenses were deducted from sales, fell 23 percent to $2.9 billion. As such, Walmart stocks were down two percent in early trading.
There's a good reason for those lower profits, however: Walmart's increased investing and growing web footprint. Online sales were up 60 percent thanks to an increased focus on e-commerce—after Walmart purchased online shopping giant Jet last year, the site's founder Marc Lore became president and CEO of Walmart's U.S. e-commerce.
Since then, the company has acquired digital-first retailers like Modcloth, ShoeBuy and most recently Bonobos. There's a method to these acquisitions—each retailer already has a core customer base, a strong CEO who can take on bigger roles and (perhaps most crucially) no presence on Amazon.
One of Lore's gimmicks, which started in May, is already a hit with customers: personalized delivery. Store employees in New Jersey and Arkansas can deliver customers' online orders on their way home from work.
Walmart built a proprietary app which matches online delivery addresses with employees' driving routes home. Workers pick up the packages, enter the delivery address into the GPS and go. Delivering is completely voluntary, and employees are compensated.
Another facet of Walmart's web growth could become vastly more important if the Amazon/Whole Foods acquisition is approved: online grocery delivery. Food, which accounts for 56 percent of Walmart's revenue, had its best quarter in five years, thanks in large part to this new convenience.
Walmart is already offering online grocery pick-up in over 900 stores, with plans to expand further by the end of the year. That may not seem like a huge percentage for a company with 5,000 stores in the U.S. alone.
But 90 percent of Americans live within 10 miles of a Walmart, and the store also has its own mobile payment app. So it's not hard imagine that shoppers who buy online and pay with their phone would choose to drive a few minutes rather than wait for an Amazon Fresh order (if they even live in one of the areas it serves).
Walmart still can't match Amazon in most respects, however—its fledgling online advertising business isn't generating much revenue yet, and it only has half of Amazon's market cap.  And while Amazon's earnings tanked last quarter, its revenue continues to grow thanks to numerous acquisitions in e-commerce, groceries, entertainment and more.
So no matter how hard it tries, Walmart will probably never catch up.