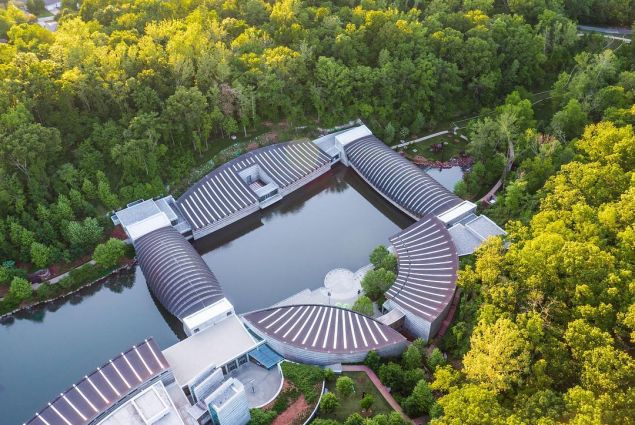 The University of Arkansas announced Wednesday that it was the recipient of a $120 million donation from the Walton Family Charitable Support Foundation—a charity started by the family of Walmart founders Sam and Helen Walton—to establish the first ever dedicated art school in the state.
The gift is the "largest ever given to a U.S. university in support of or to establish a school of art," according to an announcement on the University's website. The new school will open inside the University's J. William Fulbright College of Arts and Sciences at the University, and feature a special focus on the study of American art and the art of the Americas, according to University of Arkansas chancellor Joseph E. Steinmetz. Additionally, the art school's programming will run in close conjunction with another Walton family venture: The Crystal Bridges Museum of American Art.
"The newly endowed School of Art will transform the university and region into an international hub for the study of art," said Steinmetz in a statement. "The School of Art will also have an immediate, resounding positive effect on the culture of our entire state, and its imprint will be seen across the nation and beyond."
On the school's relationship with the Crystal Bridges Museum, which is located in Bentonville and founded by Walmart heiress Alice Walton, Steinmetz said: "With an emphasis on cross-disciplinary collaborations and signature outreach efforts with the museum, and a focus on student, faculty and staff diversity, the school will be uniquely positioned to develop programs to rival the top competitors in the field."
While the College of Arts and Sciences currently has department of art offering Bachelor of Arts and Bachelor of Fine Arts degree programs, as well as an MFA program, the art school will offer additional degree programs in graphic design as well as doctorates in art history and arts education, reports The Art Newspaper. The new art school will be "phased in," according to the school's announcement, over the course of five years.
The $120 million gift directly supports funding for scholarships, travel and internships, partnerships with Crystal Bridges and other local arts organizations, the creation of additional graduate degree programs and the renovation of of the Fine Arts Center, according the University's announcement.
The Walton Family Foundation's Crystal Bridges Museum, which was founded in 2005 by its current board of directors chair Alice Walton, is known for its expansive collection of American art and contemporary building designed by Moshe Safdie to hover over twin ponds. On the formation of the University of Arkansas' art school, Walton said in a statement: "The School of Art will shape a new generation of artists, historians, designers and teachers with a unique understanding of the hope art can bring to communities… The unparalleled access to meaningful American art will connect the heartland to the world."