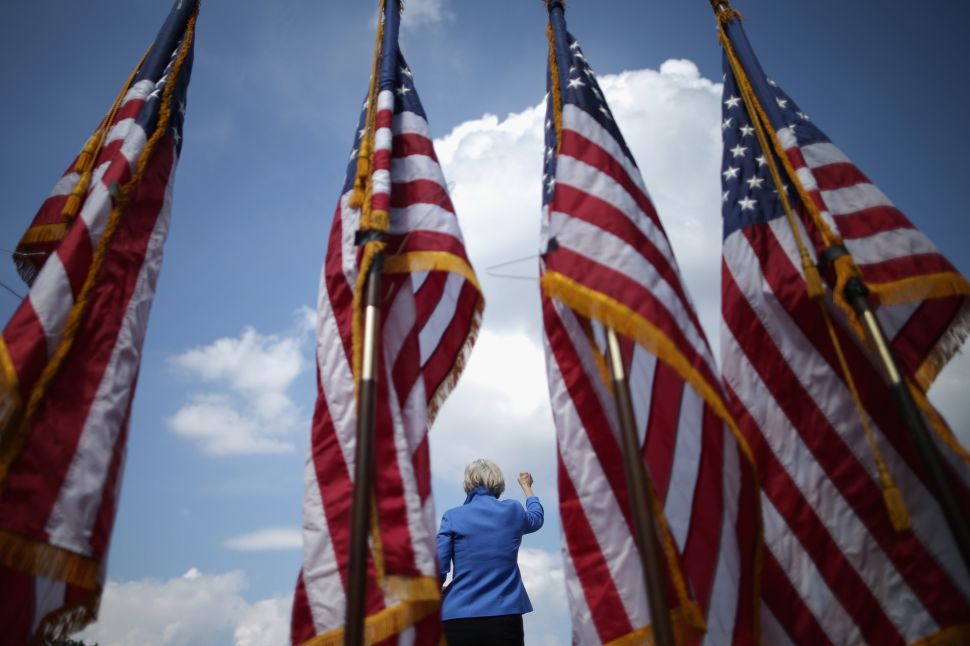 The lead story in the Sunday edition of The New York Times depicted the efforts of a host of Republicans—especially Mike Pence—to position themselves for a possible run in 2020. Of course they are. Whenever there are grand juries empaneled to investigate corruption in the White House and the campaign to get there, it's reasonable to assume the incumbent may not be able to run for re-election and to start laying the groundwork for a campaign.
But the Trump resistance's knee-jerk reaction of assuming everyone hates Trump as much as they do isn't right either. Voters sent a very powerful message last November when they said, "We are so unwilling to elect someone just because they've spent their life preparing to be president that we will vote for this lunatic instead." The days of candidates carefully laying their path to the presidency since grade school are long gone.
Come 2020, voters may not want Trump, but that doesn't mean they want a typical politician—from either party. There are four possibilities of what voters will want.
#1. A traditional politician. It's possible voters will view the Trump experiment as so disastrous that they will want to retreat to the devil they know. There's no shortage of typical politicians ready to take the mantle. Whether it's Pence, Kasich or Rubio on the right or Booker, Hickenlooper or Gillibrand on the left, lots of politicians (some say even Hillary again) are eager to reclaim the presidency for the traditionalists. This may prove true, but the underlying message of 2016 was voters' frustration with the status quo. Most politicians and the people around them—donors, think tanks, unions, advocacy groups, columnists, pundits and reporters included—don't want to accept a wholesale rejection of their way of life. Unfortunately for them, 2016 may have marked the beginning of a trend—not just an anomaly.
#2. An ideologue. On one hand, ideologues tend to accomplish very little and voters are clearly tired of the polarization, gridlock and dysfunction that defines Washington. On the other hand, ideologues at least believe in something beyond their own ambition. On the left, Warren and Sanders clearly check this box. Cruz is the best positioned ideologue on the right, but evangelicals have pulled off upsets in GOP primaries before, such as Santorum and Huckabee. Between Trump and regular politicians, odds are there isn't enough room on the right for an ideologue to emerge. On the left, Sanders or Warren could capture the Democratic nomination, but their ability to appeal to multiple demographics would be put to the test in the general election.
#3. A sane outsider with real world accomplishments. Trump's victory indicated voters' hunger to elect someone with real world success. If voters regret choosing Trump but still want someone from the business world, there is no shortage of potential options, such as Sheryl Sandberg, Mark Zuckerberg, Howard Schultz or Mark Cuban. Winning either party's nomination will be difficult for an outsider who isn't a demagogue, but running as a self-funded independent may be more feasible than ever. It's incredibly hard to succeed outside of the two-party system, but voters are clearly willing to consider different options.
#4. Trump. Most people I talk to would trade 7.5 years of Pence in return for Trump leaving today, but I live in the same bubble that never thought Trump could win in the first place. Sure, Trump could lose because of low approval ratings, a lack of tangible accomplishments, his inability to run the government (and the White House), he has offended too many people, or, of course, he could be impeached. Any of those things can happen. But here's what else can happen over the next three and a half years: We avoid a ground war, Congress enacts tax cuts, regulatory relief and infrastructure spending leads the economy to boom, and Trump avoids impeachment. In that scenario, a second term would be likely. How often does an incumbent enjoying a strong economy and no wars lose? Almost never.
We're still only in the seventh month of Trump's presidency. Absent impeachment, we have 41 more to go. It's too early to know what type of president voters will want in three years, but traditional assumptions no longer apply. The hunger for change is real and dissatisfaction with the status quo is overwhelming. Just because we want things to return to normal, doesn't mean they will.
Before you assess the 2020 horse race, remember that everything we've come to believe deserves scrutiny and skepticism. In other words, putting your head in the sand and insisting what you want to happen will happen only guarantees that you won't like the outcome.
Bradley Tusk is the founder and CEO of Tusk Holdings, the parent company of Tusk Strategies, Tusk Ventures, Kronos Archives, the Ivory Gaming Group and Tusk Montgomery Philanthropies. In 2009 he served as Mike Bloomberg's campaign manager, guiding Mayor Bloomberg to a third term.