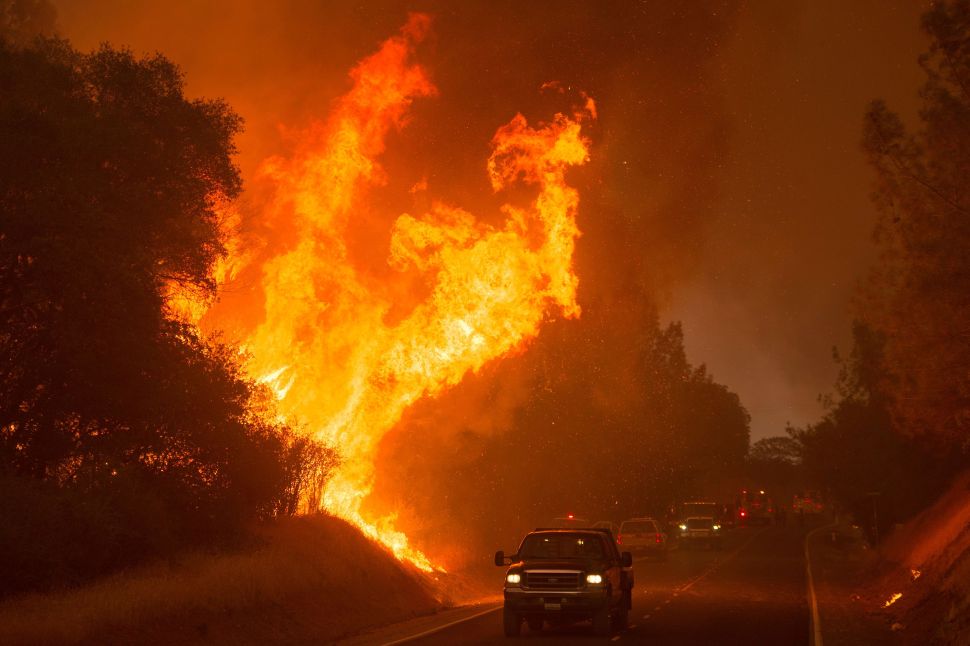 Dozens of states across the country, in addition to Canada and Europe, are experiencing record wildfires in 2017. Climate change has increased the number of wildfires, their longevity and the length of the wildfire season. Global increases in temperature during the spring and summer are causing dry areas to become even drier and snow to melt earlier, leading to drought and conditions ripe for wildfires.
The U.S. Forest Service has reported that 5.6 million acres of land have burned so far in the U.S. in 2017, which is 1.8 million acres over the 10 year average at the same time of year. In Florida, wildfires across the state have surpassed the five year average of acres burned from wildfires. Record high temperatures have fueled wildfires across the Western United States. Nevada reported its worst wildfire season in 15 years. Montana has also experienced one of its worst wildfire seasons ever this year, and the state is running out of funds to fight them.
Between January and May 2017, there were 57,585 wildfires in the U.S.—the most in that timespan since 2000. Those fires burned 2.763 million acres of land in the U.S., which is the second highest amount on record for that period of time.
In Canada, British Columbia has declared 2017 to be its second worst wildfire year on record. The BC Wildfire has spent $204 million fighting wildfires in nearly 5,000 square kilometers. Smoke from these fires have made the state of Washington's air quality the worst in the United States.
Even in cases where wildfires are caused by humans, their expansion is facilitated by environmental conditions caused by climate change: Higher temperatures throughout the year cause extremely dry conditions in which wildfires spread faster and become much more difficult to contain. In states like California, wet winters boost plant growth, creating more fuel for wildfires, which are facilitated by increasingly high summer temperatures. In this way, opposing extreme weather conditions exacerbated by climate change contribute to surges in wildfires.
According to the Union of Concerned Scientists, "Wildfires in the Western United States have been increasing in frequency and duration since the mid-1980s, occurring nearly four times more often, burning more than six times the land area, and lasting almost five times as long (comparisons are between 1970-1986 and 1986-2003)." With more than 10 million acres burned, 2015 was worst wildfire season on record in the United States.
Despite this troubling trend, the Trump administration has proposed slashing the budget of climate centers that provide necessary data and information to anticipate potential wildfires. Popular Science reports, "Funding for the nation's six Regional Climate Centers (RCCs), which provide data that we use to help control and prevent wildfires, is on the chopping block. The president's proposed budget would slash the Centers' budgets by 82 percent, from $3.65 million to $650,000." Trump has also proposed drastic cuts to the U.S. Forest Service in his 2018 budget, with a $300 million reduction in wildfire fighting programs, a $50 million cut to wildfire prevention efforts, and a 23 percent cut in budgets to volunteer firefighter departments. Trump is threatening to destroy vital resources that thousands of Americans rely on to prevent and control wildfires in the United States.