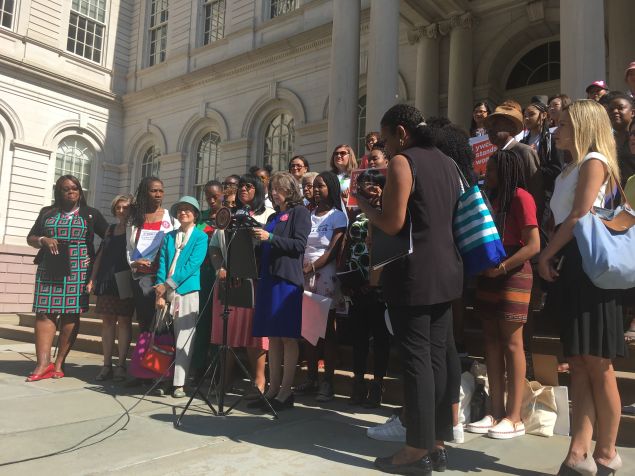 Out of 51 seats on City Council, women hold 13 of them and the number could drop to nine in the coming year, according to a new report from a group of female lawmakers.
The report, titled "Not Making It Here: Women Underrepresented in New York City Politics," examines the declining number of women in the City Council, how New York compares to other U.S. cities, and the impact on public policy when women are not at the table. Out of the 13 female Council members currently serving, 10 are women of color.
The report's authors in the Women's Caucus warn that there could be a swift change in city politics soon. The two most recent City Council speakers — Melissa Mark-Viverito and Christie Quinn — are women. But none of the eight candidates this year for City Council speaker is female.
The Women's Caucus released the report two days before Women's Equality Day on Aug. 26, which marks the 1920 adoption of the 19th Amendment to the Constitution that granted women the right to vote.
Manhattan Councilwoman Helen Rosenthal, co-chairwoman of the Women's Caucus, noted that this year also marks the 100th anniversary of women's suffrage in New York State.
"We spent the last century making suffrage live up to its promise, extending the vote to all women of all backgrounds and fighting for progress every step of the way," Rosenthal said. "Realizing equity in political leadership is the next step."
Staten Island Councilwoman Debi Rose, the first African American elected from Staten Island to the City Council, recounted her experience running for office. She was first elected in 2009 — her third attempt — and re-elected in 2o13. She said that she was frequently told she could not win.
"I'd like to think that times have changed but this report just verifies the fact that it has not because the fact remains there are only 13 of us here," Rose said. "It tells us that it has not changed. I tell my story to young women all the time in the hopes that they, too, will dream and take risks. This report is a call for action. It's a call for us to do more. It's a call to change the culture and the mindset."
She said that she will send the report to all of the school principals in her district as well as the guidance and career counselors.
"We need women in government and politics because we bring a different perspective, tone, tenor and balance to government," Rose continued. "We must remove the structural biases that preclude women from elected office. Women must be at the table so ladies I say, get those folding chairs and let's get to the table."
The report identifies multiple factors holding women back from running for elected office, including a lack of awareness of their potential for success — noting, for example, that when women run for office, they win elections at rates nearly equal to men. But men are 40 percent more likely than women to consider running for office in the first place. Family responsibilities and discrimination from "electoral gatekeepers" were also described as barriers.
The report recommends funding for nonprofits that support women in public life, workshops on running for office for female college students, increased mentorship opportunities and a dedicated staffer for the Women's Caucus as ways to tackle gender inequality within the Council.
The report also breaks down the presence of women in other legislative bodies. Out of 100 members of the U.S. Senate, 21 are women and four are women of color. Among the 435 members of the U.S. House of Representatives, 84 are women, and 34 are women of color.
L. Joy Williams, president of the Brooklyn NAACP and a member of the board of Higher Heights, said that the City Hall steps were not completely full because women "are out in their communities leading."
"It is not because there is a dearth of women as leaders in their communities and across the country," Williams said. "In fact, more often than not, the leader you first saw was a woman — be it your mother, be it your church lady, be it your Girl Scout troop leader, wherever women are, we lead."
Speakers also pointed out that a number of bills pertaining to issues specifically affecting women, citing access to feminine hygiene products as an example, were introduced by female Council members.
Rosenthal told reporters that the best way to deal with county bosses who influence the process of which candidates ultimately prosper is to "stop recognizing them as gatekeepers."
"They're only gatekeepers if we let them be gatekeepers and two, the women I found, the women who are supporting me and other women running for office, they play an incredibly powerful role and to the extent that those women can continue to break down barriers and use their knowledge to help people like us, that's a very powerful thing."