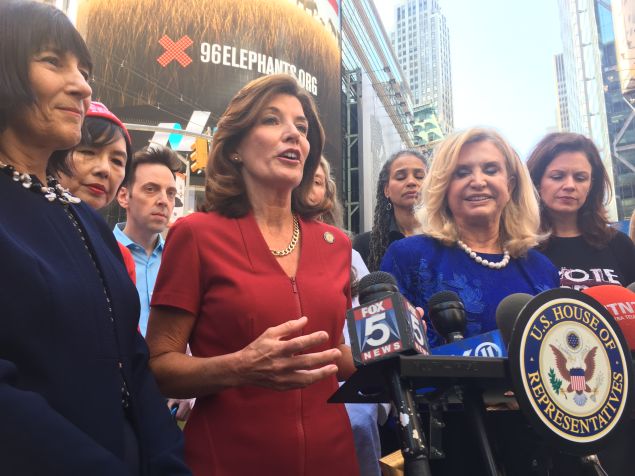 New York's top female Democrats and women's groups renewed calls for the establishment of a women's history museum and the need for an Equal Rights Amendment at an event marking the 44th annual Women's Equality Day.
As proposed and passed by both houses of Congress in 1972, the ERA would codify "equal rights under the law" for men and women in the U.S. Constitution, and allow the federal government to pass laws prohibiting sex discrimination in hiring, firing, promotions and benefits. U.S. Rep. Carolyn B. Maloney — who has been a longtime ERA advocate — and Jessica Neuwirth, president of the Equal Rights Amendment Coalition, drafted an updated version of the amendment and are looking to get the state legislatures to pass and approve it. 
And Maloney's Smithsonian Women's History Museum Act, which would create a women's history museum on the National Mall, has the support of the majority of the House of Representatives, with 246 bipartisan co-sponsors.
"I'm gonna continue asking everyone," Maloney said. "I don't care how many times they say no. I'm not gonna stop until we pass the National Women's Museum and until we pass the Equal Rights Amendment. I will continue to ask everyone that we meet today, every elected official, I will continue to ask the president of the United States to stand up and support this amendment."
In addition to the museum, the act establishes an advisory council consisting of 25 members appointed by the Smithsonian Board of Regents to make recommendations concerning planning, design and construction, operations and finances and programming for the museum.
The bill is based on the work of the bipartisan American Museum of Women's History of Congressional Commission created in 2014 to study the need for such a museum through legislation introduced by Maloney and Tennessee Congresswoman Marsha Blackburn, a Republican, in the House, and former Maryland Senator Barbara Mikulski, a Democrat, and Maine Senator Susan Collins, a Republican, in the Senate.
Maloney has said that the amendment's passage has become more needed due to President Trump's election. Trump described sexually assaulting women on tape, pushed to defund Planned Parenthood, outlined plans to eliminate grant programs established under the Violence Against Women Act, sought to allow conservative religious groups to become more politically active and expressed interest in seeing the Supreme Court overturn the Roe v. Wade decision.
Lt. Gov. Kathy Hochul reiterated that point, and noted that the right to vote is not the only pressing issue.  
"No, I do not feel he has been fair to women," Hochul said. "There are so many instances where, for example, the assault on women's health care, the Affordable Care Act, that's talking about rights that we hold dear, the right to have contraceptive access … that's under assault under thus administration."
Other attendees included Neuwirth; Manhattan Assemblywoman Rebecca Seawright; Manhattan Borough President Gale Brewer; Maya Wiley, board chairwoman of the city's Civilian Complaint Review Board; the National Organization for Women; and Moms Demand Action.
Jacqueline Ebanks, director of the city's Commission on Gender Equity, told the Observer that the work of the commission is in line with the effort. And she wants to show Trump and others to understand that women need to be recognized for their contributions to society.
"All women are full citizens in this country and all citizens deserve recognition and acknowledgement for the work they have done to make this country what it is and the soul we will do to help build a greater democracy," Ebanks said. "And so we need to be acknowledged but frankly acknowledged or not women have taken their rightful place in this society and will continue to do the job to ensure full equality for all."
Meredith Maskara, CEO of Girl Scouts of Greater New York, spoke of a "leadership crisis," saying that girls need to know they can be leaders.
"In order for them to believe that and to know that, we have to show them that it does exist, it has existed," Maskara told the Observer.